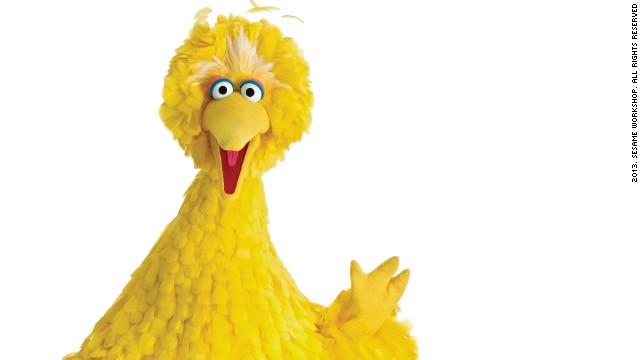 Sesame Street's original star
Big Bird
has led the show since its first episode in 1969. The eight-foot Muppet often doesn't understand what's going on, but sets the tone for the show by never hesitating to find out.
Kermit the Frog had already begun winning younger fans on Sesame Street -- explaining to kids that "It's Not Easy Bein' Green" for the first time in 1970.
The Muppet Show made him a star, but
Bert and Ernie's sketches that the producers put Muppets in starring roles. The comic duo have been two of the show's most popular characters ever since.
Sesame Street's Muppet characters were originally intended to be support for the human cast -- but test audiences responded so warmly to
Elmo getting his big break in 1984. But since then, the furry red monster with the high-pitched voice has gone on to become arguably the show's most popular Muppet.
15 years passed between the premiere of Sesame Street and
Cookie Monster's voracious appetite for his favorite chocolate chip treats have endeared him to viewers since Sesame Street's first season. He's even managed to fit in teaching some important lessons: thanks to him, generations of kids have grown up knowing that "C" is for Cookie.
"Om nom nom nom" --
Oscar the Grouch, whose ambition is to be as miserable as possible, has failed to ruin viewers moods, bringing humor and fun to the Street.
A bad tempered green monster, who loves "anything dirty or dingy or dusty" and lives in a trash can: perhaps not an obvious choice for a children's TV hero. Yet
Zoe broke into Sesame Street's largely male Muppet cast in 1994, becoming the show's stand-out female character. Appearing to be around the same age as Elmo, the two often spend time together. They are understood to be best friends.
Count when he's counting. Whether counting from one to 10, or up to a billion (as he did this year to celebrate Sesame Street's one billion YouTube video views), the Count is happiest with numbers. He can now count over 40 years of appearances on Sesame Street since his debut in 1972.
Nothing can interrupt the
Grover the coolest Muppet on Sesame Street? He certainly thinks he is, and describes himself as a "cute, furry little monster." Grover is one of the favorite creations of Sesame Street puppeteer Frank Oz, who said his generous personality and distinctive way of pronouncing each word "came about organically" when he brought the Muppet to the Street in 1970.
Is
Mr. Snuffleupagus was real. The gigantic Muppet had an uncanny way of disappearing just before adult characters arrived, and many assumed he was Big Bird's imaginary friend. The very real Muppet is one of the Street's most cultured residents, revealing a love of ballet, opera and art since his first appearance in 1971.
For many years, the adults on Sesame Street didn't believe that
The stars of Sesame Street
The stars of Sesame Street
The stars of Sesame Street
The stars of Sesame Street
The stars of Sesame Street
The stars of Sesame Street
The stars of Sesame Street
The stars of Sesame Street
The stars of Sesame Street
The stars of Sesame Street
STORY HIGHLIGHTS
Sesame Street has enchanted adults and children alike for over 40 years
Creator Jim Henson died in 1990, inspired a new generation of "Muppeteers"
Puppeteering tough physical work, with some artists needing shoulder operations
Sneak peek inside workshop reveals Frankenstein's lab of spare eyes and noses
Art of Movement is CNN's monthly show exploring the latest innovations in art, culture, science and technology.
New York (CNN) -- Since the 1960s, Sesame Street's puppets have been running, singing and dancing their way across our TV screens as if possessed of a life of their own.
But behind Sesame Street's Muppet puppets is a world almost as surreal -- where "Muppeteers" and Muppet makers create the comedic illusions that have bewitched generations of children, and earned the show over 100 Emmy Awards.
The life of a Sesame Street Muppeteer
If you thought the job of the Muppeteer -- putting your hand in a puppet and putting on a funny voice -- was child's play, think again. From hiding inside Oscar's trashcan to lip-syncing Kermit singing "It's Not Easy Bein' Green," Sesame Street's puppeteers must be prepared to stretch their bodies -- and imaginations -- to the limit.
"We get into all sorts of crazy positions," says Muppeteer Eric Jacobson. Most of his time is spent with at least one arm above his head. "Sometimes we'll be lying on the ground. Sometimes we'll be inside a piece of furniture with our arms sticking through a hole in a seat," he says.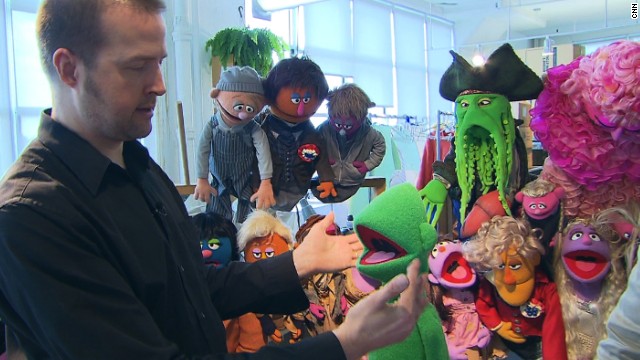 "This is our green 'Anything Muppet,' which is blank. So what kind of character can we create with this?" asks Jason Weber, Creative Supervisor of Jim Henson's Creature Shop.
"A lot of Sesame Street characters have eyes that are very close to each other," says Weber. "When you look straight at them they are quite cross-eyed but what they're trying to do is make contact with the camera... They are making that connection with their audience, which is quite important."
"We try to give the puppeteer as much movement as we possibly can," says Weber. "I'm just pinning this [nose] on... this one has a little bit of movement that the puppeteer can make use of."
"This is made out of various types of yarns that we've found over the years," Weber says. "He's very alive, he's very energetic, he's a little messy, he might be a young child that doesn't want to comb his hair in the morning."
"The he next step would be putting on a costume. Normally, this is a tank top but if we imagine that it's a sort of robe," he says. "And then if we give him his cape..."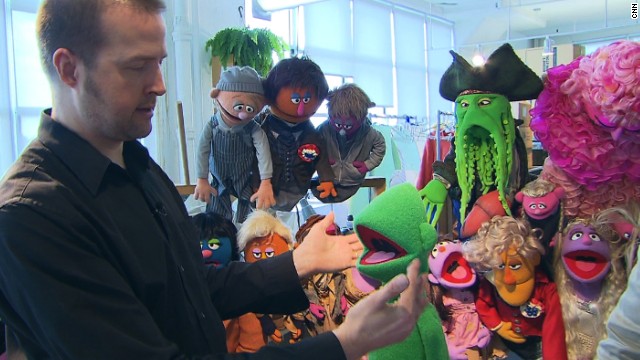 How to make a Muppet
Read this: 10 greatest movie puppets
Indeed, it's not uncommon for long-time puppeteers to undergo shoulder and hip operations after years of straining skyward. What makes it all worthwhile, says Jacobson, is making the human connection.
"Normally I'm looking at a monitor and making sure that you at home can see the puppet's eyes, because they just don't have a soul without their eyes," he says. "When you can see their eyes you can tell where they're looking, you can tell that they're engaged, that they're thinking, that they're listening."
Henson's legacy
When Jim Henson started work on Sesame Street 44 years ago, he never could have known that it would become one of America's most influential children's television shows.
The father-of-five tragically died from pneumonia in 1990, at the age of 53. But his legacy lives on in the new generation of puppeteers, like Jacobson, who bring Sesame Street's fantastical creatures to life.
"I was in my freshman year at film school, thinking I was going to be a director, writer, producer," explains Jacobson. "When Jim Henson passed away I suddenly realized how much this man meant to me growing up and I felt like I had to do something to continue his legacy.
"I was a part of that first generation of kids who grew up watching Sesame Street, so those characters were like family to me."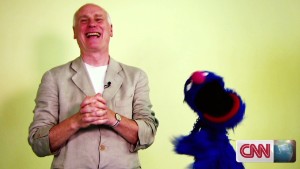 A master class in puppetry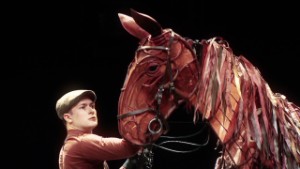 'War Horse' puppet comes to life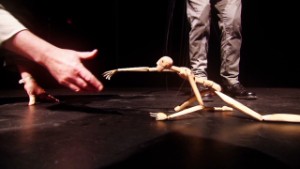 Art and innovation of puppetry
Watch this: 'War Horse' puppet comes to life
Today, Jacobson is the puppeteer behind legendary Sesame Street residents Grover and Bert.
Bringing to life the unique personalities and voices of these creations demands huge coordination and quick-fire comic timing to keep the viewers engaged with the characters.
First and foremost, says Jacobson, the puppet must look like a creature from the real world. "You're conscious of the puppet's posture and making sure that it looks as though it has a believable skeleton -- you want to make sure it doesn't have a broken neck," he says.
Material world
If bringing Muppets to life is an art form, so is creating them. Step inside New York's Muppet Workshop and it's a bit like stumbling into Frankenstein's laboratory, with drawers full of spare eyeballs, noses and mouths.
Watch this: Master puppeteer Basil Twist
The puppets are made from foam and rubber with the seams hand stitched to allow for greater flexibility. The big gaping mouths are created with the same gasket rubber found in cars, with each character usually taking around two-and-a-half weeks to create from scratch.
"We'd like to think they last forever but they don't," explains Rollie Krewson, who has been making Muppets for Sesame Street and other Jim Henson productions for almost 40 years.
Years of singing and dancing their way along Sesame Street inevitably take their toll and, sadly, every Muppet has its expiry date.
"Over the years it just deteriorates, and after 15 to 18 years you have to totally replace it -- it just goes to little toast crumbs."
The Muppets of Sesame Street might not last forever, but after more than four decades bewitching audiences, it seems their appeal is as strong as ever.