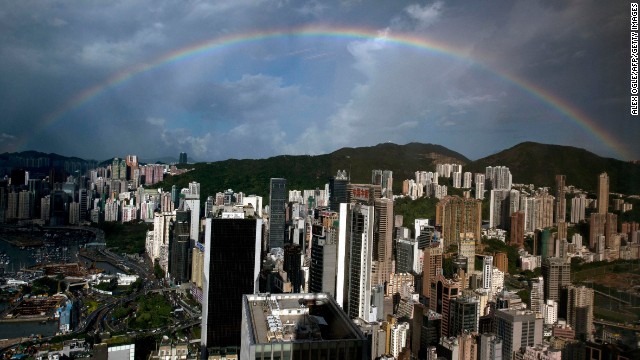 A rainbow appears in the skies above a Hong Kong office building on Wednesday, August 7. Click through to see other images of weather around the world.
A woman uses a parasol to block the sun's rays at the Bund, a popular tourist spot in Shanghai, China, on August 7.
A person dangles from a power line before diving into the Ganges River in Allahabad, India, on Tuesday, August 6, after heavy monsoon rains.
A man takes a nap at a recreation area in Salt Springs, Florida, on August 6.
A boy jumps into the Zegrze Lake near Warsaw, Poland, on August 6 to cool off during a heatwave.
A boy takes in the scenery at Malvarrosa Beach in Valencia, Spain, on the Mediterranean on Monday, August 5.
Lightning illuminates the sky near Görlitz, Germany, on Sunday, August 4.
A woman wears her clothes backward against the scorching sun in Jinan, China, on August 4.
A man prepares to secure his boat on the Ravi River in Lahore, Pakistan, on August 4. More than 50 people have died in flooding across Pakistan, officials say.
Women in maid costumes throw water to the ground in the Akihabara shopping district in Tokyo on Saturday, August 3. They were taking part in an annual summer event to cool off the street.
People watch a paraglider as they hike on the Niesen mountain in Switzerland, Friday, August 2. Temperatures reached 86 degrees Fahrenheit in central Switzerland.
People relax in the sun in Victoria Park in London, on Thursday, August 1.
People sunbath on lawns near the Eiffel Tower in Paris, on August 1.
People take shelter from the heat in the entrance of a subway station in Shanghai, on Wednesday, July 31. More than 10 people have died in China's commercial hub, a local health official said as the city swelters in its highest temperatures for at least 140 years.
Children take the plunge to cool off in Sofia, Bulgaria, on Monday, July 29.
Men relax at a lake near Erfurt, Germany, on Sunday, July 28.
People fly kites during the Bali Kite Festival in Denpasar, Indonesia, on Saturday, July 27.
Umbrellas are out in force at an intersection in Hong Kong on Thursday, July 25.
A young elephant cools down with snow delivered to the Whipsnade Zoo near Dunstable in Bedfordshire, England, on July 25.
During a rainstorm Wednesday, July 24, wild ponies are herded into the Assateague Channel for their annual swim from Assateague Island to Chincoteague, Virginia, to be auctioned off.
Boys dive into the cool water of the swimming pool "Schwanseebad" in Weimar, Germany, Tuesday, July 23. Meteorologists forecast the hot and sunny weather to continue in the country.
People make their way past a building clouded by a thick layer of mist on Monday, July 22, after torrential rain in Pyongyang, North Korea.
People cross a flooded road near the Triveni Sangam in Allahabad, India, on July 22. According to Hindu tradition, a bath at the confluence of three rivers -- the Ganges, the Yamuna and the mythical Saraswati -- atones for sin.
Sunflowers blossom on a field near Langerwisch, eastern Germany, on July 22.
A man tries to make a phone call on Friday, July 19, in a flooded restaurant in Kunming, China, in the wake of Typhoon Soulik.
Hudson the polar bear plays with a block of ice to cool down at the Brookfield Zoo during a massive heat wave on Thursday, July 18, in Brookfield, Illinois.
A girl plays in the fountain called "Appearing Rooms," by Danish artist Jeppe Hein, in central London on July 18. The United Kingdom is experiencing a second week of heatwave conditions.
Swimmers enjoy the sunshine at an outdoor pool in central London on Wednesday, July 17.
Mason Kraft, 5, keeps cool at the Highland Park Splash Pad in Cottage Grove, Minnesota, on Monday, July 15.
Sailboats dot Lake Ammersee, near Herrsching, in southern Germany on Saturday, July 13.
Rescuers evacuate residents with an excavator on Wednesday, July 10, after a landslide hit Wenchuan, China. Flooding that triggered the landslide reportedly has affected 1.5 million people.
A man reads a book in the sunshine on steps covered in artificial grass on July 10 in London.
A waterspout comes ashore in Oldsmar, Florida, on Monday, July 8. Authorities say the waterspout caused damage to the shingles of a home and knocked down tree branches and a mailbox, but no injuries were reported.
Heavy rains force people to walk across a flooded road and leave vehicles trapped on a viaduct in Wuhan, the capital of Hubei province in central China, on Sunday, July 7.
A man jumps into East Lake in Wuhan, the capital of central China's Hubei Province, on Wednesday, July 3.
A lightning strikes the San Nicolas Panotla community in the state of Tlaxcala, Mexico, on Tuesday, July 2.
R.J. Hernandez, 8, of El Campo, Texas, is buried in sand as he tries to stay cool in Santa Monica on Friday, June 28.
A fisherman casts a net on the fog-enveloped Xiaodongjiang River in Zixing, China, on Tuesday, June 25.
Kayakers cast off from a boathouse on the Potomac River in Washington on June 25.
A strong line of thunderstorms approaches the Capitol with heavy rain and winds on Thursday, June 13, in Washington.
Floodwaters from the Elbe River inundate a yard with a swimming pool near Magdeburg, Germany, on Monday, June 10. Heavy rain has left rivers swollen across Central Europe.