'Action man' Russian president Putin explores shipwreck in latest adventure
July 16, 2013 -- Updated 1424 GMT (2224 HKT)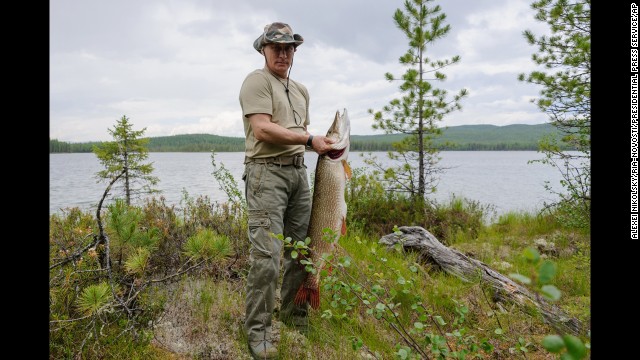 Russian President Vladimir Putin holds a pike he caught in the Siberian Tuva region of Russia on July 20. Browse through for more photos of Putin trying his hand at different activities.
Putin enjoys some fishing during his vacation to the Tuva region on July 20. For years, Russia's leader has cultivated a populist image in the Russian media.
Putin submerges on board Sea Explorer 5 bathyscaphe near the isle of Gogland in the Gulf of Finland on July 15.
Putin studies a crane during an experiment called Flight of Hope, on September 5, 2012, in which he piloted a hang glider, aiming to lead the birds into flight. It's part of a project to save the rare species of crane.
Putin takes part in a training session for young ice hockey players before the "Golden Puck" youth tournament final in Moscow on April 15, 2011.
Putin rides a Harley-Davidson to an international biker convention in southern Ukraine on July 14, 2010.
The Russian president aims at a whale with an arbalest (crossbow) to take a piece of its skin for analysis at Olga Bay on August 25, 2010 .
A wetsuit-clad Putin embarks on a dive to an underwater archaeological site at Phanagoria on the Taman Peninsula on August 10, 2011.
Famed for his love of martial arts, Putin throws a competitor in a judo session at an athletics school while on a trip to St. Petersburg on December 18, 2009.
Putin pictured during his vacation in southern Siberia on August 3, 2009.
Putin swims the butterfly during his vacation outside the town of Kyzyl in southern Siberia on August 3, 2009.
Assisted by a Russian scientist, Putin fixes a satellite transmitter to a tiger during his visit to the Ussuriysky forest reserve of the Russian Academy of Sciences in the Far East on August 31, 2008.
Putin carries a hunting rifle in the Republic of Tuva on September 3, 2007.
A shirtless Putin fishing in the headwaters of the Yenisei River in the Republic of Tuva on August 13, 2007.
Putin in the cockpit of a Tupolev Tu-160 strategic bomber jet at a military airport on August 16, 2005, before his supersonic flight.
Cult of Putin
Cult of Putin
Cult of Putin
Cult of Putin
Cult of Putin
Cult of Putin
Cult of Putin
Cult of Putin
Cult of Putin
Cult of Putin
Photos: Cult of Putin
Cult of Putin
Cult of Putin
Cult of Putin
Cult of Putin
STORY HIGHLIGHTS
Russian president Vladimir Putin explores Baltic Sea shipwreck in submersible
Latest stunt for macho politician, happy to be photographed in speeding cars and bomber jets
Not the first time the 60 year old has taken to the water in bid to show intrepid spirit
In 2009, ancient urns "discovered" in Siberian Lake, later revealed as planted
MainSail is CNN's monthly sailing show, exploring the sport of sailing, luxury travel and the latest in design and technology.
(CNN) -- He's fired darts at a gray whale, sped through St Petersburg in an F1 car, and taken a supersonic flight in a bomber jet.
Now Russia's "action man" president, Vladimir Putin, has again flexed his muscle in his latest testosterone-filled publicity stunt -- diving to the bottom of the Baltic sea aboard a red submersible to explore a 19th century shipwreck.
The 60-year-old former KGB spy, showed no signs of slowing down his manly pursuits for the cameras, plunging 50 meters below the water to examine the frigate which sank in the Gulf of Finland in 1869.
Read: Cousteau to live in underwater village 31 days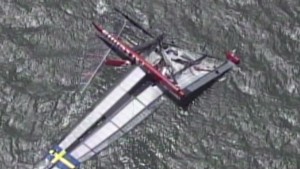 Looking back at America's Cup tragedy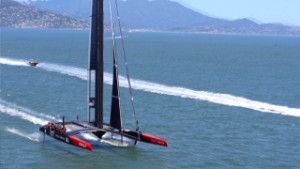 Making America's Cup safer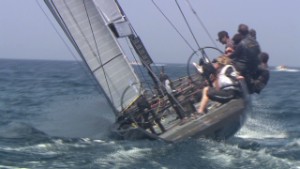 Part 2: Russian owners compete at RC44
Putin climbed aboard the Sea Explorer 5 underwater research vessel on Monday for a 30-minute dive to the wooden wreck -- called Oleg -- which was discovered by divers in 2003.
State television showed images of the Russian strongman carefully inspecting the wreck from the front seat of the glass-fronted capsule.
Putin commented on how well-preserved the wreck was, before also praising the work of the Russian Geographic Society, which has been studying the sunken vessel.
Read: Titanic director in groundbreaking deep sea exploration
It's not the first time the thrill-seeking president has taken to the water in a bid to highlight his intrepid spirit and physical prowess.
In 2009, Putin dived to the bottom of Lake Baikal in Siberia aboard a mini-submarine.
Then in 2011 the Russian leader announced he had discovered two ancient urns while scuba diving in the Black Sea. Though, embarrassingly for the president, the Kremlin last year admitted the stunt was staged.
Read: Underwater hotel meets space-age design
In 2012 Putin also faced accusations from environmentalists that a seemingly wild tiger he tranquilized during a research expedition, had in fact been brought in from a zoo.
Indeed, the pumped-up president's stunts have drawn ridicule online -- last year he earned the nickname "alpha-crane" after flying a deltplane in a mission to lead rare birds on their migration route.