Russia in largest war games since Soviet era
July 16, 2013 -- Updated 1545 GMT (2345 HKT)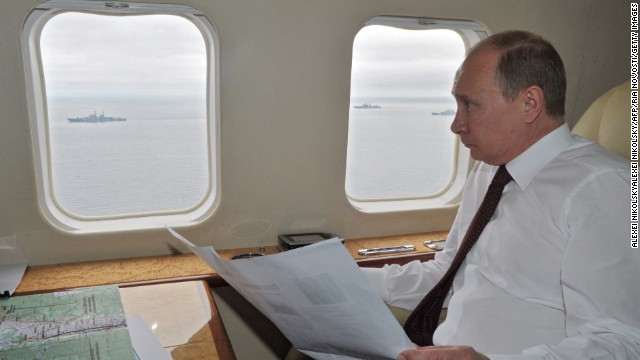 Russian President Vladimir Putin inspects military exercises near Sakhalin Island in the Pacific Ocean, on Tuesday, July 16.
Russian tanks move across Sakhalin Island on July 16.
Russian Army helicopters fire flares over Sakhalin Island on July 16.
Putin, center, and Russian military personnel observe exercises on July 16.
Russian ships take part in the exercises on July 16.
War games in Russia
War games in Russia
War games in Russia
War games in Russia
War games in Russia
STORY HIGHLIGHTS
President Putin oversees games from Sakhalin island
160,000 troops involved
Games began last Friday
(CNN) -- Russia is in the midst of its biggest war games since Soviet times, with 160,000 troops, 130 planes, 70 ships and thousands of tanks and armored vehicles participating in the country's Far East, according to media reports.
Russian President Vladimir Putin ordered the drills last Friday and they began that night, according to reports from the RIA Novosti news agency. Putin flew to Sakhalin island off the eastern coast to oversee the games on Tuesday, Russia's presidential press service reported.
"The main purpose of the activities is to check the readiness of the military units to perform assigned tasks and evaluate of the level of personnel's training and technical preparation as well as the level of equipment of units with arms and military equipment," the Russian Defense Ministry said in a statement reported by Russian Television.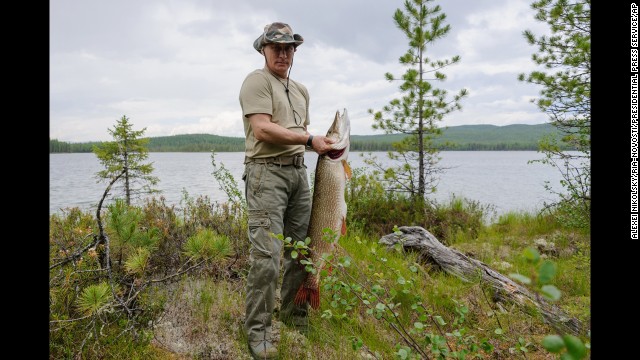 Russian President Vladimir Putin holds a pike he caught in the Siberian Tuva region of Russia on July 20. Browse through for more photos of Putin trying his hand at different activities.
Putin enjoys some fishing during his vacation to the Tuva region on July 20. For years, Russia's leader has cultivated a populist image in the Russian media.
Putin submerges on board Sea Explorer 5 bathyscaphe near the isle of Gogland in the Gulf of Finland on July 15.
Putin studies a crane during an experiment called Flight of Hope, on September 5, 2012, in which he piloted a hang glider, aiming to lead the birds into flight. It's part of a project to save the rare species of crane.
Putin takes part in a training session for young ice hockey players before the "Golden Puck" youth tournament final in Moscow on April 15, 2011.
Putin rides a Harley-Davidson to an international biker convention in southern Ukraine on July 14, 2010.
The Russian president aims at a whale with an arbalest (crossbow) to take a piece of its skin for analysis at Olga Bay on August 25, 2010 .
A wetsuit-clad Putin embarks on a dive to an underwater archaeological site at Phanagoria on the Taman Peninsula on August 10, 2011.
Famed for his love of martial arts, Putin throws a competitor in a judo session at an athletics school while on a trip to St. Petersburg on December 18, 2009.
Putin pictured during his vacation in southern Siberia on August 3, 2009.
Putin swims the butterfly during his vacation outside the town of Kyzyl in southern Siberia on August 3, 2009.
Assisted by a Russian scientist, Putin fixes a satellite transmitter to a tiger during his visit to the Ussuriysky forest reserve of the Russian Academy of Sciences in the Far East on August 31, 2008.
Putin carries a hunting rifle in the Republic of Tuva on September 3, 2007.
A shirtless Putin fishing in the headwaters of the Yenisei River in the Republic of Tuva on August 13, 2007.
Putin in the cockpit of a Tupolev Tu-160 strategic bomber jet at a military airport on August 16, 2005, before his supersonic flight.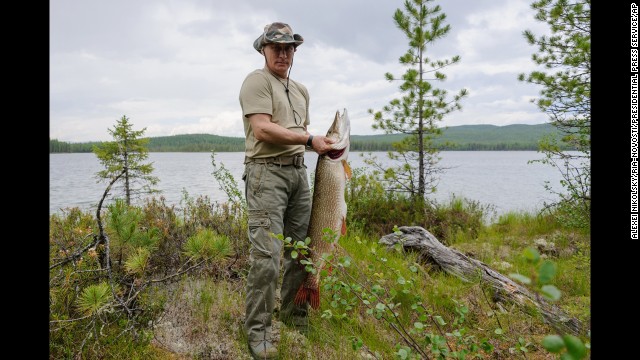 Photos: Cult of Putin
"The Sakhalin part of the maneuvers was intended to simulate a response to a hypothetical attack by Japanese and U.S. forces," Konstantin Sivkov, who is retired from the Russian military's General Staff, told the Nezavisimaya Gazeta newspaper, according to a report from the BBC.
But Russia's deputy defense minister, Anatoly Antonov, said the games were designed to "enhance the army's combat readiness" and were not directed against any specific nations, the BBC reported.
Some of the units involved in the exercises moved more than 3,000 kilometers (1,800 miles) from their bases to participate, according to the Russian media reports.
The current drills, which are expected to last through the week, are the latest in a series of snap exercises conducted by the Russian military this year, Russian Television reported. Similar drills have been conducted in the country's west, south and central military districts, the report said.

Part of complete coverage on

Syrian refugees fleeing into Lebanon tell CNN's Nick Paton Walsh how they stepped over dead bodies in their flight -- and now face the a biting winter.
December 11, 2013 -- Updated 1629 GMT (0029 HKT)

It looked plausible to most, but to deaf people watching the Mandela memorial -- it was all nonsense. The interpreter has been dubbed "a fake."
December 11, 2013 -- Updated 1524 GMT (2324 HKT)

Pope Francis is Time's person of the year. His papacy has drawn adulation from people around the world for his man-of-the-people ways.
December 11, 2013 -- Updated 0541 GMT (1341 HKT)

They hoped for playful weekend outing in the snow. The moments of adventure dissolved into a fight for survival for the family of six.
December 11, 2013 -- Updated 1714 GMT (0114 HKT)

Yahoo's teen star Nick D'Aloisio sells the new digital future -- with vanishing content.
December 11, 2013 -- Updated 1328 GMT (2128 HKT)

Denmark's PM Helle Thorning-Schmidt made headlines when she snapped a selfie with PM David Cameron and President Barack Obama.
December 11, 2013 -- Updated 1311 GMT (2111 HKT)

Mars kits, a triple nipple baby bottle and extinct animal DNA are just some of things you'd find inside the "99¢ Store of the Future."
December 11, 2013 -- Updated 0958 GMT (1758 HKT)

They say necessity is the mother of invention. Here are 11 of the most mind-boggling inventions ever submitted to the U.S. patent office.
December 11, 2013 -- Updated 0242 GMT (1042 HKT)

Uruguay is set to become the first country in the world to have a system regulating legal production, sale and consumption of the drug.
December 9, 2013 -- Updated 2311 GMT (0711 HKT)

Until he returned home this weekend, Merrill Newman -- an American held in North Korea -- had no idea what a story he'd become.
December 11, 2013 -- Updated 1756 GMT (0156 HKT)

Browse through images you don't always see in news reports, taken by CNN teams all around the world.

He was imprisoned for life but that did not quiet him. Nelson Mandela became South Africa's first black president, and an icon and inspiration.

Today's five most popular stories