Judge won't throw out 2 charges against Manning
July 18, 2013 -- Updated 1528 GMT (2328 HKT)
STORY HIGHLIGHTS
Among the charges is the most serious against Pfc. Bradley Manning: aiding the enemy
Closing arguments in the case against Manning are still to come
He is charged in the largest leak of classified documents in U.S. history
Fort Meade, Maryland (CNN) -- A military judge overseeing the court-martial of Pfc. Bradley Manning on Thursday denied defense motions seeking to throw out two charges against him.
One of the charges is the most serious that Manning faces: aiding the enemy, which would carry a maximum penalty of life in prison.
The judge, Col. Denise Lind, said the government had met the burden to present evidence that the crimes had been committed.
Prosecutors: Manning 'craved' notoriety
Manning, a former Army intelligence analyst, is charged with the largest leak of classified documents in U.S. history, accused of handing over a trove of documents and other information to WikiLeaks, an organization that facilitates the anonymous leaking of secret information through its website.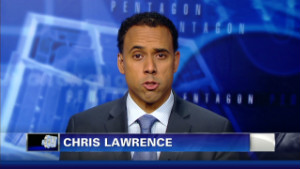 2012: Bradley Manning claims abuse
Closing arguments are still to come.
Manning's lawyers asked Lind to toss the two charges on July 8.
Manning already has pleaded guilty to nearly a dozen lesser charges that carry a sentence of up to 20 years in prison.
Manning admits leaking classified material that 'upset' him to WikiLeaks

Part of complete coverage on
WikiLeaks
November 10, 2011 -- Updated 1738 GMT (0138 HKT)

From "Climategate" to leaked diplomatic cables, CNN takes an inside look at the WikiLeaks organization.
July 31, 2013 -- Updated 0600 GMT (1400 HKT)

A military judge acquitted Army Pfc. Bradley Manning of aiding the enemy, but convicted him of violations of the Espionage Act for turning over a trove of classified data to the website WikiLeaks.
July 31, 2013 -- Updated 0050 GMT (0850 HKT)

Bradley Manning is naturally adept at computers, smart and opinionated, even brash, according to those who say they know him.
June 23, 2013 -- Updated 1634 GMT (0034 HKT)

WikiLeaks founder Julian Assange urged the world to "stand with" Edward Snowden, the man who admitted leaking top-secret details about U.S. surveillance programs.
June 11, 2013 -- Updated 1146 GMT (1946 HKT)

Julian Assange, the founder of WikiLeaks, knows something about secrets and what happens when they're exposed.
June 3, 2013 -- Updated 2311 GMT (0711 HKT)

Prosecutors say a 25-year-old Army private accused of aiding the nation's enemies through the largest leak of classified information in U.S. history "craved" notoriety.
August 16, 2012 -- Updated 1407 GMT (2207 HKT)

From the issuing of an arrest warrant, to a decision on Assange's asylum, see how the story has developed.
June 30, 2012 -- Updated 1949 GMT (0349 HKT)

Julian Assange is waiting to hear if Ecuador will grant him asylum. He's dangling from a cliff, for sure. Hanging by a pinky next to him -- WikiLeaks.
October 29, 2012 -- Updated 1625 GMT (0025 HKT)

Holed up in Ecuador's Embassy in London, Julian Assange talks at length about his life and motivations.
August 20, 2012 -- Updated 0020 GMT (0820 HKT)

Assange's move is dramatic, but he's not the first person to seek an escape route through a diplomatic mission. Here are some key precedents.
May 30, 2012 -- Updated 0931 GMT (1731 HKT)

Assange is a self-appointed champion of free speech and the founder of a web operation that has greatly antagonized the U.S. government.
July 6, 2012 -- Updated 0102 GMT (0902 HKT)

WikiLeaks said it has begun publishing some 2.4 million e-mails from Syrian politicians, government ministries and companies dating back to 2006.
Today's five most popular stories