Mandela posters mark 95th birthday
July 18, 2013 -- Updated 1310 GMT (2110 HKT)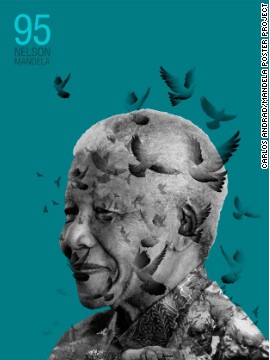 The Mandela Poster Project is exhibiting images of Nelson Mandela from around the world. This poster is the work of Carlos Andrade, from Venezuela.
By Albina Aleksiunaite, Netherlands.
By Roy Villalobos, United States.
By Lola Coudignac, France.
By Bibi Seck, United States.
By Onica Lekuntwane, Botswana.
By Charis Tsevis, Greece.
Mandela Poster Project
Mandela Poster Project
Mandela Poster Project
Mandela Poster Project
Mandela Poster Project
Mandela Poster Project
Mandela Poster Project
Mandela Poster Project
Mandela Poster Project
Mandela Poster Project
STORY HIGHLIGHTS
Mandela Poster Project exhibiting 95 posters of the former South African president
Project received more than 700 poster submissions from around the world
Mandela Day has been celebrated worldwide since 2009
The day encourages 67 minutes of good deeds from participants
(CNN) -- In South Africa, Nelson Mandela's 95th birthday is being marked by celebrations, good deeds, and an exhibition of stunning new posters of the country's former president.
Mandela himself will be spending the day in hospital in Pretoria, where he is said to be in a critical but stable condition, battling a lung infection.
Since 2009, Mandela's birthday has been designated "Nelson Mandela International Day." The celebration encourages people around the globe to partake in 67 minutes of public service: one minute per year of service that the former statesman, also known as Madiba, has given to his country.
In photos: Global tributes to Nelson Mandela
It's a day that many feared might not come, as Mandela has been receiving urgent medical care since June. Now breathing with the help of a machine, family and friends have been optimistic about his response to treatment, with former president Thabo Mbeki even suggesting he may soon be discharged.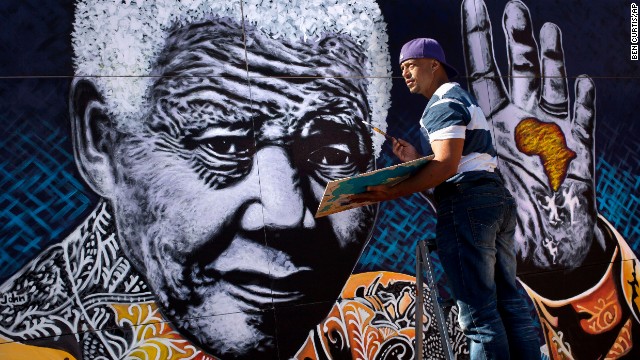 South African artist John Adams works on a giant painting of Nelson Mandela in a suburb of Johannesburg. Mandela, an anti-apartheid icon and Nobel peace laureate, endured 27 years in prison before becoming South Africa's first democratically elected president. Click through the gallery for other artistic tributes to "the world's most famous political prisoner."
SOUTH AFRICA: A giant mosaic of Mandela made from 5,000 cups of coffee is displayed at Constitutional Hill in Johannesburg.
GERMANY: A woman views a giant wooden head of Mandela in the city center of Essen in western Germany. Created by artist Jems Robert Koko Bi from the Ivory Coast, the sculpture is made of burned spruce wood and is supposed to stand for the fight for freedom.
SOUTH AFRICA: A mural of Mandela is displayed near his former house in the Alexandra Township in Johannesburg.
ENGLAND: A six-foot bronze sculpture of Mandela is lifted onto a platform in front of the Royal Festival Hall in central London. Cast in bronze, the sculpture was originally unveiled in 1985, five years before Mandela's release from prison.
ENGLAND: A foundry worker moves a crane after lifting a new statue of Mandela in Braintree, northeast of London. The nine-foot high bronze statue was started by British sculptor Ian Walters, who died in 2006, and completed by Nigel Boonham. Weighing approximately one ton, the sculpture now stands on the corner of Parliament Square facing the Palace of Westminster.
BRAZIL: A float by the Porto da Pedra samba school pays tribute to Mandela as it parades at the Sambadrome during the second night of Carnival celebrations in Rio de Janeiro.
SOUTH AFRICA: A woman holds a purse with Mandela's face on it in Johannesburg.
SOUTH AFRICA: Ceramic statues of Mandela are seen in a shop in Johannesburg.
INDIA: Artist Sudarshan Pattnaik works on a sand sculpture in Puri to wish Mandela a speedy recovery. The former South African president was in critical but stable condition at the time, according to officials.
SOUTH AFRICA: A mural depicts Mandela near the Regina Mundi Catholic Church in the Soweto Township in Johannesburg. The church played a central role in the anti-apartheid struggle, opening its doors to shelter activists.
NIGERIA: A model displays an outfit by fashion designer Deola Sagoe that features faces of renowned African figures, including Mandela, during the launch of Ebony Life TV in Lagos.
SOUTH AFRICA: Construction workers add the final touches to a Mandela statue outside Howick, South Africa. The monument will form part of the museum that was opened in the Midlands Meander at the spot where Mandela was arrested on August 5, 1962.
SOUTH AFRICA: From left, actress Hlubi Mboya, former boxer Baby Jake Matlala and Thomas van Schaik from Adidas unveil a piece of art during a Live Quest event showcasing paintings of key moments of the 2010 FIFA World Cup at the Adidas Jo'bulani Centre in Johannesburg.
NORTHERN IRELAND: A Mandela mural is displayed on a home in Northern Ireland.
SOUTH AFRICA: A mosaic portrait of Mandela made entirely out of Rubik's cubes is on display at the entrance of the Mandela Rhodes Place Hotel & Spa in Cape Town. It was created by artist Jan Du Plessis.
SOUTH AFRICA: People gather by a Mandela statue in downtown Johannesburg.
SOUTH AFRICA: South African bank notes featuring Mandela are seen at an office in Johannesburg.
SOUTH AFRICA: A person bungee jumps off old cooling towers in Soweto painted with a mural featuring Mandela.
SOUTH AFRICA: South African artist Paul Blomkamp stands in front of the giant acrylic-on-canvas painting he made of Mandela at his studio in Johannesburg. He said he was drawn to Mandela because of his "exceptional energy."
ENGLAND: Graffiti of Mandela by Paul Don Smith is seen on a door in East London.
UNITED STATES: A fan wearing the colors of South Africa and a portrait of Mandela cheers in the second half of a soccer match between the U.S. and the Czech Republic in East Hartford, Connecticut.
POLAND: A clock in Warsaw is made out of an old vinyl record and painted with Mandela's headshot.
INDIA: An elderly man in Bangalore holds a portrait of Mandela as he receives a free haircut to commemorate the 84th birthday of the former South African president in 2002.
FRANCE: Artwork featuring Mandela over the years is on display at an exhibition in Paris.
SOUTH AFRICA: Street art expressing love for Mandela is found in Cape Town.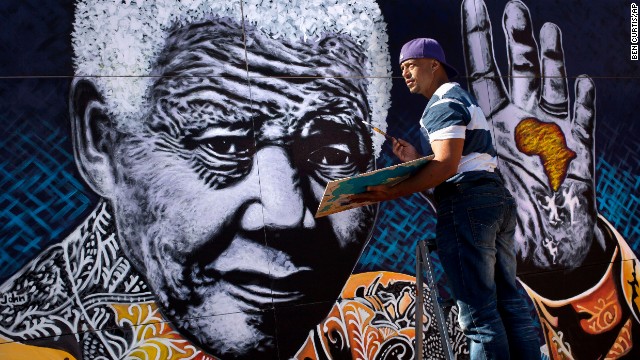 Photos: Global tributes to Nelson Mandela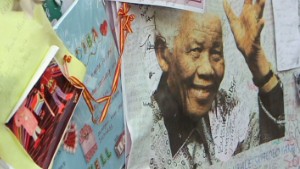 Mandela's birthday inspires volunteers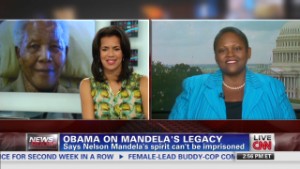 Incredible legacy of Nelson Mandela
Admirers worldwide are hoping for the Nobel Peace laureate's recovery, with Mandela Day providing the perfect opportunity to celebrate his life and achievements. A survey released last week found that 89% of South Africans planned to commemorate the day, with thousands of school children across the country singing "happy birthday" this morning.
Also marking the occasion, at the University of Pretoria the Mandela Poster Project is exhibiting images of Mandela from around the world.
Read this: 'Biggest celebration ever' for Mandela's birthday
Launched in May 2013, the project asked designers to submit posters celebrating Mandela's life. It received more than 700 entries from more than 70 countries, and is now displaying 95 posters that reflect Mandela's international legacy.
"He (Mandela) carries across this concept of humanity and selflessness," said Mohammed Jogie, co-founder of the project.
There are plans for an international traveling exhibition, and the posters will also be made into an online gallery. The team behind the project says it plans to donate any proceeds to the Nelson Mandela Children's Hospital Trust, which aims to establish a pediatric hospital in Johannesburg.
It's a fitting tribute to the iconic activist on a day that celebrates the sense of community and charity Mandela has dedicated his life to promoting.