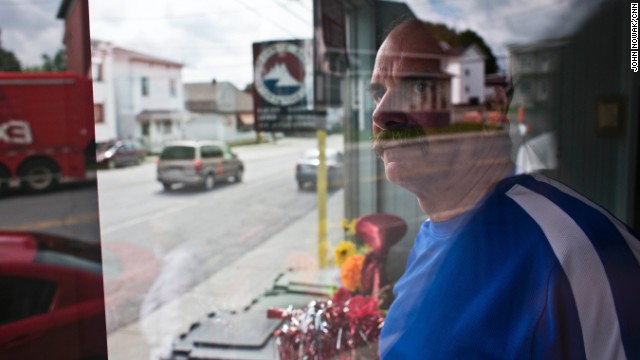 An unmanned train carrying 72 tankers of crude oil plowed into the heart of Lac-Megantic, Quebec, on Saturday, devastating the town and shocking people in Canada and beyond. Daniel Poulin, a longtime resident of Lac-Megantic, Quebec, and editor of a local monthly newspaper, lost friends in the train disaster.
Police officers remove caution tape in areas of Lac-Megantic that were off-limits to residents. Since the July 6 derailment, wide areas of downtown have been restricted as authorities cleaned up and investigated the disaster site.
The derailment in downtown Lac-Megantic wiped out 40 buildings and killed dozens of people. Many more people are still missing and believed to have been vaporized in the inferno.
Luce Robineau, on the train tracks directly behind her home, lost her business in the derailment. She operated a boutique downtown and hopes to rebuild.
Ed Burkhardt, CEO of Montreal, Maine & Atlantic Railway, spoke to media in Lac-Megantic on Wednesday, July 10, four days after the train wreck. He was heckled by onlookers, and many residents say he has mishandled the ordeal.
Protesters shout at rail executive Ed Burkhardt. The town is seething with anger.
Canadian and Quebec flags fly at half-staff at a Walmart in Lac-Megantic.
Access to much of Lac-Megantic is restricted, including the railway and downtown.
Andre Blais adjusts a sign erected near the train tracks. It bears a message for the rail company: "Shame on you MMA." It is signed "The population" and refers to the "train from hell."
Shortly after authorities open some barricaded streets, a group of young men stop by to check out the wreckage in downtown Lac-Megantic. It is a sad and stunning sight.
The wreckage of downtown Lac-Megantic is a stunning sight. Residents say they are determined to come back from the disaster.
Louise Latulipe walks her 10-month-old granddaughter, Mykaelle. Latulipe's daughter had to evacuate her home after the derailment and has not been allowed to return.
People gather at the Parc de la Croix to look down over the town where the train derailed.
A Canadian town is devastated
A Canadian town is devastated
A Canadian town is devastated
A Canadian town is devastated
A Canadian town is devastated
A Canadian town is devastated
A Canadian town is devastated
A Canadian town is devastated
A Canadian town is devastated
A Canadian town is devastated
A Canadian town is devastated
A Canadian town is devastated
A Canadian town is devastated