Pesticides found in deadly school lunch in India
July 22, 2013 -- Updated 0103 GMT (0903 HKT)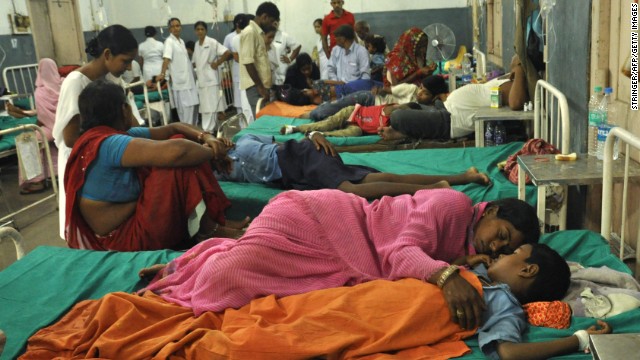 A woman rests with her child at a ward housing the poisoned schoolchildren at the Patna Medical College and Hospital, in the eastern Indian state of Bihar, Wednesday, July 17. At least 22 schoolchildren died in northeastern India after eating free school lunches that contained an insecticide commonly used in agriculture. Officials are investigating whether the poisoning was accidental or deliberate.
Books, papers and dishes are seen scattered on the floor after the incident.
An Indian man mourns as he holds his dead daughter inside an ambulance, outside a hospital in Patna.
The deaths triggered violent protests in Chhapra, the headquarters of Saran district.
A grief stricken mother is consoled after the death of her son.
Villagers gather for a funeral for children who died from the poison.
Deadly school lunch in India
Deadly school lunch in India
Deadly school lunch in India
Deadly school lunch in India
Deadly school lunch in India
Deadly school lunch in India
STORY HIGHLIGHTS
Monocrotophos is toxic to humans
It has been banned in the United States since 1988
Nearly half of Indian children are malnourished
Patna, India (CNN) -- Pesticides have been found in the food and oil used in a free school lunch that killed 23 students and sickened 25 others on Tuesday in northern India's Bihar state, police said Saturday.
Forensic scientists found monocrotophos, an organophosphorus compound used as an insecticide, "in the samples of oil from the container, food remains on the platter and mixture of rice with vegetables in an aluminum utensil," Assistant Director General Ravinder Kumar told reporters in Patna.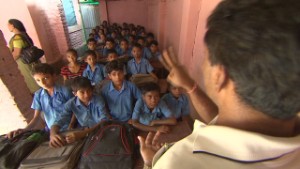 Inside an Indian school kitchen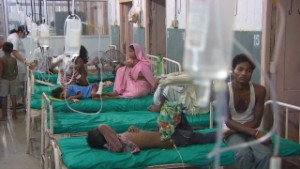 Free lunches halted at Indian schools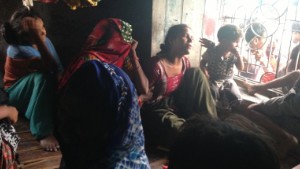 Indian village devastated by deaths
Monocrotophos, which is used for agricultural purposes, is toxic to humans.
An administrative inquiry has pointed to negligence by the school headmistress in supervising food preparation for the children, Bihar state's midday meal director R. Lakshamanan told CNN on Friday.
The cook, Manju Devi, was hospitalized after eating the food she prepared, doctors said.
Devi told police that the headmistress, Meena Kumari, did not heed her warning that the mustard oil used to prepare Tuesday's lunch looked and smelled bad and instead insisted that she continue preparing the meal, Lakshmanan said, citing the inquiry report.
Police told CNN that investigators were trying to find Kumari to question her.
Confusion, grief and despair in India's school poisoning village
The investigation found compromised hygiene and sanitation in the school, which was running from a single-room makeshift building, he added.
Experts have said the deaths underscore the problem of food safety in the country and have prompted discussion on how to improve national school food programs amid news that authorities had warned months ago of safety problems with Bihar's school meal program.
On Friday, authorities in Bihar -- which is one of India's poorest states -- announced that a committee would be formed to improve food preparation in rural schools. Lakshamanan said village communities would help monitor standards for school meals.
The Bihar students, who were ages 5 to 12, started vomiting soon after their first bite of lunch; some fainted, authorities said.
According to the Indian government, nearly half of India's children are malnourished. Since a Supreme Court decision in 2001, government schools in India have been required to provide free meals to students younger than 13.
CNN's Harmeet Singh reported this story from Putna and Tom Watkins wrote it from Atlanta

Part of complete coverage on
September 23, 2014 -- Updated 2009 GMT (0409 HKT)

The U.S. and several Arab nations carried out airstrikes against ISIS in Syria, intensifying the campaign against the militant group.
September 23, 2014 -- Updated 1218 GMT (2018 HKT)

Her friends were raped and her brother was killed by ISIS, but 15-year-old "Aria" managed to escape.
September 23, 2014 -- Updated 1058 GMT (1858 HKT)

Emma Watson lent her name and her glittery profile to the cause of feminism at the United Nations.
September 23, 2014 -- Updated 0106 GMT (0906 HKT)

From Gadhafi to Ahmadinejad, Bush to Chavez: look back at memorable moments from past UNGA sessions. Richard Roth reports.
September 23, 2014 -- Updated 0741 GMT (1541 HKT)

Just days after NASA's Mars orbiter reached the Red Planet, India's first mission could follow suit and make history.
September 23, 2014 -- Updated 2014 GMT (0414 HKT)

Khorasan, al Qaeda's new branch, seeks new ways to attack America and Europe.

Alibaba officially became the biggest initial public offering of all time, confirming that in the final tally it raised $25 billion.
September 23, 2014 -- Updated 0257 GMT (1057 HKT)

Do the Chinese really like to mix their Bordeaux with Coca-Cola?
September 23, 2014 -- Updated 0936 GMT (1736 HKT)

In the largely male-dominated world of the motorsport, South African super bike racer Janine Davies is an anomaly.
September 23, 2014 -- Updated 1130 GMT (1930 HKT)

The Lilongwe Wildlife Center houses over 200 animal victims and helps rehabilitate them back into the wild.
September 23, 2014 -- Updated 1052 GMT (1852 HKT)

Each day, CNN brings you an image capturing a moment to remember, defining the present in our changing world.

Browse through images from CNN teams around the world that you don't always see on news reports.

Today's five most popular stories