Belgium's King Albert II gives up throne to son
July 21, 2013 -- Updated 1606 GMT (0006 HKT)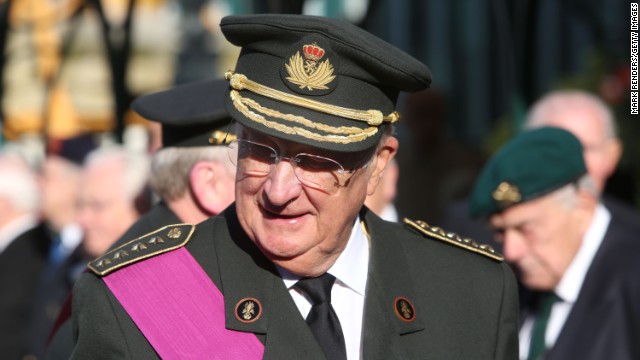 King Albert II of Belgium announced Wednesday, July 3, that he will abdicate the throne on July 21. His son, Crown Prince Philippe, will succeed him. Here the king attends a tribute to the unknown soldier on November 11, 2012, in Brussels, Belgium.
King Albert II shakes hands with Giacinto Berloco, the Vatican's prelate to Belgium and Luxembourg, while he and Queen Paola attend a reception at the Palais de Bruxelles on January 9 in Brussels.
Queen Paola and King Albert II in Luxembourg after the wedding of that nation's Prince Guillaume of and Princess Stephanie on October 20, 2012.
Queen Paola and King Albert II attend the National Day Parade at Place des Palais on July 21, 2011 in Brussels.
King Albert II and Queen Paola pose in front of the Charles Bridge and Prague Castle on October 24, 2000, in Prague, Czech Republic.
King Albert II of Belgium to abdicate
King Albert II of Belgium to abdicate
King Albert II of Belgium to abdicate
King Albert II of Belgium to abdicate
King Albert II of Belgium to abdicate
STORY HIGHLIGHTS
King Philippe is sworn in as king of Belgium on Sunday in Brussels
His father, Albert II, stepped down an hour earlier
Belgium also gained a queen, Philippe's wife Mathilde
(CNN) -- Former Crown Prince Philippe was sworn in as king of Belgium on Sunday after his father abdicated the throne an hour before.
Albert II of Belgium gave up his throne over concerns about his advanced age.
"I have noticed how my age and my health have not permitted me to exercise my duties the way I would like to," the 79-year-old said in an address to the nation.
King Philippe, 53, was educated in public schools in Belgium's two major languages, Flemish and French, and later attended the royal military academy, where he trained to be a fighter pilot.
Belgium, which is home to the European Union capital of Brussels, has also gained a queen in Mathilde, Philippe's wife. She is the daughter of a count and countess and graduated with a degree in speech therapy.
Albert's abdication follows that of the Netherlands' Queen Beatrice earlier this year and that of Pope Benedict XVI at the Vatican.
European Commission President Jose Manuel Barroso has praised Albert for the move.
"I wish to express to him my sincere thanks for his tireless efforts in the service of Belgium and Europe," Barroso said in a statement.
Throughout his 20-year reign, Albert "has never ceased to be a staunch defender of the values that are the basis of the European construction," Barroso said.
The Belgian royal family has had less luck promoting cohesion within its own country, which is culturally split between ethnic Flemish Dutch people in the north, ethnic French people in the south and a small group of ethnic Germans in the east.
Separatist ideas have sprouted particularly in the Flemish region, which has a stronger economy.
Opinion: Why Queen Elizabeth won't step down
CNN's Neda Farshbaf contributed to this report.