Gallery: Messy mayhem at mud festival
July 23, 2013 -- Updated 0845 GMT (1645 HKT)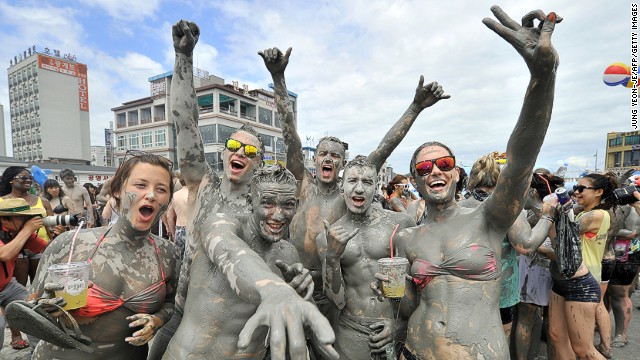 South Korea's most popular festival kicked off in South Chungcheong Province last weekend and will run until July 28. Festival organizers are expecting 3 million participants, with 10% from foreign countries.
Visitors engage in activities from mud facials to mud marathons. Mud fountains, slides and wrestling tubs are also popular.
Everyone gets horizontal inside the mud tub.
Wise move. You probably don't want to get it in your eyes, no matter how beneficial it is.
Thanks to the mud festival, local beaches "are so full of foreign tourists that one could mistake them for Europe or the United States," reported local news agency Yonhap.
The festival was originally launched to promote the cosmetic benefits of Boryeong's local mud. Mud packs and other cosmetic items are for sale at pop-up gift booths at the festival.
Festival organizers amped up the Family Zone this year to make it friendlier for traveling families.
Probably not the best idea to take your phone in there ...
On top of the mud fest, a local beer company is adding a rock festival and beer festival to the mix.
Face and body benefits maybe, but that stuff has got to be murder to get out of your hair.
Watch everything, for that matter.
Boryeong Mud Festival
It was the only place he felt like he belonged ...
Mud bath
Eye masks
Tourist magnet
Free facials
More than just friends
Her newest Facebook photo
Beer festival
Cosmetic benefits?
Watch your back
STORY HIGHLIGHTS
Millions of visitors get filthy in Boryeong, South Korea
Organizers aim to make mud festival more family friendly this year
Everything mud-related goes
Festival originally launched to promote cosmetic mud treatments
(CNN) -- Call it the world's biggest mud fight or its largest group cosmetic treatment -- either way, millions of visitors are making their way to Boryeong, South Chungcheong Province this week for South Korea's most popular festival.
The 16th annual Boryeong Mud Festival, which kicked off this past weekend and will run until July 28, hopes to beat its record of 3 million participants last year.
Organizers say this year's mud bath is expected to attract 300,000 foreign tourists, up 22,000 from last year. Korean media have reported that trains to Boryeong are already packed with dirt-ready foreigners.
50 greatest summer music festivals
This year's festival
Originally launched to promote the cosmetic benefits of the local mud, the festival has become an annual frenzy in which visitors take part in numerous mud-related activities, including mud wrestling and a mud marathon.
"This year, we amped up the Famiily Zone to meet the demands of people traveling with children," say event organizers. "There are many foreign families traveling to Korea just for the festival."
Local beer company Hite Jinro (maker of the best-selling selling liquor in the world) is throwing a rock festival in Boryeong for the first time this year and hosting K-Pop concerts and "garden beer parties" until August.
How to survive a Korean drinking session
To cater to the tastes of foreign visitors, some area restaurants are being converted into pizza and hamburger joints during the festival to provide dining options beyond traditional hoe-jip (Korean sashimi restaurants) or restaurants selling grilled shellfish.
July 19-28, 2013
1029-3, Sinheuk-dong, Boryeong-si, Chungcheongnam-do, South Korea
Korean, English, Japanese and Chinese travel hotline: +82 2 1330
The world's messiest festivals

Part of complete coverage on
December 10, 2013 -- Updated 1811 GMT (0211 HKT)

"To awaken quite alone in a strange town is one of the pleasantest sensations in the world."
December 6, 2013 -- Updated 0304 GMT (1104 HKT)

A Japanese blogger has gained Internet fame for taking selfies with a fake lover. Here's his sad/uplifting tale.
December 6, 2013 -- Updated 0151 GMT (0951 HKT)

Biman Bangladesh Airline will take star-crossed airliner on its last joy ride.
December 3, 2013 -- Updated 0303 GMT (1103 HKT)

Whistler, Chamonix, Aspen -- the best known winter sports resorts have become that for a reason.

More than just the merger of Buda and Pest, the Pearl of the Danube is also the cultural crossroads of Europe's east and west.
December 2, 2013 -- Updated 1316 GMT (2116 HKT)

Visiting the DPRK is easy these days, so long as you don't forget to play by their rules.
November 26, 2013 -- Updated 2330 GMT (0730 HKT)

The best places to indulge our second-favorite thing to do with ice.

Top drinking spots with bird's eye views of one of the world's greatest cities.
November 26, 2013 -- Updated 0138 GMT (0938 HKT)

Mulled wine, skating on the river, light shows over snow. Some cities are made for winter.
November 22, 2013 -- Updated 1607 GMT (0007 HKT)

Only 800 people a year are allowed to visit Namibia's bleak but beautiful Skeleton Coast, littered with whale bones and crumbling shipwrecks.
November 24, 2013 -- Updated 0500 GMT (1300 HKT)

Aah, slide shows. How we hated Grandpa's annual two-hour presentation of his trip to the Grand Canyon. But now, don't we kind of miss them?

For 24 hours, we made the world's busiest airport our destination and found a world unto its own. Join us on our journey.

Today's five most popular stories