STORY HIGHLIGHTS
Dubai pardons Norwegian woman who was jailed after reporting being raped
5.9-magnitude earthquake leaves dozens dead in northwest China
Hezbollah's military wing designated a terrorist group by EU
(CNN) -- While half of civilization busied itself trying to find out the name, weight, gender, hair color, taste in music and political disposition of the new heir to the British throne, it turns out there was a whole world of other news happening out there.
Here are five other stories you may have missed today:
1. Dubai pardons woman jailed after reporting rape
A 24-year-old Norwegian woman says she was raped by a colleague in a Dubai hotel following a work party -- but after she went to police, she was convicted and sentenced to 16 months in jail on charges of having unlawful sex, making a false statement and illegal consumption of alcohol.
Now Dubai's ruler has pardoned Marte Deborah Dalelv according to Norway's foreign minister, who called Dalelv's conviction "contrary to fundamental human rights." Dalelv will be free to travel where she wants and can remain in Dubai if she chooses.
2. Dozens dead as earthquake hits northwest China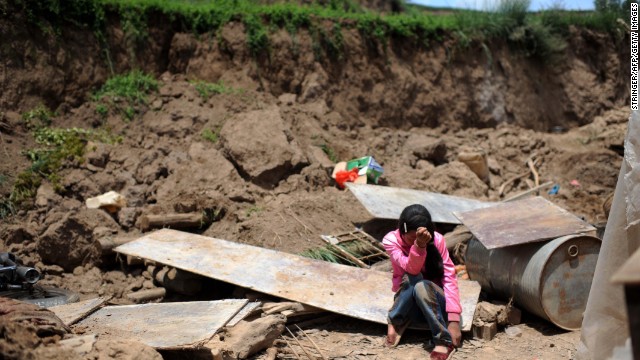 Song Xiaomei cries on Wednesday, July 24, after her home was destroyed by an earthquake in northwest China's Gansu province. The strong, shallow earthquake and powerful aftershocks jolted the region Monday morning. The death toll is at 89, as of Friday, July 26.
People look at damage on July 24 from a landslide triggered by Monday's earthquake.
An elderly man weeps on July 24 after he hears he lost his grandson in the earthquake in Yongxing village.
A rescuer jumps over a creek as a team brings relief supplies for earthquake victims to Digu village on July 24.
People pray for the earthquake victims in Laibin, China, on July 24.
A man reacts after seeing his wife's shoes as rescuers search for earthquake survivors in Yongguang township, in northwest China's Gansu province, on Tuesday, July 23.
People gather to bury the dead in Yongguang, China, on July 23.
Villagers grieve in Yongguang, China, on July 23.
A man sits beside a collapsed house in Gansu province, in northwest China, on July 23.
An aerial photo shows the devastation in the village of Yongguang in Gansu province.
People carry a coffin July 23 during a funeral for an 84-year-old villager from Lalu who was killed in the earthquake. The death toll has risen to 94, local authorities said Tuesday.
Villagers receive treatment from military medics in Yongxing, China, on July 23. Rescuers are searching for survivors in the aftermath of the quake.
An injured person waits for treatment in Yongxing on July 23.
Rescuers search for victims in Yongguang on July 23.
Hou Xuming examines the cracks in his house at Hadiha on July 23.
Rescuers work to clear rubble in Yongguang on July 23.
Military personnel work on a hillside in Yongguang in Minxian County on Monday, July 22.
A helicopter airdrops relief supplies above Yongguang on July 22 as villagers wait on the ground.
An injured woman receives treatment at a hospital in Minxian County, northwest Gansu Province, on July 22.
A man checks out a damaged house in Hetuo township in Dingxi in China's Gansu Province on Monday, July 22.
Rescuers look for survivors in the ruins of a house in Hetuo township in Dingxi on July 22. Emergency services are converging on the area, including the Red Cross Society of China, which is sending 200 tents and other supplies to help those left homeless.
The quake leaves a wall collapsed in Hetuo township in Dingxi on July 22. Chinese President Xi Jinping has urged crews to make the rescue of survivors a priority, according to state broadcaster CCTV.
Two men make their way along a damaged road in Hetuo township in Dingxi on July 22. The original quake and powerful aftershocks caused roofs to collapse, cut telecommunications lines and damaged a major highway linking Gansu Province's capital of Lanzhou to the south, reports say.
A dog stands on the ruins of a collapsed house in Hetuo township in Dingxi on July 22.
Rescuers clean up debris at Lalu village in Minxian on July 22.
Rescuers arrive at Lalu village in Minxian on July 22.
Damage from the quake is visible in Hetuo township in Dingxi on July 22.
Residents try to take shelter after an earthquake in downtown Dingxi on July 22.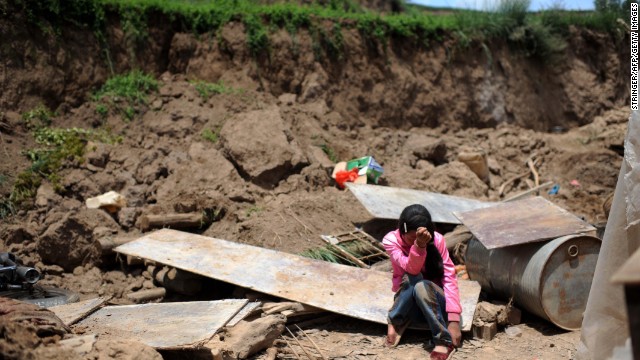 Photos: Quake strikes northwest China
A shallow, powerful 5.9-magnitude earthquake tore through China's Gansu Province, killing at least 89 people and injuring hundreds more, according to state media.
The original quake and powerful aftershocks caused roofs to collapse, cut telecommunications lines and damaged a major highway. Emergency services have converged on the area to try to rescue survivors.
3. Hezbollah's military wing is a terrorist group, says EU
The European Union has joined the U.S. and Israel in designating the military wing of Hezbollah as a terrorist organization, but stopped short of putting the entire group on its terror list.
The Bulgarians cited evidence that the military wing of the Iranian-backed Lebanese Shiite group was involved in a terror attack last year that killed five Israeli tourists and a Bulgarian bus driver. In Cyprus earlier this year, a court found a Hezbollah member guilty of assisting in the planning of an attack on Israel. Lately, its fighters have sided with Syrian President Bashar al-Assad in that country's civil war.
The designation, which a spokeswoman for Israeli Justice Minister Tzipi Livni called "correct and just," would freeze the assets of Hezbollah entities.
4. Man who bombed Beijing airport wanted to flag 'unjust treatment'
The wheelchair-bound Ji Zhongxing, 34, set off a homemade explosive inside a Beijing airport on Saturday after he was stopped from handing out leaflets "to get attention to his complaints" outside the arrival hall, according to Xinhua news agency.
Ji said on his personal blog in 2006 that he had been beaten by security guards outside a police station in 2005 after carrying a passenger on his motorcycle -- a charge the police denied. He was paralyzed after the incident and petitioned for official compensation.
Ji was hospitalized after he detonated his explosives. No other people were injured and flights at the airport were not affected.
5. CNN Exclusive: Glee star Charice on why she'll miss Cory Monteith
In an exclusive opinion piece for CNN.com, "Glee" star Charice writes that her body went cold when she learned co-star Cory Monteith had been found dead from a drug overdose in his hotel room in Vancouver.
Charice says Monteith, who had been frank about his struggles with substance abuse in the past, was a "real talent" -- and that she has no idea what will happen to the hit American musical now that the actor is gone.