Newlyweds go to new heights with 'human slingshot' garter, bouquet toss
July 24, 2013 -- Updated 1415 GMT (2215 HKT)
STORY HIGHLIGHTS
Newlyweds chose a "human slingshot" to make their wedding day memorable
Bride Natasha Johnson threw her bouquet while in the sling, groom Jacob threw the garter
The couple says the video has garnered international attention
(CNN) -- They met at a country bar in Utah. She was riding a mechanical bull, and he couldn't help jumping on the saddle with her.
The relationship started there, and the couple took it to new heights on their wedding day by tossing the bride's bouquet and garter from a "human slingshot."
Jacob and Natasha Johnson wanted to replicate the experience of a mechanical bull at their July 13 wedding. But their parents worried it was too "redneck."
Luckily, they decided to hold their wedding at Hobble Creek Lodge in Springville, home of "Utah's human slingshot."
At first they thought it was a joke, but a bit of research showed that others had used it before. They decided to go for it.
A YouTube video posted by wedding guest Colton Spencer shows the bride, still in a fluffy gown, strapped to a red rubber slingshot, her feet attached to an ATV with a stretchy cord. The groom drives the four-wheeler down the lawn and releases the cord to fling his bride through the air.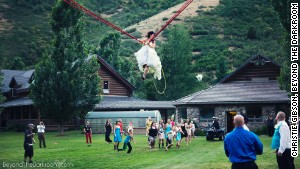 Natasha Johnson updates a wedding tradition.
Natasha says she was terrified but not necessarily for her safety.
"I was afraid of ripping my dress," she said. She wore shorts to ensure she wouldn't flash guests when launched in the air.
They practiced the night before, but it still took two tries to successfully launch her because she was "20 pounds heavier" while wearing the gown.
Reception guests were alerted before the launch began and gathered around. With Beyonce's "Single Ladies (Put a Ring on It)" playing in the background, Natasha sailed through the air and threw her bouquet back to a crowd of eager women.
Don't miss out on the conversation we're having at CNN Living.
Follow us on Twitter
and
Facebook
for the latest stories and tell us what's influencing your life.
"All of the ladies were waiting and my girlfriend and niece argued when my niece caught the bouquet," she laughed.
Then, it was Jacob's turn. He was nervous about being strapped to the slingshot for other reasons: "I turned around and saw Tasha's dad driving the ATV."
The couple says the video has garnered international attention with people expressing shock and delight over the different take on a wedding tradition.
Guests will always remember the slingshot, Natasha says, but it wasn't the only exciting moment of the fun-filled night.
"The groomsmen decided to go skinny dipping in the pond," Natasha said. "Jacob didn't want to tell that."
The couple is enjoying married life and says life is back to normal, with a few extra interview requests.
"We're just having fun with it," Jacob says.
What else but fun would you expect from these newlyweds?

Part of complete coverage on

CNN Living reflects your life. From advice for modern parents to the freshest news in food: It's all here.

Summer is practically synonymous with cooking food over the fire and sharing it with friends and family. Here's how to grill great food, step-by-step.
July 14, 2014 -- Updated 1316 GMT (2116 HKT)

Do you wish you could outsource the summer cooking, cleaning and camp planning associated with kids? You can.
July 9, 2014 -- Updated 1208 GMT (2008 HKT)

In April, Carol Rossetti began a personal project to continue practicing her drawing technique, "while saying something worthy."
June 25, 2014 -- Updated 1249 GMT (2049 HKT)

"Obvious Child" has all the story arcs for romantic-comedy gold, but one of the film's major topics isn't often broached in theaters: abortion.
May 27, 2014 -- Updated 1845 GMT (0245 HKT)

A teen planned to build a tiny house with her parents for a school project, but after her father's sudden death, more powerful lessons emerged.
May 8, 2014 -- Updated 1615 GMT (0015 HKT)

Our mothers and the women we look up to offer our first lessons in beauty and personal maintenance. What do they tell us about loving our gray hair?
May 23, 2014 -- Updated 1349 GMT (2149 HKT)

When a partner is terminally ill, do you still go through with the wedding? Meet people who said 'I do' with a future in doubt.
April 2, 2014 -- Updated 2140 GMT (0540 HKT)

You have a new home or your first apartment and dozens of crazy ideas to make it look the way you want. But what's your decorating style?

Today's five most popular stories