(CNN) -- From the first explicit photos to his denial, resignation from Congress, bid for New York mayor and the latest scandal, here's a look at former Rep. Anthony Weiner's last few years in the spotlight:
-- July 29, 2010: Weiner, a Democratic congressman from New York, gains national attention for an impassioned speech on the House floor about health care for 9/11 emergency responders. Videos of the speech go viral and catapult Weiner into the public spotlight.
-- May 27, 2011: A lewd photo appears briefly on Weiner's Twitter account. Conservative blogger Andrew Breitbart is first to report the image, which shows the bulging crotch of a man in his underwear.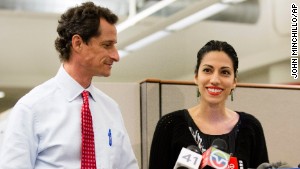 Standing by your man helps in the polls?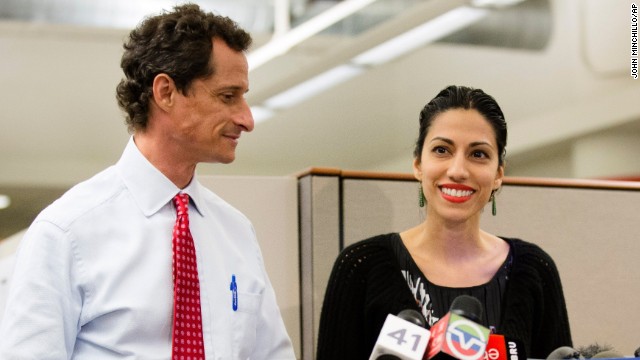 Anthony Weiner and his wife, Huma Abedin, hold a press conference on Tuesday, July 23, to address explicit online exchanges that were published by a gossip website.
Weiner said some of the exchanges happened after his resignation from the U.S. House in 2011.
Abedin appeared beside her husband and made brief remarks backing him. "What I want to say is I love him, I have forgiven him, I believe in him, and as I have said from the beginning, we are moving forward," said Abedin.
"This behavior is behind me. I've apologized to Huma and am grateful that she has worked through these issues with me and for her forgiveness," Weiner said.
"I made the decision that it was worth staying in this marriage," Abedin said. "That was a decision I made for me, for our son and for our family."
The press conference was held after chat messages purporting to be from Weiner were published on the website TheDirty.com. The post cited a "solid" source alleging Weiner engaged in lewd online conversations with her, and the site reproduced lengthy chats that were sexual in nature.
Abedin added at one point that her husband had made "horrible mistakes, both before he resigned from Congress, and after."
"While some things that have been posted today are true and some are not, there is no question that what I did was wrong," Weiner said.
Weiner said he would not be giving up his mayoral bid. "I'm sure many of my opponents would like me to drop out of the race."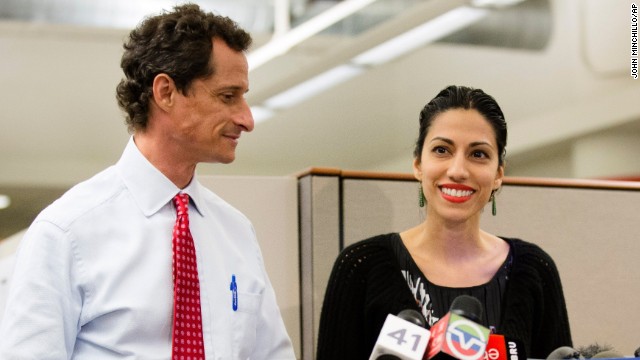 Photos: Weiner addresses lewd exchanges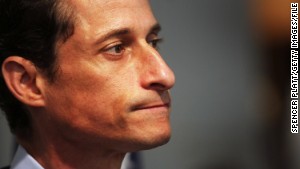 Weiner: What I did was wrong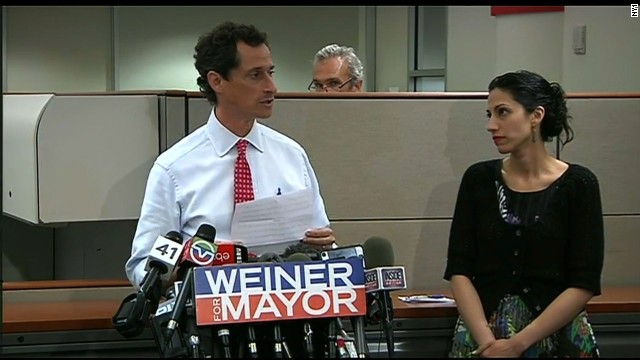 Psychologist: Weiner needs more therapy
-- May 30, 2011: The congressman tells reporters a hacker got control of his Twitter account. "Look, this is a prank and not a terribly creative one," Weiner says.
Weiner: "I was hacked. It happens to people. You move on."
-- June 1, 2011: Weiner tells CNN he did not post the picture and has hired a law firm to investigate. He continues to evade the question about whether the photo is of him.
-- June 6, 2011: In an abrupt about-face, a tearful Weiner apologizes for having lied about his Twitter account being hacked and admits to having engaged in inappropriate online relationships with several women he met on the Internet, generally on Facebook. He tells reporters he will not resign and does not plan to separate from his wife. "To be clear, the picture was of me, and I sent it," Weiner says.
Video: Weiner admits to sending lewd photos
-- June 9, 2011: CNN learns that Weiner and his wife, Huma Abedin, are expecting their first child. Abedin is an adviser to Hillary Clinton.
-- June 11, 2011: Weiner decides he will seek treatment "to focus on becoming a better husband and healthier person" and will ask for a "short leave of absence" from Congress, his spokeswoman says. It was not clear what type of treatment he would undergo.
-- June 12, 2011: TMZ publishes photos of Weiner, in various states of undress, which he apparently took of himself in a locker room.
-- June 16, 2011: Weiner announces his resignation from Congress to reporters at a senior center in Brooklyn, New York. He apologizes "for the personal mistakes I have made and for the embarrassment I have caused."
Video: Weiner announces resignation after sexting scandal
-- December 21, 2011: Weiner's wife gives birth to their first child, a boy named Jordan Zain Weiner.
-- July 12, 2012: In an interview published by People magazine, Weiner says he has no immediate plans to run for office again.
"I can't say absolutely that I will never run for public office again, but I'm very happy in my present life," Weiner said when asked about rumors he might run for New York mayor. "I'm not doing anything to plan a campaign."
-- May 21, 2013: After months of speculation, Weiner announces he is running for mayor of New York City.
"Look, I've made some big mistakes and I know I've let a lot of people down. But I've also learned some tough lessons," Weiner says in a video posted on his campaign website. "I'm running for mayor because I've been fighting for the middle class and those struggling to make it for my entire life. And I hope I get a second chance to work for you."
Spitzer, Weiner and why New York is talking about sex
-- July 23, 2013: A gossip website publishes screen shots of sexual conversations that Weiner allegedly had with a woman last summer.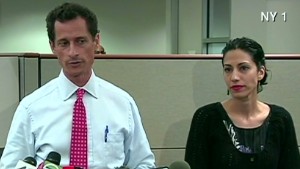 Weiner apologizes with wife at his side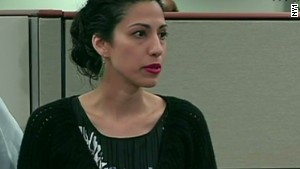 Weiner's wife: Forgiving him wasn't easy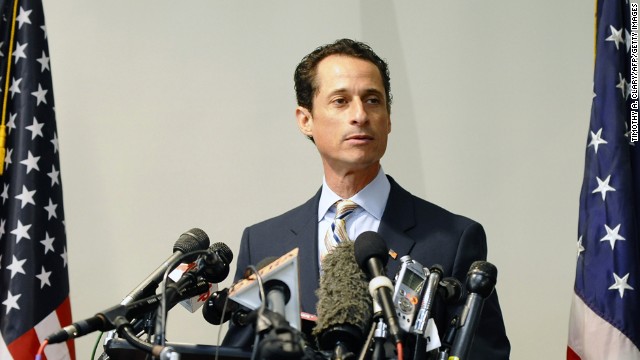 Former Rep. Anthony Weiner, D-New York, resigned from Congress in 2011 after being embroiled for weeks in a sex scandal linked to his lewd online exchanges with women. Weiner announced in May that he was running for mayor of New York City, saying in a video announcing his campaign, "I hope I get a second chance to work for you." Weiner's comeback bid suffered a potential setback Tuesday, July 23, when he acknowledged more sexually tinged exchanges with an unnamed woman. "What I did was wrong," Weiner said in a statement about the newly emerged communications.
Former New York Gov. Eliot Spitzer, who resigned in 2008 after it was revealed that he had spent thousands of dollars on prostitutes, says he plans to run for New York City's comptroller. "I accepted responsibly for what I did," Spitzer said. "I spent five years of working, doing useful things, and I hope the public will offer me an opportunity." Despite taking knocks from the press, the voters and, in some cases, the law, other politicians have pursued redemption in their public image or, in some cases, a return to office.
Former Gov. Mark Sanford endured heavy criticism and being the butt of jokes until his term ended after he admitted in 2009 that his six-day hiking trip on the Appalachian Trail was actually a cover for a trip to Argentina to visit his mistress. In May, Sanford won election against Democrat Elizabeth Colbert Busch for an open seat in the U.S. House, despite being heavily outspent by Democrats and without the backing of national Republicans.
Bill Clinton had a scandalous presidency, most famously having an affair with an intern that prompted his impeachment. Since, he has become an important figure in worldwide humanitarian efforts and informal adviser to President Obama.
Former Speaker of the House Newt Gingrich left his position in disgrace after the Clinton impeachment proceedings in 1998. It was also later revealed that he was having an affair with a Congressional staffer, now his current wife Callista. Gingrich had an unsuccessful bid for the Republican presidential nomination in 2012 and is now seen as an elder party statesman, regularly appearing in the media on conservative issues.
Before becoming an adviser for Homeland Security, retired Sen. Gary Hart was the front-runner of the 1988 Democratic primaries for president until images of him with a model surfaced, ending his campaign.
Former Rep. Dennis Kucinich, D-Ohio, has had many ups and downs in his political career, first becoming mayor of Cleveland, at the age of 31, and then losing a bid for reelection. Kucinich was later elected to the Senate and then the U.S. House but lost when he ran for president in 2004 and again in 2008.
Sen. David Vitter admitted his guilt in the D.C. Madam scandal in 2007. His phone number had been published in 2009 in a list of phone records from a prostitution ring Deborah Jeane Palfrey, also known as the "D.C. Madam." Three years later he was reelected to the Senate.
Marion Barry is sworn in as the mayor of Washington with his wife, Cora Masters Barry, at his side, in 1995. Four years earlier, he was forced from the mayor's office, and later imprisoned, for being caught on videotape smoking crack.
Richard Nixon resigned in disgrace in 1974 after the Washington Post broke the story on his role in the Watergate burglary. But before being elected president, Nixon was Dwight Eisenhower's vice president. He lost his first presidential election to John F. Kennedy in 1960, and then lost the governor's race in California in 1962. However, in 1968, he got the GOP nomination and defeated Hubert Humphrey in the general election to become president.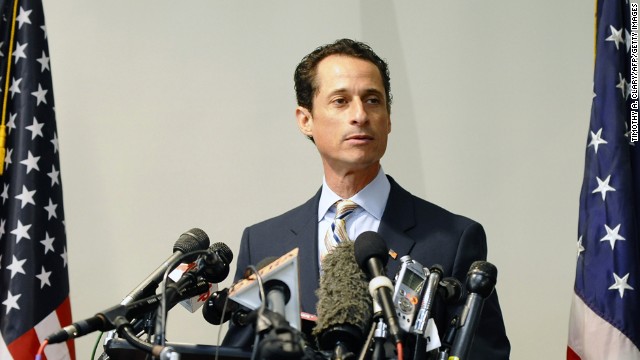 Top 10 political comebacks
Hours later, Weiner said some of the explicit online chats took place after his resignation from the U.S. House in 2011.
Abedin, his wife, joined Weiner during the press conference for the first time. She said while her husband has made some "horrible mistakes, both before he resigned from Congress and after," she was sticking with him.
"What I want to say is I love him, I have forgiven him, I believe in him, and as I have said from the beginning, we are moving forward," Abedin said.
Has the road to political redemption gotten shorter?
On the same day, Harper's Bazaar publicized excerpts of an article Abedin wrote for the magazine's September issue.
"New Yorkers will have to decide for themselves whether or not to give him a second chance," she wrote. "I had to make that same decision for myself, for my son, for our family. And I know in my heart that I made the right one."
But the editorial board of The New York Times said Weiner's problems have marred his mayoral run:
"The serially evasive Mr. Weiner should take his marital troubles and personal compulsions out of the public eye, away from cameras, off the Web and out of the race for mayor of New York City."