Madison Square Garden gets 10 years to find new location
July 28, 2013 -- Updated 1751 GMT (0151 HKT)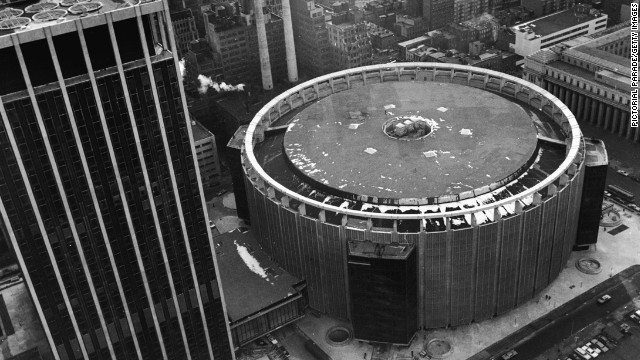 An aerial view shows the current Madison Square Garden in February 1968, soon after its completion. The Madison Square Garden Co. has been given 10 years to find a new venue as New York plans on renovating Penn Station, which sits below the Garden. Look back at some memorable events that have been hosted in the famous venue.
Aretha Franklin performs during the "Soul Together" concert in 1968.
The Rolling Stones perform in November 1969. The performance was recorded and released as a live album titled "Get Yer Ya Ya's Out."
Janis Joplin performs her last concert with her Kozmic Blues Band on December 19, 1969.
The Concert for Bangladesh takes place in August of 1971. Tanpura player Kamala Chakravarty, sitar player Ravi Shankar, tabla player Alla Rakha and sarod player Ali Akbar Khan perform.
Joe Frazier defeats Muhammad Ali to keep his heavyweight boxing title in March 1971.
Elvis Presley plays the Garden in 1972.
Elton John and John Lennon take the stage together in November 1974. It was Lennon's last live performance.
The arena is packed for the very first "Wrestlemania" in March 1985.
Bill Clinton officially wins the presidential nomination during the Democratic National Convention in July 1992.
Patrick Ewing celebrates the New York Knicks' victory over the Chicago Bulls during the NBA Eastern Conference semifinals in May 1994.
Michael Jordan scored a whopping 55 points against the Knicks in March 1995.
Wayne Gretzky's hat trick took the Rangers to victory over the Florida Panthers in April 1997.
Evander Holyfield and Lennox Lewis fight their way to a draw in March 1999.
Eric Clapton and Buddy Guy are among many performers who take the stage for "The Concert for New York" in October 2001.
Balloons fall from the ceiling as President George W. Bush accepts the Republican nomination on the final night of the Republican National Convention in September 2004. It was the first time a Republican convention had been held in the arena.
Art Garfunkel and Paul Simon perform during "From the Big Apple to the Big Easy," a benefit concert for Hurricane Katrina relief, in September 2005.
Justin Bieber fills the Garden with thousands of screaming fans in November 2012.
Madison Square Garden
Madison Square Garden
Madison Square Garden
Madison Square Garden
Madison Square Garden
Madison Square Garden
Madison Square Garden
Madison Square Garden
Madison Square Garden
Madison Square Garden
Madison Square Garden
Madison Square Garden
Madison Square Garden
Madison Square Garden
Madison Square Garden
Madison Square Garden
Madison Square Garden
Madison Square Garden
STORY HIGHLIGHTS
New York City Council gives Madison Square Garden 10 years to find a new location
Some officials, groups want to renovate transit hub Penn Station located below it
MSG management just spent $1 billion to rehab the home of the Knicks, Rangers
The original Penn Station was razed in 1963, and the arena opened in 1968
New York (CNN) -- Madison Square Garden, one of the world's iconic sports and entertainment arenas, has been given a decade to relocate after a vote by the New York City Council on Wednesday amid efforts to renovate the equally well-known Penn Station that sits below it.
The council voted to approve a "special permit" that will allow the arena to operate for 10 years while its management seeks to relocate, according to a news release.
The 47-1 vote comes after years of advocacy from city officials and independent groups who have sought to renovate and expand the bustling Pennsylvania Station. Madison Square Garden's 50-year land-use permit expired in January.
The original Penn Station, which featured Corinthian columns, vast hallways and glass ceilings, was demolished in 1963 to make way for the construction of the current Madison Square Garden, which opened in 1968.
"The approval of this permit offers us a great opportunity to reimagine and redevelop Penn Station as a world-class transportation destination and allow time to relocate Madison Square Garden to a new and improved home," Council Speaker and mayoral candidate Christine C. Quinn said in a statement.
Watch: New York City like you've never seen it
In June, Quinn called for the creation of a "Commission for a 21st Century Penn Station," with the goal of helping to find a new Manhattan home for the arena and to renovate Penn Station.
New York Mayor Michael Bloomberg had hoped for a 15-year permit, according to Julie Wood, spokeswoman for the mayor.
If Madison Square Garden does not find a new location, it will have to reapply for a permit once it expires.
Penn Station accommodates hundreds of thousands travelers per day, and the City Council says the Garden's placement above it is an "intractable problem."
"Imagine 220 mph bullet trains that sweep you to D.C. or Boston in 90 minutes or less. These plans are on the table, but they can only be realized with a modern, renovated Penn Station," said Manhattan Borough President and city comptroller candidate Scott M. Stringer. "That is not possible as long as the Garden sits squarely on top of the nation's busiest rail transit hub."
The arena's management did not go into the details of the vote, stating rather that it looks forward to its reopening this fall after a "three year, nearly billion dollar" renovation, according to Kimberly Kerns, spokeswoman for Madison Square Garden.
The Garden, home to the New York Knicks and Rangers, first opened its doors in 1879 but has since moved to several locations throughout the city, according to its website.
It has stood at its current Midtown Manhattan location since 1968 and hosted the famous "Fight of the Century" between Muhammad Ali and Joe Frazier in 1971.
See also: New York City's largest hotel ending room service
CNN's Julia Talanova contributed to this report

Part of complete coverage on
March 12, 2014 -- Updated 0925 GMT (1725 HKT)

Until clearer information comes to light, here's a summary of what we know, and what we don't.
March 11, 2014 -- Updated 1453 GMT (2253 HKT)

Turns out it's not as hard as you think to board a plane with a stolen passport.
March 10, 2014 -- Updated 0300 GMT (1100 HKT)

Aaron Miller says even those with little knowledge of Ukraine should spot the myths we've heard.

Track star Oscar Pistorius is accused of killing his girlfriend, Reeva Steenkamp. Follow live updates of South Africa's trial of the century.
March 11, 2014 -- Updated 1611 GMT (0011 HKT)

CNN reveals it's not just trade in which Russian interests are strongly represented -- it's in some of the most lavish assets around the world.
March 12, 2014 -- Updated 1104 GMT (1904 HKT)

Browse through images you don't always see on news reports from CNN teams around the world.

What we commonly call the Web is really just the surface. Beneath that is a vast, mostly uncharted ocean called the Deep Web.
March 10, 2014 -- Updated 2359 GMT (0759 HKT)

On March 1, football's lawmakers, the International Football Association Board, met to debate the idea of a "sin-bin."
March 11, 2014 -- Updated 1756 GMT (0156 HKT)

"Don't ask me about her again," Justin Bieber tells lawyer after question on Selena Gomez.
March 11, 2014 -- Updated 1300 GMT (2100 HKT)

It seems architects are increasingly drawn to buildings you can see straight through.
March 11, 2014 -- Updated 1758 GMT (0158 HKT)

In the early 1960s, a young postdoctoral student stumbled onto something that puzzled him.
March 10, 2014 -- Updated 1923 GMT (0323 HKT)

Was it a bomb? Mechanical failure? A hijacking gone awry? Pilot error? Here are four scenarios that aviation experts are discussing.

Today's five most popular stories