North Korea's Kim Jong Un honors country's war veterans
July 26, 2013 -- Updated 1041 GMT (1841 HKT)
STORY HIGHLIGHTS
Kim Jong Un opens new war veterans' cemetery in North Korean capital
North Koreans set to commemorate 60th anniversary of end of Korean War
Pyongyang government has invited a large number of foreign journalists
Pyongyang, North Korea (CNN) -- The new leader of this isolated country has inaugurated a new veterans' cemetery, on the first of what are expected to be several days of elaborate ceremonies celebrating the 60th anniversary of the conclusion of the Korean War.
Several thousand North Koreans, some of them elderly veterans of the conflict, cheered and applauded when Kim Jong Un arrived at the sprawling new cemetery accompanied by uniformed military commanders and civilian officials.
Kim did not speak to the audience. Instead, he cut a ribbon at the entrance to the cemetery compound, which is flanked by enormous monuments and statues depicting fierce North Korean soldiers.
Read: U.S. hero pays respects in North Korea
He departed after making a brief tour of some of the gravestones. Then the crowd, which included men in baggy, dark suits and ties and women dressed in bright puffy gowns, walked with reverence past graves decorated with medals of heroism.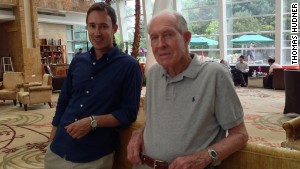 Weather hampers U.S. vets' quest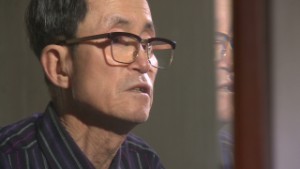 Memories of fighting for North Korea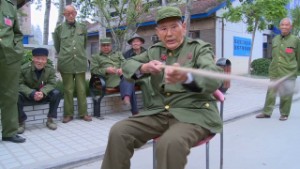 Chinese vets remember Korean War
A woman named Kim Pu Ok flung herself weeping at the grave of her husband, a man named Chu Yung Hui who died at the age of 74 in 2011.
Read: Chosin -- The epic battle Hollywood overlooked
Kim said her husband was a pilot in the Vietnam War. She stood next to her son, who she said was also a pilot.
"There are five pilots in our family," Kim said. "I am very angry at the U.S. imperialist policy against North Korea. That is why all of my family became Korean People's Army pilots -- to conquer the U.S. imperialists."
The North Korean government has invited a large number of foreign journalists to attend the 60th anniversary of the signing of the armistice, which brought an end to the Korean War.
Read: Why the Korean War still matters
Pyongyang describes the war as a decisive North Korean victory over Washington and its South Korean allies.
Among the foreign visitors invited to attend this week's anniversary celebrations are several Chinese veterans and at least one former Soviet veteran of the conflict. Also present at Wednesday's event was Thomas Hudner, a veteran U.S. Navy pilot who has been granted permission to return to North Korea to search for the remains of a fallen comrade.
Hudner's 60-year quest has been postponed, North Korean authorities say, because of torrential rains in the area where the remains are believed to be buried. Hudner has been invited back to resume his search in September.
CNN's Paula Hancocks in Pyongyang contributed to this report.

Part of complete coverage on
December 19, 2013 -- Updated 1704 GMT (0104 HKT)

Google's acquisition of a military robot maker prompts Douglas Rushkoff to ask how the deal fits the company's value of "don't be evil."

After their leader Kim Jong Un had his own uncle executed, how do ordinary North Koreans feel?
December 20, 2013 -- Updated 1226 GMT (2026 HKT)

Despite wanting to be a great power, India often fails to behave like one, writes Jeremy Carl.
December 21, 2013 -- Updated 0035 GMT (0835 HKT)

What scope do western governments have to influence change for the better?
December 19, 2013 -- Updated 1319 GMT (2119 HKT)

Extremist attacks of the kind that claimed the life of UK soldier Lee Rigby do not come out of thin air, analysts say.
December 20, 2013 -- Updated 1814 GMT (0214 HKT)

From tycoon bankruptcies to billion-dollar takeovers, 2013 has been a roller coaster year.
December 19, 2013 -- Updated 1026 GMT (1826 HKT)

Which has been the craziest year in travel history? It just could be 2013.
December 19, 2013 -- Updated 1216 GMT (2016 HKT)

Kickstarter is one of the world's largest crowdfunding websites -- over 53,000 projects have been born.
December 20, 2013 -- Updated 1642 GMT (0042 HKT)

Browse through images you don't always see in news reports, taken by CNN teams all around the world.
December 20, 2013 -- Updated 1525 GMT (2325 HKT)

Each day, CNN brings you an image capturing a moment to remember. Look back at the photographs that chronicled 2013.
December 21, 2013 -- Updated 0910 GMT (1710 HKT)

Never mind the baubles -- one of these Christmas trees is made of macaroons.
December 19, 2013 -- Updated 1203 GMT (2003 HKT)

What do you need to map a billion stars? A billion-pixel camera certainly helps.

Today's five most popular stories