STORY HIGHLIGHTS
U.S. veterans return to South Korea to remember fallen comrades
As a bugler plays they remember their young selves
At a commemoration service their feelings are mixed
One summed up: The war was pain in the ass but it did prevent communism spreading in Asia
Seoul, South Korea (CNN) -- For many U.S. veterans it's a trip they thought they'd never take; returning to South Korea, the land where so many of their brothers-in-arms lost their lives.
A mist hangs in the surrounding hills of the South Korean National Cemetery as dozens of returning veterans gather to honor the dead.
It's a difficult but necessary journey for most of them as they commemorate the 60th anniversary of the armistice that stopped the fighting in the Korea War.
"I was in the Pork Chop Hill in July 1953 and I remember the sounds of artillery and fighting. That is not something that you will forget. I never intended to come back to Korea. It's not like I didn't like the country but just didn't need to see it," says U.S. veteran Danny Peters.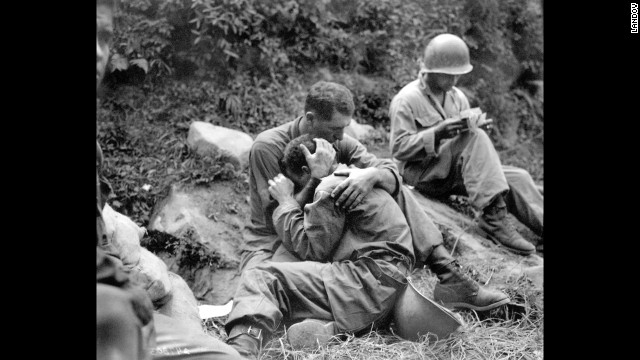 An American soldier comforts a comrade during the Korean War, circa 1950. Saturday, July 27, marks the 60th anniversary of the signing of the armistice agreement that ended the war. Click through to see more scenes from the Korean War.
A woman and child wander among debris in Pyongyang, North Korea, after an air raid by U.S. planes, circa 1950. The war began on June 25, 1950, when the North Korean People's Army crossed the 38th parallel and easily overwhelmed South Korean forces in a surprise attack.
An American soldier walks around the rubble of Hamhung, North Korea, in an undated photo. On June 30, 1950, President Harry S. Truman ordered American troops into the fighting.
North Korean leader Kim Il-Sung, left, signs a document in Seoul, South Korea, in an undated photo. The armistice ending the war was signed in July 1953, and its terms included the creation of the Demilitarized Zone.
A U.S. Army chaplain prays by injured soldiers at a combat field hospital in August 1950.
U.S. Marines attack Hagaru-ri, North Korea, in December 1950.
An abandoned girl cries in the streets of Incheon, South Korea, in September 1950.
An American soldier searches a foxhole for enemies in February 1951.
Gen. Douglas MacArthur, center, head of the U.N. Command in the Korean War, and other military personnel observe shelling in Incheon from the USS Mount McKinley in September 1950.
The 187th U.S. Airborne Regimental Combat Team conducts a practice jump in South Korea, circa 1951.
North Korean prisoners of war make baskets on the floor of a storage barn at a prison, circa 1951.
Marines use a flamethrower in April 1951.
The USS Missouri bombards Chongjin, North Korea, circa May 1951.
U.S. Marines duck for cover in a bunker as a shell explodes in April 1952.
Actress Marilyn Monroe entertains troops, circa 1952.
U.S. troops emerge from helicopters onto an open field, circa 1953.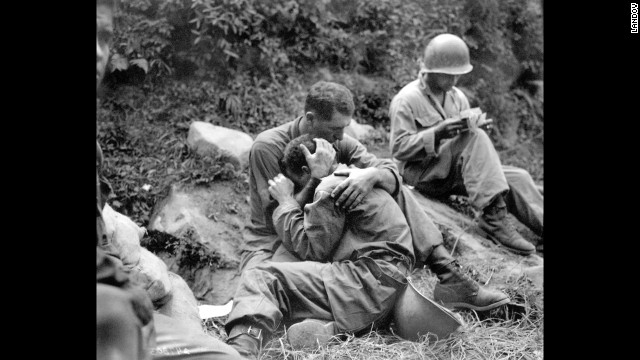 Photos: Scenes from the Korean War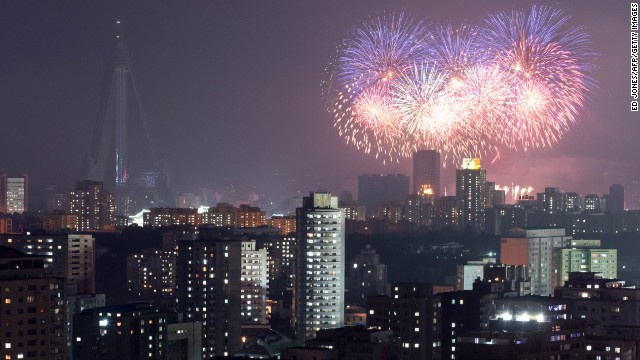 Fireworks explode above the Pyongyang skyline on Saturday, July 27. North Korea mounted its largest military parade to mark the 60th anniversary of the armistice that ended fighting in the Korean War, displaying its long-range missiles at a ceremony presided over by leader Kim Jong Un.
Portraits of former North Korean leaders Kim Il Sung and Kim Jong Il are displayed on Pyongyang buildings on July 27.
A couple walks through Kim Il Sung Square after a parade in Pyongyang on July 27.
North Korea's leader Kim Jong Un waves to spectators and participants during a military parade on July 27, in Pyongang.
North Korean veterans wave to Kim Jong Un during the parade on July 27.
Tractors pull weapon-bearing wagons during the parade on July 27.
Women participating in the parade wave as they pass Kim Jong Un on July 27.
Ninety-minute performances, like this one on Friday, July 26, will be repeated throughout the festival, which runs until September 9.
A performer jumps from a catapult during an Arrirang Festival at the Rungnado May Day Stadium on July 26. Arrirang performances feature 100,000 participants in a 90-minute display of gymnastics, dance, acrobatics and dramatic performance.
North Korean leader Kim Jong Un, center, applauds before the Arirang Festival at the 150,000-seat Rungrado May Day Stadium in Pyongyang on July 26.
The finale of the performance features fireworks and an intricate display on the field.
Adding to the showmanship of the performances is a backdrop created by thousands of people holding up pages from a booklet; the backdrop changes as the participants turn the pages in sequence.
The festival draws large crowds throughout its run.
Dancers perform during the festival on July 26.
Dancers with flower props create a sea of color and movement on July 26.
A woman sits next to models of military weapons at a festival for the "Kimilsungia" and "Kimjongilia" flowers, named after the country's late leaders, on Wednesday, July 24, in Pyongyang, North Korea. The exhibition was held to mark the 60th anniversary of the signing of the armistice agreement that ended the fighting on July 27, 1953.
The North Korean military band leads an international peace march at the Three Charters for National Reunification Memorial Tower in Pyongyang on July 24. This was the first war in which the United Nations played a role and the first to battle with jet aircraft.
A mosaic of the late leaders Kim Il Sung and Kim Jong Il is on display at an exhibition in Pyongyang on July 24.
Veterans of the Korean War wave at the crowd as they leave by bus after arriving at the Pyongyang railway station Tuesday, July 23.
A North Korean soldier explains the history of the armistice agreement between North and South Korea at the truce village of Panmunjom in the demilitarized zone on Monday, July 22. The demilitarized zone separates the two Koreas and remains one of the most tense borders in the world.
Women jump through hula hoops during the opening night of the annual Arirang Festival, or "mass games," at Pyongyang's May Day Stadium on Monday, July 22.
North Korean dancers perform during the Arirang Festival in Pyongyang on July 22. This year's performance was timed to debut for the 60th anniversary on July 27 and features new scenes focusing on leader Kim Jong Un's directives.
At dusk, the setting sunlight is reflected on the Taedong River in Pyongyang on Sunday, July 21.
Children skate around the Kim Il Sung Square on July 21 in downtown Pyongyang.
People dine in a restaurant at the Koryo hotel on July 21 in downtown Pyongyang.
People pose for photos near a display model of an octopus as they visit a dolphin show facility at an amusement park in Pyongyang on Sunday, June 23.
Men and women dance in front of the Monument to the Party Founding in Pyongyang on Wednesday, June 19. The performance celebrates the day the late North Korean leader Kim Jung Il began his work at the central committee of the communist nation's ruling Workers' Party in 1964.
A man reads a newspaper on a public display at Puhung subway station in Pyongyang on Tuesday, June 18. Some stations are more elaborate than others and foreign visitors are usually only allowed to take one stop, from Puhung station to Yonggwang.
North Korean leader Kim Jong Un uses a pair of binoculars to look south from the Jangjae Islet Defense Detachment near South Korea's Taeyonphyong Island on Thursday, March 7. Kim is the youngest son of Kim Jong Il and came into power after his fathers death in 2011.
A nurse comforts a baby at a nursery inside Pyongyang Maternity Hospital in Pyongyang on Wednesday, February 20.
North Korean traffic officers gather in front of bronze statues of the late leaders Kim Il Sung and Kim Jong Il to pay their respects in Pyongyang on Saturday, February 16. North Koreans turned out to commemorate what would have been the 71st birthday of Kim, who died on December 17, 2011.
A national meeting marks the anniversary of the birth of the late leader Kim Jong II at Pyongyang Indoor Stadium on Saturday, February 16.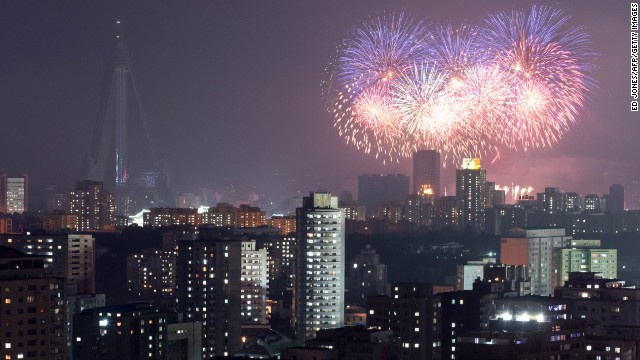 Photos: North Korea 60 years later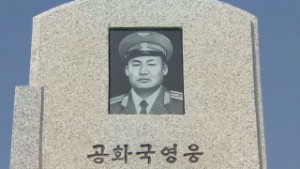 Rare look inside North Korean cemetery
Almost two million Korean civilians lost their lives during the war as well as more than 200,000 South Koreans and about 36,000 American soldiers by the time the ceasefire was declared in 1953.
Read more: Obama marks 'forgotten' war
A lone bugler plays taps as men in their 80s, many dressed in military regalia complete with medals and ribbons, march towards an altar of incense and flowers to honor the dead. Some veterans now need canes and wheelchairs to help them complete the 40-meter stretch.
Sixty years on, they aren't the strapping teenagers they once were, the years show in the wrinkles crisscrossing their faces but the memories are still fresh.
"The Korean War was very dangerous and I lost a lot of friends," says veteran Daniel Arthur. "I remember all the battles I was in. I lost a lot of friends and saw a lot of people wounded."
For infantryman Philip DiMenno it's a journey he wanted to share with his two daughters, son and granddaughter. For him, it was about closing a chapter in his life, but for his children it was a chance to understand what the war was like.
It's DiMenno's first time back since he left the peninsula in 1954. Long gone are the dirt roads and huts. Asphalt and high-rises have taken their place. But the memories of a young, scared 18-year-old rush back among the tombstones.
Read more: Cosmetic change but no reform in N. Korea
"I wanted to do the real thing. When I'm saying do the real thing that was just a figure of talk at that time, because in all fairness I was a very, very scared kid and I had a lot of fear in me," says DiMenno.
The lively 81-year-old widower's memory doesn't fail as he recalls in descriptive detail to his family the two years he spent in South Korea.
"To be with him here now... I can see a huge difference in his emotions and how trying to gather everything that happened it's unbelievable, absolutely unbelievable," says DiMenno's granddaughter, Sara Zepezauer.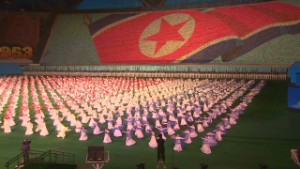 Arirang Festival a reminder of division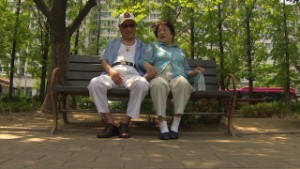 Korea's forgotten POWs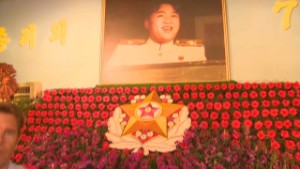 Is N. Korea's economy working?
His daughter, Renee DiMenno-Zepezauer, added: "The great connection and almost a closure for my father to see a country in such despair and to see a country again with such prosperity."
The thought of the war has brought up mixed emotions from the veterans. Some of them express anger, sorrow and fear but most come to the same general conclusion.
Read more: Talking peace with a backdrop of war
"It (the Korean War) was pain in the ass. It disrupted a lot of lives of the Americans and lives of the Koreans. At the time, you always wondered if it was worth it. To think about it now, it accomplished a lot to the region and the world's order."
"Don't tell the veterans that the war was nonsense," says DiMenno with a sense of defiance and pride. "It stopped the spread of communism in Asia."
The ceremony honoring the dead doesn't last long, less than a half hour. The veterans salute the memorial, pour incense into a smoldering pot flanked by two giant statues and say their silent prayers. But for DiMenno it can't last long enough.
"We were never told to cry and it makes you cry because we are the survivors. We are just a little patch of what we did. Sure we survived for our country. The people who died should have these honors."