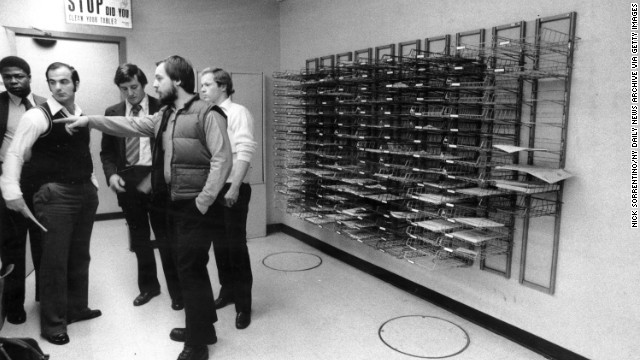 In 1978 gangster Jimmy "The Gent" Burke stole $8 million in cash and jewels from John F. Kennedy International Airport. It was considered the largest robbery in U.S. history at the time. Burke died in 1996 while serving 20 years to life in a New York prison when he fell ill with cancer. On January 23, five alleged mobsters were arrested on racketeering charges related to the 1978 heist.
held up a jewelry exhibition in the French resort city of Cannes,
stealing jewels worth an estimated $136 million (102 million euros). It took place a little before noon on July 28, 2013, at the Carlton Hotel. Here's a look at other major heists.
An armed robber
The FBI said
in March 2013 it believes it knows who stole the artwork but hadn't recovered the works. A security guard stands outside the museum's Dutch Room where the works were stolen.
In 1990, robbers posing as Boston police officers entered the Isabella Stewart Gardner Museum's security door, then handcuffed the guards on duty to pipes in the basement. The 13 pieces of stolen artwork, including works by Rembrandt and Vermeer, were valued at $500 million.
A gang of robbers posing as a landscape company dug a tunnel underneath Banco Central in Fortaleza, Brazil. On a Saturday in August 2005, they broke through concrete and steel into a vault and stole $69.8 million (164,755,150 Brazilian reais). A few involved have been caught, but it remains an open case.
stole $45 million from banks
globally by breaking into the banks' systems to drastically increase the amount available on the cards, and then used the information about the cards to withdraw money at banks around the world. Seven were charged and the group leader, Alberto Yusi Lajud-Peña, was killed in April 2013. Suspects Elvis Rafael Rodriguez, left, and Emir Yasser Yeje, pose with bundles of cash.
Cyber criminals from New York
Wearing suits and in professional disguise makeup, two men stole 43 items worth $65 million (40 million euros) in the middle of the day from Graff Jewelry Store in London in 2009. They threatened employees with handguns while collecting the merchandise, then drove off in a BMW. The two men were later arrested and jailed. Among the stolen items was this platinum diamond pendant hat.
Just hours before the United States began bombing Iraq in 2003, Saddam Hussein's family took $1 billion from the country's central bank. People who lived near the Central Bank told CNN that they saw three or four trucks backed up to the bank then and that people appeared to be loading money onto the trucks. Since he was acting as an absolute ruler at the time, he might not have been considered to be breaking any laws.
In 1983, six thieves broke into the Brink's-MAT warehouse at Heathrow Airport in London, thinking they would grab £3 million ($4.6 million) in cash. However, they found £28 million ($43 million) worth of gold ingots, diamonds and cash. The thieves tied up the three guards, doused them in gas and said they would light the guards on fire if they didn't give the pass codes to the vault. Just three out of 15 men involved in planning and executing the robbery were ever convicted.
Top heists around the world
Top heists around the world
Top heists around the world
Top heists around the world
Top heists around the world
Top heists around the world
Top heists around the world
Top heists around the world