Robber steals $53 million worth of jewels in Cannes, police say
July 31, 2013 -- Updated 0253 GMT (1053 HKT)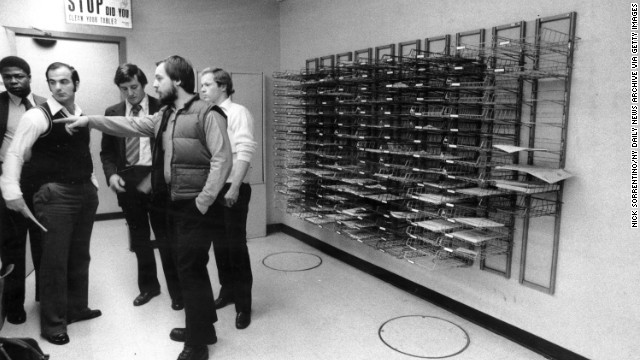 In 1978 gangster Jimmy "The Gent" Burke stole $8 million in cash and jewels from John F. Kennedy International Airport. It was considered the largest robbery in U.S. history at the time. Burke died in 1996 while serving 20 years to life in a New York prison when he fell ill with cancer. On January 23, five alleged mobsters were arrested on racketeering charges related to the 1978 heist.
held up a jewelry exhibition in the French resort city of Cannes,
stealing jewels worth an estimated $136 million (102 million euros). It took place a little before noon on July 28, 2013, at the Carlton Hotel. Here's a look at other major heists.
An armed robber
The FBI said
in March 2013 it believes it knows who stole the artwork but hadn't recovered the works. A security guard stands outside the museum's Dutch Room where the works were stolen.
In 1990, robbers posing as Boston police officers entered the Isabella Stewart Gardner Museum's security door, then handcuffed the guards on duty to pipes in the basement. The 13 pieces of stolen artwork, including works by Rembrandt and Vermeer, were valued at $500 million.
A gang of robbers posing as a landscape company dug a tunnel underneath Banco Central in Fortaleza, Brazil. On a Saturday in August 2005, they broke through concrete and steel into a vault and stole $69.8 million (164,755,150 Brazilian reais). A few involved have been caught, but it remains an open case.
stole $45 million from banks
globally by breaking into the banks' systems to drastically increase the amount available on the cards, and then used the information about the cards to withdraw money at banks around the world. Seven were charged and the group leader, Alberto Yusi Lajud-Peña, was killed in April 2013. Suspects Elvis Rafael Rodriguez, left, and Emir Yasser Yeje, pose with bundles of cash.
Cyber criminals from New York
Wearing suits and in professional disguise makeup, two men stole 43 items worth $65 million (40 million euros) in the middle of the day from Graff Jewelry Store in London in 2009. They threatened employees with handguns while collecting the merchandise, then drove off in a BMW. The two men were later arrested and jailed. Among the stolen items was this platinum diamond pendant hat.
Just hours before the United States began bombing Iraq in 2003, Saddam Hussein's family took $1 billion from the country's central bank. People who lived near the Central Bank told CNN that they saw three or four trucks backed up to the bank then and that people appeared to be loading money onto the trucks. Since he was acting as an absolute ruler at the time, he might not have been considered to be breaking any laws.
In 1983, six thieves broke into the Brink's-MAT warehouse at Heathrow Airport in London, thinking they would grab £3 million ($4.6 million) in cash. However, they found £28 million ($43 million) worth of gold ingots, diamonds and cash. The thieves tied up the three guards, doused them in gas and said they would light the guards on fire if they didn't give the pass codes to the vault. Just three out of 15 men involved in planning and executing the robbery were ever convicted.
Top heists around the world
Top heists around the world
Top heists around the world
Top heists around the world
Top heists around the world
Top heists around the world
Top heists around the world
Top heists around the world
STORY HIGHLIGHTS
An armed robber steals $53 million worth of jewels from a hotel, police official says
Security was present but unarmed, deputy prosecutor says
There were two major jewel heists at Cannes Film Festival events this year
Paris (CNN) -- An armed robber held up a jewelry exhibition in the French resort city of Cannes on Sunday, stealing jewels worth $53 million (40 million euros), a Nice police official told CNN on the condition of anonymity.
The robbery -- the third such heist around the city since May -- took place Sunday morning at the Carlton Hotel, according to Philippe Vique, deputy prosecutor for organized crime in the prosecutor's office for the Provence-Alpes-Côte d'Azur region. He could not confirm the value of the jewelry.
The robber, whose face was covered by a hat and a scarf, threatened to shoot the exhibitors and guests, Vique said.
Security guards were present but unarmed, he said.
The exhibitor, Leviev Extraordinary Diamonds, confirmed the heist and said it was "relieved that no one was injured in the robbery."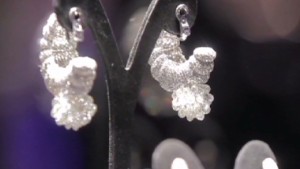 $53 million in jewelry stolen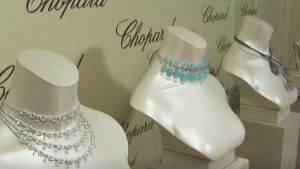 Thieves steal red-carpet jewels at Cannes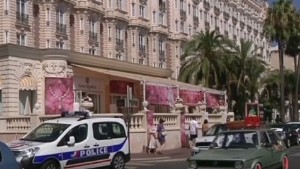 Cannes hit by another jewel heist
The gems were supposed to have been on display until the end of August.
The robbery follows two major jewel heists this year at events tied to the Cannes Film Festival.
Read more: $1 million jewels stolen during Cannes Film Festival
During the festival in May, a necklace worth $2.6 million (2 million euros) was stolen from a hotel party shortly after more than $1 million worth of jewels were stolen from a safe in a hotel room.
Jeweler de Grisogono said the necklace was part of a collection making its debut.
The jewels were from the Swiss firm Chopard, which was sponsoring the festival.
Read more: The world's biggest diamond heists
The high-profile thefts follow a brazen heist in neighboring Belgium in February. Eight masked, heavily armed men used two vehicles to burst through a hole in the perimeter fence at Brussels Airport and nabbed $50 million in rough and polished diamonds from the hold of a Zurich-bound aircraft before speeding away. More than 30 arrests have been made in that incident.
And in 2008, four armed robbers -- two disguised as women -- walked into luxury jeweler Harry Winston's store on Paris' famed Champs Elysees and swiped an estimated $111 million worth of merchandise in the span of 15 minutes. Those gems were found in 2011, hidden in a rain sewer at a house in the Parisian suburb of Seine-Saint-Denis.
CNN's Stephanie Halasz, Vladimir Duthiers and Lauren Russell contributed to this report.

Today's five most popular stories
Part of complete coverage on
October 21, 2014 -- Updated 0102 GMT (0902 HKT)

A 15-year-old pregnant girl is rescued from slavery, only to be charged with having sex outside of marriage, shocked rights activists say -- a charge potentially punishable by death.
October 20, 2014 -- Updated 1607 GMT (0007 HKT)

Airports judged on comfort, conveniences, cleanliness and customer service.
October 20, 2014 -- Updated 1319 GMT (2119 HKT)

With so many new attractions on the way, the next few years are going to be a roller coaster ride.
October 16, 2014 -- Updated 0429 GMT (1229 HKT)

Thomas Malthus famously predicted that rising populations would create a food crunch: Could this be true?
October 21, 2014 -- Updated 0945 GMT (1745 HKT)

The lives of everyone close to Oscar Pistorius and the girl he killed are changed forever, his siblings say.
October 18, 2014 -- Updated 1033 GMT (1833 HKT)

From "Sick Man of Europe" to the world's fourth largest economy.
October 21, 2014 -- Updated 1331 GMT (2131 HKT)

Each day, CNN brings you an image capturing a moment to remember, defining the present in our changing world.
October 15, 2014 -- Updated 2327 GMT (0727 HKT)

Serbia and Albania try to play but the major game is called off after a drone flying a political flag enters the stadium.
October 14, 2014 -- Updated 1136 GMT (1936 HKT)

George Clooney's new wife, is now Amal Clooney, raising the issue of married names.
October 14, 2014 -- Updated 1757 GMT (0157 HKT)

The mysterious unmanned X-37B space plane returns to Earth after more than two years in space. But the U.S. Air force isn't saying much.

Browse through images from CNN teams around the world that you don't always see on news reports.