Verdict in Manning trial to be revealed Tuesday
July 29, 2013 -- Updated 2338 GMT (0738 HKT)
STORY HIGHLIGHTS
NEW: WikiLeaks founder Julian Assange calls Bradley Manning a hero
If found guilty of aiding the enemy, Manning could be sentenced to life in prison
He is accused of releasing 750,000 pages of classified documents and videos
(CNN) -- After spending three years in custody, the man accused of the largest leak of classified information in U.S. history will learn Tuesday whether he has been found guilty of aiding the enemy.
A verdict from the judge in the court-martial of Pfc. Bradley Manning will be announced at 1 p.m. ET Tuesday, according to a spokeswoman for the military district of Washington.
If found guilty on the aiding the enemy charge, Manning could be sentenced to life in prison. He has pleaded guilty to nearly a dozen lesser charges that carry a sentence of up to 20 years behind bars.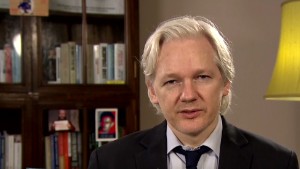 Assange: 'Bradley Manning is a hero'
Whether Manning is a whistle-blower or a traitor who betrayed his country has been hotly debated.
Read more: What do Manning's actions mean? Depends who is talking
Authorities have accused Manning of delivering three quarters of a million pages of classified documents and videos to the secret-sharing site WikiLeaks -- which has never confirmed the soldier was the source of its information. The material covered numerous aspects of U.S. military strategy in Iraq, gave what some called a ground view of events in the Afghanistan war and revealed the inner workings of U.S. State Department diplomacy in leaked cables.
When he entered his guilty pleas on the lesser charges earlier this year, Manning spent more than an hour in court reading a statement about why he leaked the information.
He said the information he passed on "upset" or "disturbed" him, but there was nothing he thought would harm the United States if it became public. Manning said he thought the documents were old and the situations they referred to had changed or ended.
"I believed if the public was aware of the data, it would start a public debate of the wars," he said during his court-martial. He said he was "depressed about the situation there," meaning Iraq, where he was stationed as an intelligence analyst.
He first tried to give the information to The Washington Post, but a reporter there didn't seem like she took him seriously, he said. He left a voice mail for the New York Times and sent an e-mail to the newspaper but, he claims, he didn't hear back. So he decided to give the information to WikiLeaks.
After WikiLeaks published a trove of documents related to the Afghanistan war in 2010, the site became an international sensation, as did its chief, Julian Assange.
"We call those types of people that are willing to risk ... being a martyr for all the rest of us -- we call those people heroes," Assange told CNN's Jake Tapper. "Bradley Manning is a hero."
Assange described the case against Manning, specifically the aiding the enemy charge, as a serious attack against investigative journalism.
"It will be the end, essentially, of national security journalism in the United States," he said on the eve of the verdict.
Assange spoke from the Ecuadorean Embassy in London. He sought refuge there to avoid extradition to Sweden, where he is wanted for questioning over allegations of sex crimes. Assange has said he thinks the claims against him are Washington's way of getting him arrested so that he can be extradited to the United States to face charges.
CNN's Larry Shaughnessy and Dana Ford contributed to this report.

Part of complete coverage on
WikiLeaks
November 10, 2011 -- Updated 1738 GMT (0138 HKT)

From "Climategate" to leaked diplomatic cables, CNN takes an inside look at the WikiLeaks organization.
July 31, 2013 -- Updated 0600 GMT (1400 HKT)

A military judge acquitted Army Pfc. Bradley Manning of aiding the enemy, but convicted him of violations of the Espionage Act for turning over a trove of classified data to the website WikiLeaks.
July 31, 2013 -- Updated 0050 GMT (0850 HKT)

Bradley Manning is naturally adept at computers, smart and opinionated, even brash, according to those who say they know him.
June 23, 2013 -- Updated 1634 GMT (0034 HKT)

WikiLeaks founder Julian Assange urged the world to "stand with" Edward Snowden, the man who admitted leaking top-secret details about U.S. surveillance programs.
June 11, 2013 -- Updated 1146 GMT (1946 HKT)

Julian Assange, the founder of WikiLeaks, knows something about secrets and what happens when they're exposed.
June 3, 2013 -- Updated 2311 GMT (0711 HKT)

Prosecutors say a 25-year-old Army private accused of aiding the nation's enemies through the largest leak of classified information in U.S. history "craved" notoriety.
August 16, 2012 -- Updated 1407 GMT (2207 HKT)

From the issuing of an arrest warrant, to a decision on Assange's asylum, see how the story has developed.
June 30, 2012 -- Updated 1949 GMT (0349 HKT)

Julian Assange is waiting to hear if Ecuador will grant him asylum. He's dangling from a cliff, for sure. Hanging by a pinky next to him -- WikiLeaks.
October 29, 2012 -- Updated 1625 GMT (0025 HKT)

Holed up in Ecuador's Embassy in London, Julian Assange talks at length about his life and motivations.
August 20, 2012 -- Updated 0020 GMT (0820 HKT)

Assange's move is dramatic, but he's not the first person to seek an escape route through a diplomatic mission. Here are some key precedents.
May 30, 2012 -- Updated 0931 GMT (1731 HKT)

Assange is a self-appointed champion of free speech and the founder of a web operation that has greatly antagonized the U.S. government.
July 6, 2012 -- Updated 0102 GMT (0902 HKT)

WikiLeaks said it has begun publishing some 2.4 million e-mails from Syrian politicians, government ministries and companies dating back to 2006.
Today's five most popular stories