China launches 24/7 live panda broadcast
July 29, 2013 -- Updated 0504 GMT (1304 HKT)
STORY HIGHLIGHTS
Chinese giant panda research base launches 24/7 live broadcast of resident pandas
Website streams live feeds from 28 webcams installed inside research base
Giant panda is considered China's national treasure
(CNN) -- Internet users love animal videos. So why not watch pandas -- anywhere, anytime?
Billed as the world's first multi-channel broadcaster of round-the-clock high-definition panda footage, a new website is streaming live feeds from 28 webcams installed inside the Chengdu Research Base of Giant Panda Breeding in southwest China.
Visitors to www.ipanda.com can select from six channels, including adult, child, infant, and mother and child.
The website began a test launch on June 24, according to Chinese state news agency Xinhua, and has since attracted nearly 15,000 visitors. Panda lovers around the world can access the site beginning in August, Xinhua added.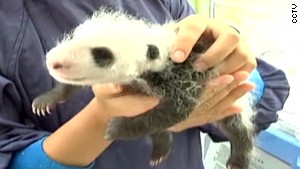 Watch video of newborn pandas in China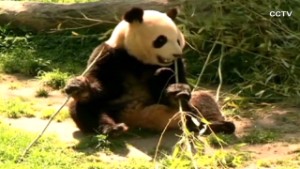 Baby pandas enjoy life in China
But while the new venture has excited some, others are less enthused at the prospect of 24-hour panda-watching.
"I saw the rear view of a panda shaped like a glutinous rice dumpling. It was eating non-stop. The life of a panda is so happy," wrote user Mogudawanglaixunshan on China's Twitter-like Sina Weibo, while user Ashloo commented: "It's boring. The pandas don't move."
Native to China, the giant panda is considered a national treasure and classified as endangered by the World Wildlife Foundation, with only 1,600 living in the wild as of 2004. The non-profit research base in Chengdu was founded in 1987 and currently has 83 of the furry creatures in residence.

Today's five most popular stories
Part of complete coverage on
December 15, 2014 -- Updated 1144 GMT (1944 HKT)

A Chinese couple allegedly threw hot water on a flight attendant and threatened to blow up the plane, forcing the Nanjing-bound plane to turn back to Bangkok.
December 15, 2014 -- Updated 0503 GMT (1303 HKT)

China's 1.3 billion citizens may soon find it much harder to belt out their national anthem at will.
December 10, 2014 -- Updated 0021 GMT (0821 HKT)

Like Beijing today, Los Angeles in the last century went through its own smog crisis. The city's mayor says LA's experience delivers valuable lessons.
December 6, 2014 -- Updated 0542 GMT (1342 HKT)

At the height of his power, Zhou Yongkang controlled China's police, spy agencies and courts. Now, he's under arrest.
December 5, 2014 -- Updated 0826 GMT (1626 HKT)

China says it will end organ transplants from executed prisoners but tradition means that donors are unlikely to make up the shortfall.
December 5, 2014 -- Updated 0648 GMT (1448 HKT)

China's skylines could look a lot more uniform in the years to come, if a statement by a top Beijing official is to believed.
December 3, 2014 -- Updated 0855 GMT (1655 HKT)

Despite an anti-corruption drive, China's position on an international corruption index has deteriorated in the past 12 months.
November 26, 2014 -- Updated 1201 GMT (2001 HKT)

A daring cross-border raid by one of Russian President Vladimir Putin's associates has -- so far -- yet to sour Sino-Russian relations.
November 24, 2014 -- Updated 0051 GMT (0851 HKT)

A 24-hour Taipei bookstore is a hangout for hipsters as well as bookworms.
November 25, 2014 -- Updated 0153 GMT (0953 HKT)

China is building an island in the South China Sea that could accommodate an airstrip, according to IHS Jane's Defence Weekly.
November 19, 2014 -- Updated 1057 GMT (1857 HKT)

North Korean refugees face a daunting journey to reach asylum in South Korea, with gangs of smugglers the only option.
November 21, 2014 -- Updated 2319 GMT (0719 HKT)
China and "probably one or two other" countries have the capacity to shut down the nation's power grid and other critical infrastructure.