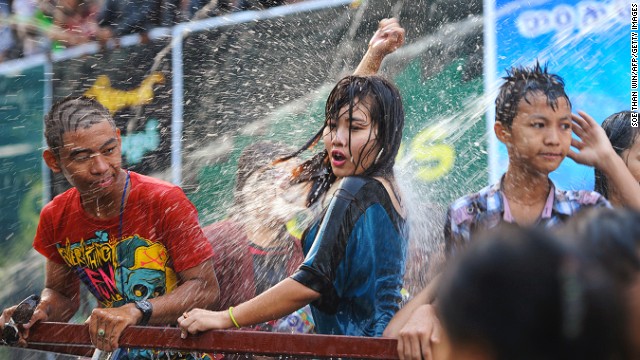 The Burmese make a big deal of the New Year. Thingyan (known as the "water throwing festival") takes place this year from April 13-16. During the festival everyone throws water at each other. Staying dry isn't an option. Water symbolizes the washing away of the previous year's bad luck and sins.
Along the Andaman Sea, Ngapali Beach is Myanmar's top beach resort area. Much of the surrounding countryside remains undeveloped. Best of all, the sunsets are killer.
Poor condition of railway tracks means carriages get shaken about. This makes for a bouncy ride, but trains are still a great way to see the country. Myanmar's trains are slow and have a reputation for running late. The most reliable route, Yangon to Mandalay, takes about 16 hours, assuming no delays.
A typical Burmese meal includes steamed rice, fish, meat, vegetables and soup and all the dishes arrive at the same time. Locals use their fingertips to mold rice into a small ball and then mix it with various dishes.
Myanmar has lots of Internet cafes. The connections are just brutally slow. Mobile phones are more popular than the Internet. In June, US$15 SIM cards for mobile phones are expected to be made available to foreigners.
After decades under a repressive military regime, the Burmese are showing a healthy appetite for news. In the past, all publications had to submit stories to the Press Scrutiny and Registration Division for approval. Censorship was phased out in 2012 and at the beginning of 2013 the bureau was formally abolished.
There are few ATMs in Myanmar, so visitors need to bring plenty of U.S. dollars. The higher the denomination, the better the exchange rate. This whole stack of kyat (pronounced "chat") is worth about US$20.
When the Burmese want to get a waiter's attention they make a kissing sound, usually two or three short kisses. It's the sort of sound you might make if calling a cat. Myanmar's national beer is cleverly called ... Myanmar Beer.
Room rates in Myanmar shot up 350% last year, which means that a room that cost US$25 a night in 2011 now goes for almost US$100. New hotels are being built, but the hotel shortage is expected to continue five to 10 years. Book accommodation well ahead.
The traditional Burmese dress is the longyi, a wraparound skirt worn by men and women. Men tie theirs in the front and women fold the cloth over and secure it at the side. Here, a longyi-clad visitor walks inside the Shwedagon Pagoda in Yangon.
Chewing betel nut is a national pastime. Small street stalls, like this one in Mandalay, selling the palm-sized green leaves are everywhere. The leaves are filled with betel nut, spices and sometimes a pinch of tobacco, then folded and popped in the mouth and chewed.
New Year celebrations last four days
Myanmar has fantastic beaches
The trains are seriously bumpy
The food is delicious
Mobile phones trump the Internet
The press is flourishing
You'll need plenty of clean, new bills
A kissing sound gets you a beer
Hotel rooms are pricey and tough to score
The men wear skirts
The people with red teeth aren't vampires
(CNN) -- Here's a look at Myanmar, a country in southeast Asia formerly known as Burma.
About Myanmar: (from the CIA World Factbook) Area: 676,578 sq km (slightly smaller than Texas)
Population: 55,746,253 (July 2014 est.)
Median age: 27.9 years
Capital: Naypyidaw
Ethnic Groups: Burman 68%, Shan 9%, Karen 7%, Rakhine 4%, Chinese 3%, Indian 2%, Mon 2%, other 5%
Religion: Buddhist 89%, Christian 4% (Baptist 3%, Roman Catholic 1%), Muslim 4%, animist 1%, other 2%
GDP: $111.1 billion (2013 est.)
GDP per capita: $1,700 (2013 est.)
Unemployment: 5.2% (2013 est.)
Other Facts: Prono: MEE'-an-mar
Myanmar shares borders with China, India, Laos, Bangladesh and Thailand.
The United States officially still calls the country Burma.
The United Nations High Commissioner for Refugees estimates that there are 1.5 million stateless and internally displaced people in Myanmar.
Timeline: 1824-1886 - Burma becomes part of British India after fighting three wars with Great Britain over 62 years.
January 1947 - After negotiating with the Anti-Fascist People's Freedom League (AFPFL), Great Britain agrees to give Burma its independence.
July 1947 - AFPFL leader Aung San is assassinated.
January 4, 1948 - Burma gains independence from the United Kingdom.
March 1962 - The military government is established under Ne Win after a bloodless coup.
August-October 1988 - Mass anti-government demonstrations take place throughout Burma. The official Radio Rangoon figure is 450 dead; the actual number is believed to be much higher.
September 1988 - Gen. Saw Maung takes over in another military coup.
1989 - Burma changes its name in English to Myanmar and the name of the capital from Rangoon to Yangon.
May 1990 - General elections are called by the junta. Aung San Suu Kyi's party wins easily, but the military refuses to hand over power.
April 23, 1992 - Gen. Than Shwe replaces Saw Maung as head of the junta.
July 23, 1997 - Myanmar joins ASEAN (Association of Southeast Asian Nations).
March 2006 - Naypyidaw becomes the new administrative capital.
August 19, 2007 - Protests break out in Yangon after the government raises petroleum and diesel prices by 100%.
September 5, 2007 - Soldiers' gunfire breaks up a monk protest in Pakokku.
September 22, 2007 - In her first public appearance in over four years, Aung San Suu Kyi greets monks as they march past her house in Yangon.
September 24, 2007 - Buddhist monks lead about 100,000 in the largest anti-government demonstrations since 1988.
September 26, 2007 - As protests continue, Myanmar security forces crack down - clubbing and gassing protestors and arresting as many as 200 monks.
September 30, 2007 - Special U.N. envoy Ibrahim Gambari meets with Suu Kyi and with military officials (separately) to attempt to resolve the situation.
October 20, 2007 - The U.N. General Assembly approves a resolution condemning a government crackdown and asking for the release of political protesters.
May 4, 2008 - A cyclone causes utter destruction, killing more than 22,000. It is later reported by the government that 41,000 people are missing and up to one million are homeless.
May 20, 2008 - It is announced that U.N. Secretary General Ban Ki-moon will be allowed to tour the devastated area hit by the cyclone. Also shipments of aid barred from coming into the country will be allowed in.
May 23, 2008 - According to U.N. Secretary General Ban Ki-moon, Gen Than Shwe will allow all foreign aid workers into Myanmar to help with the cyclone aftermath.
November 11-13, 2008 - Forty-four people are sentenced to prison for their role in peaceful protests of 2007.
June 5-10, 2010 - More than 4,000 ethnic Karen leave Myanmar for Thailand after clashes between the Karen National Union rebel group and Myanmar army.
June-July 2010 - Floods and landslides kill 68 people and displace thousands.
October 22, 2010 - Cyclone Giri hits Myanmar leaving at least 27 people dead and close to 75,000 homeless.
November 7, 2010 - Myanmar holds its first elections in 20 years. The Union Solidarity and Development Party backed by the military, claims victory with 80% of the votes.
November 13, 2010 - Opposition leader Aung San Suu Kyi is released from house arrest.
January 30, 2011 - Aung San Suu Kyi's National League for Democracy launches its first official website.
January 31, 2011 - Myanmar convenes its first parliament in more than two decades in the capital, Naypyidaw.
February 4, 2011 - The parliament elects Prime Minister Thein Sein as president. Aung San Suu Kyi's National League for Democracy party boycotts the elections, calling it a sham.
March 30, 2011 - A civilian government is sworn in to replace the military junta.
October 12, 2011 - Dozens of political prisoners are released as part of a mass amnesty. Authorities say that eventually 6,300 people will be released.
November 30, 2011 - Hillary Clinton arrives in Myanmar, the first visit by a U.S. secretary of state in more than 50 years.
December 13, 2011 - The National League for Democracy, the political party of pro-democracy leader Aung San Suu Kyi, is granted permission to register for future elections in Myanmar.
April 1, 2012 - Opposition leader Aung San Suu Kyi wins a seat in parliament in the first multi-party elections since 1990.
April 13, 2012 - British Prime Minister David Cameron arrives in Myanmar. He is the first British prime minister to visit the country.
April 28, 2012 - European Union foreign policy chief Catherine Ashton meets with pro-democracy leader Aung San Suu Kyi. The EU suspended most of the sanctions it had imposed on Myanmar, citing the "transparent and credible" election that brought Suu Kyi to office and other reforms.
April 29, 2012 - U.N. Secretary-General Ban Ki-moon arrives in Myanmar to meet with President Thein Sein and Aung San Suu Kyi.
May 2, 2012 - Opposition leader Aung San Suu Kyi takes the oath of office for Myanmar's parliament, resolving an impasse that had been preventing her from taking her seat in the legislature. She and 33 other newly elected members of her party, the National League for Democracy, were elected but had been delaying their swearings-in due to objections to the wording of the oath they would have to take.
June 2012 - Unrest breaks out in the western state of Rakhine. Religious violence leaves more than 200 dead and close to 150,000 homeless -- predominantly members of the Rohingya Muslim minority.
November 19, 2012 - President Barack Obama becomes the first sitting U.S. president to visit Myanmar. He meets with President Thein Sein and activist Aung San Suu Kyi.
March 10, 2013 - Aung San Suu Kyi wins re-election as Myanmar's leader of the National League for Democracy.
March 22, 2013 - A state of emergency is declared as ethnic clashes between Muslims and Buddhists lead to killings.
May 2, 2013 - President Obama extends sanctions against Myanmar for one year while lifting the 1996 visa ban.
April 7, 2014 - The United Nation's Special Rapporteur on Myanmar, Tomas Ojea Quintana, reports that the recent persecution of the Rohingya group "could amount to crimes against humanity." Myanmar presidential spokesman Ye Htut tells CNN the government rejects the remarks.
May 15, 2014 - President Obama extends sanctions against Myanmar for another year.