When dolphins attack: Dusty's dust up off the Irish coast
August 5, 2013 -- Updated 1944 GMT (0344 HKT)
STORY HIGHLIGHTS
Reports suggest Dusty the dolphin, found on the west coast of Ireland, has attacked swimmers
A woman was hospitalized last Sunday -- the fourth incident since May
Authorities are now erecting warning signs around Doolin Harbor, County Clare
The bottlenose dolphin is listed as an endangered species
(CNN) -- She's a charming cetacean who one minute will allow you to put your arm around her -- and the next leave you nursing injuries. As swimmers off the west coast of Ireland are finding out, you don't mess with Dusty the dolphin.
Now authorities have been forced to erect signs around Doolin Harbor, County Clare, after a woman was hospitalized last Sunday by the feisty bottlenose dolphin -- the fourth such incident since May.
Dusty has a checkered history in the area. First spotted in the waters off the coast of County Clare in 2000, reports began to surface as far back as 2004 that she was a little temperamental. According to media reports, one diver even claimed that Dusty had tried to drown her.
Officials say that a record has never been kept of precisely how many incidents Dusty has been involved in -- but they believe that the number has escalated this year. Village suggest this could be because Dusty moved to Doolin Harbour -- which is much more heavily populated with swimmers than her previous hunting ground -- back in 2011.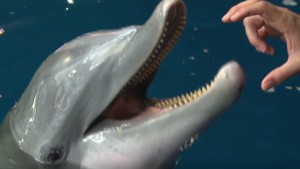 How dolphins talk to each other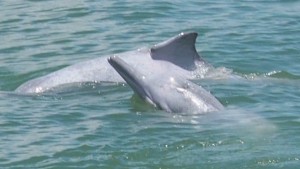 Saving dolphins from danger
In the latest incident, the Irish Whale and Dolphin Group reports that Dusty rammed a woman in the abdomen resulting in her hospitalization. It's only the latest in a series of incidents, the group says, with one woman having to be flown back to Germany via air ambulance as a result of her injuries.
The IWDG also warns that pursuing Dusty could also result in an injury or even a fatality. And don't even think about trying to take her picture. As one sign states: "If she does grab a camera etc, let her have it, or she might ram you or hit you with her tail."
Clare County Council has now commissioned the IWDG to produce advisory posters warning people not to approach Dusty. It has also asked lifeguards to put out red warning flags whenever Dusty is spotted in the area.
But beyond that there's little else the authorities can do: the bottlenose dolphin -- which can grow up to 10-feet long -- is an endangered species and is protected under law.
Swimmers on the west coast of Ireland -- beware.

Part of complete coverage on
December 10, 2013 -- Updated 1118 GMT (1918 HKT)

Presidents and prime ministers, celebrities and royals joined tens of thousands of South Africans to pay tribute to Nelson Mandela.
December 9, 2013 -- Updated 1558 GMT (2358 HKT)

The Web is set to change our lives over the next decade. This will also question the use of personal data and balancing new powers with ethics.
December 9, 2013 -- Updated 0111 GMT (0911 HKT)

The image of the Shinkansen bullet train streaking past Mount Fuji is a powerful part of the iconography of the resurgent post-war Japan.
December 9, 2013 -- Updated 2023 GMT (0423 HKT)

Imagine the delight at unwrapping your Christmas present in 2043 and discovering you've been gifted a trip around the Moon.
December 9, 2013 -- Updated 0727 GMT (1527 HKT)

A new political party claiming to champion ordinary Indian voters makes a startling electoral debut.

Few words in Hungarian, including place names, are easily recognizable to foreigners.
December 10, 2013 -- Updated 0933 GMT (1733 HKT)

Browse through images you don't always see in news reports, taken by CNN teams all around the world.
December 9, 2013 -- Updated 1234 GMT (2034 HKT)

Walking into one of Yayoi Kusama's infinity rooms is like walking into a completely different universe.
December 9, 2013 -- Updated 1529 GMT (2329 HKT)

Meet Tony Allen -- famous for helping create Afrobeat by fusing different beats and patterns.
December 8, 2013 -- Updated 2116 GMT (0516 HKT)

Fans converged on the site where Paul Walker died to pay tribute to the actor. CNN's Paul Vercammen reports.

He was imprisoned for life but that did not quiet him. Nelson Mandela became South Africa's first black president, and an icon and inspiration.
December 9, 2013 -- Updated 1002 GMT (1802 HKT)

Watching digital artist Kyle Lambert's stunning photo-realistic iPad paintings emerge from a blank screen is an awe-inspiring experience.

Today's five most popular stories