STORY HIGHLIGHTS
Obama has a "very real timeline" for ending the strikes, Kerry says
But the State Department says "there is no exact timeline"
Obama: Increased oversight is important, but not easy
The number of U.S. drone strikes in Pakistan has dropped in recent years
Washington (CNN) -- Following talks with the Pakistani government, Secretary of State John Kerry said the United States is making progress in the war on terror, and hopes to end the use of drone strikes "very soon."
The secretary of state told a Pakistani television station that President Barack Obama has a "very real timeline" for ending the strikes.
He did not provide specifics on the timeline.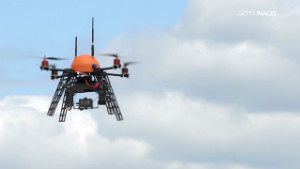 CNN Explains: Drones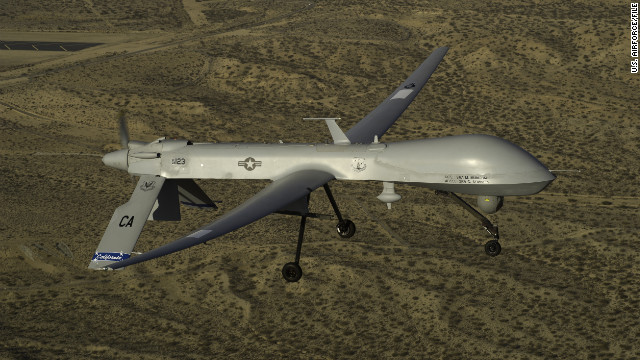 A U.S. Air Force MQ-1 Predator UAV assigned to the California Air National Guard's 163rd Reconnaissance Wing flies near the Southern California Logistics Airport in Victorville, California, on January 7, 2012.
A model of of the European "Neuron" UAV at the Paris Air Show in Le Bourget, France in 2005. The UAV is an European Research project led by Dassault Aviation.
An MQ-9 Reaper unmanned aircraft vehicle (UAV) sits in a shelter at Joint Base Balad, Iraq, after a mission on November 10, 2008. According to the U.S. Department of Defense, the Reaper can carry up to 3,750 pounds of laser-guided bombs and missiles.
A British MQ-9 Reaper sits on a runway on March 17. Both British and American Reapers are deployed to Afghanistan.
U.S. Marines perform operational checks on a Marine Squadron Two (VMU-2) UAV before a launch at Speed Bag Airfield, near Niland, California, on October 25, 2011.
An Iranian-made drone is displayed during the Army Day celebrations in Tehran on April 18, 2010.
A model of a surveillance drone built by Dassault Aviation and BAE Systems is displayed at the International Paris Air show in 2011.
An Israeli Hermes 500 UAV flies over the Hatzerim air force base near Beersheva, Israel, during an air show at the graduation ceremony of Israeli pilots on June 30, 2011.
Chinese visitors examine an unmanned helicopter drone at the China Aviation Expo in Beijing on September 21, 2011.
Israeli soldiers prepare to launch a Skylark drone during a drill on January 16, 2012 near Bat Shlomo, Israel. The Skylark can carry a camera payload of up to 1 kilogram, has an operational ceiling of 15,000 feet, and allows users to monitor any designated point within a 15-kilometer radius. The Skylark unit consists of a ground control element and three drones, which provide battalion-level commanders with real-time information.
An Israel Aerospace Industries UAV on display at the Singapore Airshow on February 15.
A model of China's "Dark Sword" UAV. According to Jane's Defense & Security Intelligence & Analysis, the drone remains only a model, but offers an example of where China may go with its drone technology.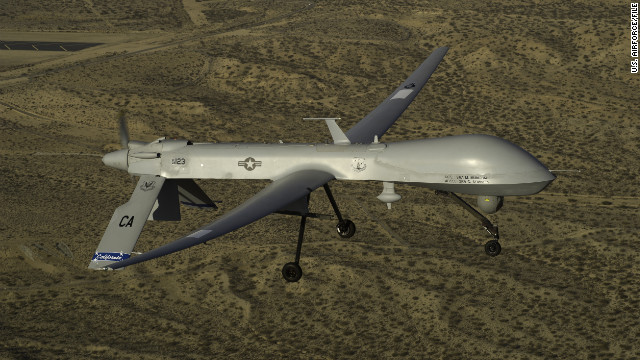 Photos: Military drones
"We hope it's going to be very, very soon," Kerry said Thursday, according to a transcript provided by the State Department.
"I believe that we're on a good track. I think the program will end as we have eliminated most of the threat and continue to eliminate it," Kerry said.
He added that the cessation depends on "a number of factors" and that Washington is working on it with the Pakistani government.
A State Department statement later addressed Kerry's remarks.
"Today, the secretary referenced the changes that we expect to take place in that program over the course of time, but there is no exact timeline to provide," the statement said.
However, it said, the goal is to get to a place where threats are eliminated and drones are not needed.
"Now, we're all realistic about the fact that there is a threat that remains and that we have to keep up ... the fight in this and other places around the world," Marie Harf, a State Department spokeswoman, said. "So this was in no way indicating a change in policy. It's really been reinforcing things I think we've said for months on this."
The United States ramped up strikes in the tribal region in the first few years of Obama's presidency. But the number of strikes in Pakistan has since dropped partly because of al Qaeda's decline in the country and more U.S. focus on threats from al Qaeda groups in other countries, such as Yemen.
In May, Obama defended the use of drone strikes as a necessary evil, but one that must be used with more temperance as the United States' security situation evolves.
America prefers to capture, interrogate and prosecute terrorists, but there are times when this isn't possible, Obama said in a speech at the National Defense University in Washington.
Terrorists intentionally hide in remote locations and putting boots on the ground is often out of the question, he said.
However, he urged caution and discipline.
"To say a military tactic is legal, or even effective, is not to say it is wise or moral in every instance," Obama said at the time. "For the same progress that gives us the technology to strike half a world away also demands the discipline to constrain that power -- or risk abusing it."
Increased oversight is important, but not easy, Obama said.
Drone strikes in the tribal regions bordering Afghanistan have drawn heated opposition in Pakistan because of civilian casualties.
The drone strikes have further roiled relations between the two nations, which flared following a 2011 raid by U.S. commandos on a compound in Abbottabad, Pakistan, that killed al Qaeda leader Osama bin Laden.
CNN's Adam Levine reported from Washington, and Faith Karimi wrote and reported from London. CNN's Melissa Gray contributed to this report