STORY HIGHLIGHTS
The State Department issues a global travel alert on possible al Qaeda attacks
Sources say al Qaeda is in final planning stages of unspecified plot
Rep. King: Information is "specific," attacks "really could be almost anyplace"
Western targets, not just American ones, are under threat, officials say
(CNN) -- A global travel alert issued Friday by the State Department warned al Qaeda may launch attacks in the Middle East, North Africa and beyond in coming weeks, a threat that prompted Sunday's closure of 21 embassies and consulates.
The U.S. government's actions are in response to growing intelligence that shows a potential for attacks in Yemen and elsewhere in the Middle East as well as North Africa, said U.S. officials who spoke to CNN on condition of not being identified.
"The threat appears to be much worse than it has (been) in a long time," said a senior national security official in Yemen, where the government is "on high alert against possible attacks in the days to come."
Various Western targets -- not just those tied to the United States -- are under threat, according to two U.S. officials.
According to three sources, the United States has information that al Qaeda in the Arabian Peninsula members are in the final stages of planning for an unspecified attack.
One of the sources said that such preparations appeared to have increased in recent days with the approaching end of the Muslim holy month of Ramadan. In particular, Sunday is Laylet al-Qadr, or the Night of Power, which is one of the holiest moments on the Muslim calendar.
Said one U.S. official: "It all leads us to believe something could happen in the near future."
Based on intelligence, U.S. officials said, there was particular concern about the U.S. Embassy in Yemen between Saturday and Tuesday. President Barack Obama -- who, amid regular updates on the situation, has directed officials to take all appropriate steps to protect Americans -- praised Yemeni President Abdo Rabu Mansour Hadi for his country's efforts following a meeting Thursday at the White House.
Photos: Attacks on U.S. diplomatic sites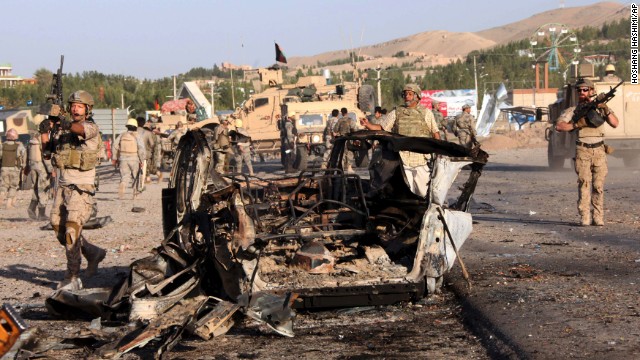 U.S. troops led the investigation of the site of a suicide car bombing and a gunfight near the U.S. consulate in Herat, Afghanistan, on Friday, September 13. Taliban militants attacked the consulate using a car bomb and guns to battle security forces just outside the compound. An intercepted al Qaeda message led to the closing of 22 embassies and consulates across the Middle East and North Africa on August 4. Take a look at other attacks on U.S. diplomatic sites in recent years.
A suicide bomb goes off at the U.S. Embassy in Ankara, Turkey, on February 1. A security guard was killed and a journalist was wounded in the attack. The Revolutionary People's Liberation Party-Front, or DHKP-C, took responsibility for the bombing.
Demonstrators set the U.S. Consulate compound in Benghazi, Libya, on fire on September 11, 2012. The U.S. ambassador and three other U.S. nationals were killed during the attack.
People flee the scene of a Taliban attack on the U.S. Embassy in Kabul, Afghanistan, on September 13, 2011. Three police officers and one civilian were killed. There were no reports of U.S. casualties.
Officials examine the aftermath of a terrorist attack outside the U.S. Consulate in Peshawar, Pakistan, on April 5, 2010. The coordinated attack involved a vehicle suicide bomb and attackers who tried to enter the consulate by using grenades and weapons fire. Two consulate security guards and at least six others were killed.
Yemeni soldiers carry the coffin of a comrade during a funeral on September 25, 2008, in Sanaa. Heavily armed fighters attacked the U.S. Embassy in Yemen on September 17. A car bomb was detonated, killing 10 Yemeni police and civilians and six attackers.
Relatives of slain police officers are comforted during a funeral in Istanbul, Turkey, on July 10, 2008, a day after the U.S. Consulate there was attacked. Three police officers and three attackers were killed in what the American ambassador to the country called "an obvious act of terrorism" aimed at the U.S.
A bomb squad team collects evidence at a construction site where a rocket was launched near the U.S. Embassy in Athens, Greece, on January 12, 2007. The anti-tank missile tore through the embassy, but there were no injuries.
A car exploded near the U.S. Embassy in Damascus, Syria, on September 12, 2006. Fourteen people were wounded. Syrian authorities killed three attackers and apprehended a suspect outside the building.
A U.S. diplomat and his driver were among at least four people killed on March 2, 2006, in an apparent suicide attack outside the U.S. Consulate in Karachi, Pakistan.
An attack on the U.S. Consulate in Jeddah, Saudi Arabia, killed nine people on December 7, 2004. A Saudi group linked to al Qaeda claimed responsibility for the attack.
A Pakistani police officer stands guard outside the U.S. Consulate in Karachi after a gunman opened fire there on February 28, 2003. Two police officers were killed, and six others, including one civilian, were injured.
Family members of a victim who was killed by a bomb a day earlier embrace at a hospital in Denpasar, Bali, on October 14, 2002. A series of bombs killed more than 200 people at nightclubs while another attack occurred near the U.S. Consulate on the Indonesian tourist island. Authorities believe the attacks were coordinated.
A previously unknown militant group called Al-Qanoon claimed responsibility for a bombing that killed 10 people at the U.S. Consulate in Karachi, Pakistan, on June 14, 2002. The U.S. State Department says it suspects al Qaeda is responsible.
Police officers stand next to the body of a victim after a car bomb exploded on March 20, 2002, at a shopping center near the U.S. Embassy in Lima, Peru, killing nine people.
Christopher Sandrolini, the U.S. consul general in Calcutta, speaks with Indian officials outside the U.S. government information center in Calcutta, near the U.S. Consulate, where heavily armed gunmen killed five Indian police officers on January 22, 2002.
Rescue workers stand on the remains of a building in front of the U.S. Embassy in Nairobi, Kenya, on August 10, 1998, four days after a deadly attack. Twelve Americans were among more than 200 people killed in nearly simultaneous bombings at U.S. embassies in Nairobi and Dar es Salaam, Tanzania.
Secretary of State Madeleine Albright, center, walks past the damaged U.S. Embassy in Dar es Salaam on August 18, 1998. The August 7 attacks in Tanzania and Kenya were later attributed to al Qaeda.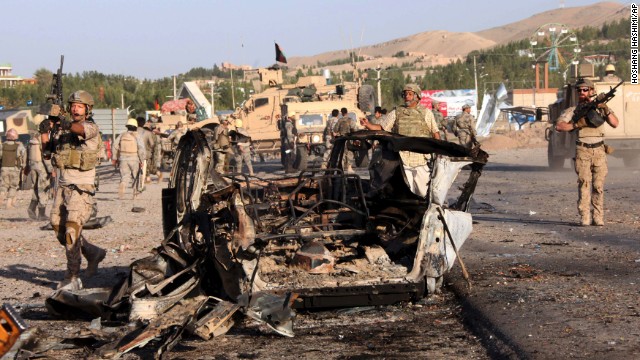 Photos: Attacks on U.S. diplomatic sites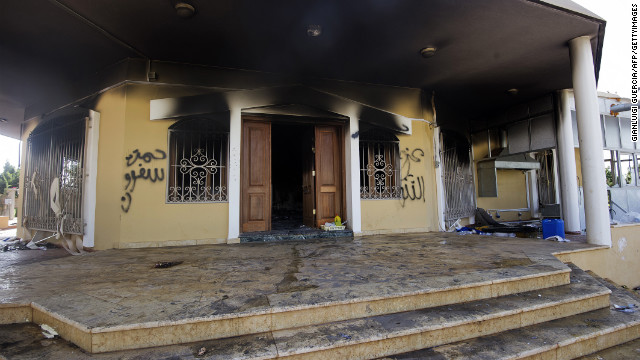 Attackers set the U.S. mission in Benghazi, Libya, on fire on September 11, 2012. The U.S. ambassador to Libya, Christopher Stevens, and three other U.S. nationals were killed during the attack. The Obama administration initially thought the attack was carried out by an angry mob responding to a video, made in the United States, that mocked Islam and the Prophet Mohammed. But the storming of the mission was later determined to have been a terrorist attack.
Obama and Clinton stand at Andrews Air Force Base as the bodies of the four Americans killed are returned on September 14.
A desk sits inside the burnt U.S. mission on September 13, two days after the attack.
Damage is seen inside the U.S. mission on September 13.
A lounge chair and umbrella float in the swimming pool of the U.S. mission on September 13.
Demonstrators gather in Libya on September 12 to condemn the killers and voice support for the victims.
U.S. President Barack Obama, with Secretary of State Hillary Clinton on September 12, makes a statement at the White House about Stevens' death.
A burnt vehicle is seen at the U.S. mission in Benghazi on September 12.
People inspect the damage on September 12.
A small American flag is seen in the rubble on September 12.
A man stands in part of a burned-out building of the U.S. mission on September 12.
Smoke and fire damage is evident inside a building on September 12.
Half-burnt debris and ash cover the floor of one of the U.S. mission buildings on September 12.
The U.S. mission is seen in flames on September 11, the day of the attack.
A protester reacts as the U.S. mission burns on September 11.
A vehicle and the surrounding area are engulfed in flames on September 11.
Flames erupt outside of a building on September 11.
A vehicle burns during the attack on the U.S. mission on September 11.
Onlookers record the damage from the attack on September 11.
Onlookers walk past a burning truck and building on September 11.
A vehicle sits smoldering in flames on September 11.
People duck flames outside a building on September 11.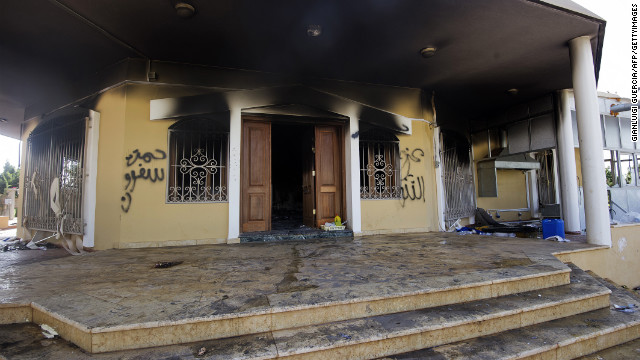 Photos: Attack on U.S. mission in Benghazi
Still, it's unclear whether the apparent plot targets that Arabian nation or one elsewhere -- which is why the travel alert applies so broadly, and why embassies from Bangladesh to Libya are being closed. The expected time of an attack also isn't known, with the U.S. travel alert noting the threat extends through the end of August.
"Terrorists may elect to use a variety of means and weapons and target both official and private interests," the alert states. "U.S. citizens are reminded of the potential for terrorists to attack public transportation systems and other tourist infrastructure."
New York Rep. Peter King, a member of the House Intelligence Committee, called the information "the most specific I've seen."
While the principal attention is on the Arabian Peninsula, he stressed to CNN's Wolf Blitzer that"we can't rule anything out."
"We are focused on the Middle East, but it's a potential series of attacks that really could be almost anyplace," said King.
21 embassies, consulates ordered closed
The State Department made public Friday a list of 21 embassies and consulates that will close Sunday, which is normally the start of the work week in the countries affected.
The 17 affected U.S. embassies are in Afghanistan, Algeria, Bahrain, Bangladesh, Djibouti, Egypt, Iraq, Jordan, Kuwait, Libya, Mauritania, Oman, Qatar, Saudi Arabia, the United Arab Emirates, Sudan and Yemen. The U.S. embassy in Israel will be closed as normal Sunday.
Consulates in Iraq, Saudi Arabia and the United Arab Emirates are also being shut down for the day. Embassies and consulates in the region typically close their doors or operate with minimal staff on Fridays and Saturdays.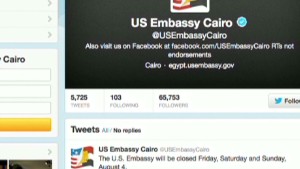 Potential terror threat in Mideast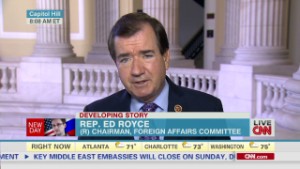 Central Asia cause of embassy threat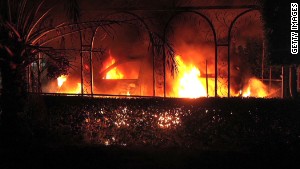 CNN Explains: The Benghazi attacks
The shutdowns could extend beyond Sunday, a senior State Department official said.
Retired Gen. James Mattis -- who until earlier this year was head of U.S. Central Command, responsible for a 20-country area that includes the Middle East -- said the decision to close the embassies shows the reality of the threat and the wisdom of U.S. policymakers.
U.S. embassies have been targeted before in places such as Yemen, Turkey and Tanzania, he pointed out. Moreover, al Qaeda in the Arabian Peninsula is one of the terrorist network's most active and most destructive branches.
"We have to remember that we're up against an enemy who kills indiscriminately -- whether it be women, children, diplomats -- and our embassies ... have been one of the targets," Mattis told CNN on Friday. "They are showing some proactive discretion here, making certain that we don't give the enemy an opportunity that we can deny them."
Questions, concerns after Benghazi
House leaders have been briefed on the situation, Democratic leader Nancy Pelosi told reporters, adding that the travel alert and embassy closings provided "some understanding of the seriousness of the threat."
King, who has also heard such briefings, applauded the government's decision to close its diplomatic missions.
"I give them credit," the Republican said of the Obama administration. "I think the government is doing exactly the right thing here."
Such bipartisan agreement in Washington come at a time politicians are still pushing to seek answers regarding the September 11, 2012, attack on the U.S. consular compound in Benghazi, Libya, which killed four Americans, including Ambassador Christopher Stevens.
Since then, Republicans have been pressing President Barack Obama's administration for answers, with some accusing officials of covering up what happened in Benghazi and not doing enough to track down the attackers.
Eight GOP lawmakers are asking that incoming FBI Director James Comey brief Congress within 30 days about the investigation. They say the administration's inquiry thus far has been "simply unacceptable," according to a draft letter obtained by CNN.
Earlier this week, Vice President Joe Biden and senior State Department officials went to Congress to discuss embassy security.
Biden also briefed congressional leadership, key committee chairmen and ranking members about the latest threat concerns, a source who attended the meeting said.
Another official said the recent intelligence might not have warranted such a response before the Benghazi attack, given the political firestorm it created for the Obama administration.
On Thursday, State Department spokeswoman Marie Harf said the agency was taking the steps at diplomatic sites out of an abundance of caution.
CNN found embassy attack suspect before FBI
CNN's Greg Botelho, Barbara Starr, Chris Lawrence, Jill Dougherty, Dana Bash, Evan Perez, Gloria Borger, Jim Acosta, Elise Labott, Mohammed Jamjoon and Hakim Almasmari contributed to this report, which was written by Tom Cohen in Washington.