Raven-Symone says she's a lesbian, grateful for legalized gay marriage
August 5, 2013 -- Updated 1035 GMT (1835 HKT)
STORY HIGHLIGHTS
Raven-Symone says "It's great to know" she can have a legal gay marriage
"I, however am not currently getting married," she says
In the past, she said her sexual orientation was a private matter
She starred in "The Cosby Show" in the 1980s and more recently on the Disney Channel
(CNN) -- Raven-Symone, who played 3-year-old Olivia on the 1980s sitcom "The Cosby Show," indicated for the first time Friday that she is a lesbian.
"I am very happy that gay marriage is opening up around the country and is being accepted," the actress said in a statement through her representatives.
"I was excited to hear today that more states legalized gay marriage. I, however am not currently getting married, but it is great to know I can now, should I wish to," she said.
Earlier Friday, Symone posted a tweet: "I can finally get married! Yay government! So proud of you."
In response to media inquiries after that tweet, her representatives said that "Raven is not getting married. She was just supporting the fact that she heard on NPR that more states legalized gay marriage today."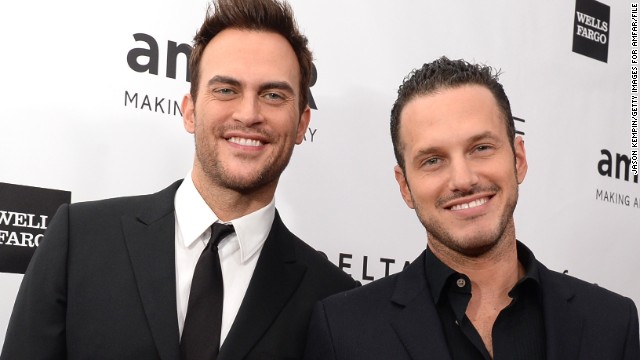 "Glee" star Cheyenne Jackson reportedly married actor Jason Landau on September 13, 2014. According to People the pair, who got engaged in January, had an outdoor interfaith ceremony at a friend's estate in Encino, California.
Sir Elton John and his partner David Furnish, who have two children together, are planning to marry in a quiet wedding sometime in 2015.
Melissa Etheridge and Linda Wallem married on May 31 at San Ysidro Ranch in Montecito, California. The singer tweeted "True love...so blessed. 'By the power invested in me by the state of California...' Thanks" along with a wedding picture of her and Wallem who is one of the creators of the Showtime original series "Nurse Jackie."
Interior design guru Nate Berkus, left, and Jeremiah Brent tied the knot in New York City on May 3. According to People magazine they held the ceremony at the New York Public Library, and are the first same-sex couple to host a wedding at the historic landmark. The pair announced their engagement in April 2013.
Jodie Foster is adept at keeping her private life low-key. The actress quietly wed her girlfriend, photographer Alexandra Hedison, in mid-April. According to E! Online, the couple had been dating for almost a year.
Fashion designer Tom Ford, right, and his partner of 27 years, Richard Buckley, are now married, the former Gucci craftsman confirmed to Vogue UK. He didn't give details on the nuptials, except to acknowledge that they were held in the United States. The couple are already parents to a 1-year-old, Alexander John Buckley Ford.
Musician Linda Perry, left, and actress Sara Gilbert married on March 30, Gilbert announced on her TV show "The Talk."
Columnist Liz Smith broke the news that actress Lily Tomlin, right, rang in 2014 by marrying Jane Wagner, her partner of 42 years, on New Year's Eve.
"Glee" star Dot-Marie Jones, right, wed longtime girlfriend Bridgett Casteen on December 21 at their home in Los Angeles.
Former "Family Ties" star Meredith Baxter, left, has reportedly tied the knot with girlfriend Nancy Locke. According to People magazine, the couple wed in an intimate ceremony in Los Angeles in December. Baxter, 66, confirmed rumors about her sexuality in 2009, plaintively telling the "Today" show, "Yes, I'm a lesbian."
According to People, former "Grey's Anatomy" star T.R. Knight married Patrick Leahy, his boyfriend of three years, in October.
Lance Bass, right, popped the question to boyfriend Michael Turchin, and the couple announced their engagement on Instagram in September with a shot of Turchin flashing the ring.
Talk show host Ellen DeGeneres, left, and actress Portia de Rossi married in 2008. De Rossi was granted the right to change her last name to "DeGeneres" by a Los Angeles court in 2010.
Raven-Symone tweeted in August that she was pleased with the recent rulings on same-sex marriage. "I can finally get married! Yay government! So proud of you," the former "Cosby Show" star wrote. In September, E! reported that the actress attended an event in Atlanta with rumored girlfriend AzMarie Livingston.
Attorney Justin Mikita, left, and "Modern Family" star Jesse Tyler Ferguson announced their engagement in 2012 via their website tietheknot.org, and then married in July 2013. Their foundation sells ties with the proceeds going to organizations that support same-sex marriage. The pair have been outspoken about their advocacy.
Michelle Rounds, left, and Rosie O'Donnell quietly wed in 2012, and in January 2013 they announced the arrival of a daughter.
"How I Met Your Mother" star Neil Patrick Harris, left, and David Burtka announced their engagement in 2011. The couple are parents of twins, Gideon Scott and Harper Grace.
Country star Chely Wright, left, and Lauren Blitzer married in August 2011 and are the parents of identical twin sons, George Samuel and Everett Joseph.
"Sex and the City" star Cynthia Nixon, left, started dating activist Christine Marinoni in 2004. The couple got engaged in 2009 and married in 2012.
Several of George Takei's "Star Trek" co-stars attended the ceremony when he married longtime partner Brad Altman, right, in 2008.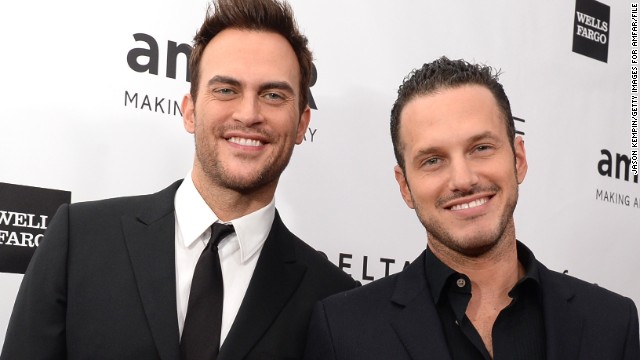 Photos: Gay celebs and marriage
Symone then subsequently issued her official statement.
In the past, she has said her sexual orientation was a private matter. "My sexual orientation is mine, and the person I'm datings to know. I'm not one for a public display of my life," she wrote on her Twitter page in May 2012.
After "The Cosby Show," Symone was featured with Eddie Murphy in his "Dr. Dolittle" films and starred in Disney Channel's "That's So Raven."
CNN's Jane Caffrey contributed to this report.

Today's five most popular stories
Part of complete coverage on
Same-sex marriage debate
October 21, 2014 -- Updated 2235 GMT (0635 HKT)

Same-sex marriage is spreading quickly in the U.S., even reaching several "red" states. Activists have also launched a new push in the Deep South.
October 7, 2014 -- Updated 1725 GMT (0125 HKT)

Never has the Supreme Court said so much when saying so little.

Find out which states match your values when it comes to lesbian, gay, bisexual and transgender rights.
November 24, 2014 -- Updated 2040 GMT (0440 HKT)

Here's a look at what you need to know about same-sex marriage in the U.S. and worldwide.
October 7, 2014 -- Updated 0222 GMT (1022 HKT)

Here's a look at same-sex marriage in the United States, by the numbers.
November 16, 2014 -- Updated 1615 GMT (0015 HKT)

Evangelical leaders are taking a step back from their decades-long fight against gay marriage, softening their tone and recalibrating their goals.
June 30, 2014 -- Updated 2348 GMT (0748 HKT)

In the same-sex marriage debate, Elton John believes he knows where Jesus would've stood.
June 26, 2014 -- Updated 1159 GMT (1959 HKT)

A year ago, the U.S. Supreme Court struck down a key section of the Defense of Marriage Act or DOMA.
June 28, 2014 -- Updated 1226 GMT (2026 HKT)

Anthony Sullivan was a young Australian with Robert Redford looks. Richard Adams emigrated from the Philippines as a child and became an American citizen.
June 25, 2014 -- Updated 1931 GMT (0331 HKT)

The Presbyterian Church (U.S.A.) voted to allow pastors to marry same-sex couples in states where it is legal.