Zimbabwe election praised by African Union, sidesteps rigging claims
August 3, 2013 -- Updated 1348 GMT (2148 HKT)
STORY HIGHLIGHTS
The African Union gives its blessing despite noting shortcomings
Problems included voters getting turned away and biased media, they say
Opposition leader calls the vote "null and void" after Mugabe's party declares win
Did you vote? Share your experiences.
(CNN) -- [Breaking news alert, 9:47 a.m. ET Saturday]
President Robert Mugabe's Zanu-PF party has claimed a two-thirds majority in parliament after Wednesday's election, according to results released Saturday by Zimbabwe's electoral commission. Presidential results are to be announced late Saturday.
[Previously published]
The African Union on Friday applauded Zimbabwe for holding peaceful elections, and made no mention of rigging accusations by the main opposition candidate.
However, its observers did note several shortcomings.
Problems included voters getting turned away, late publication of polling stations and media taking sides, the African Union observers said in a statement released Friday.
Even so, the continent-wide body said, "The Mission observes generally, that from a historical perspective and in comparison to the 2008 elections, Zimbabwe has made an important transition in the conduct of its elections."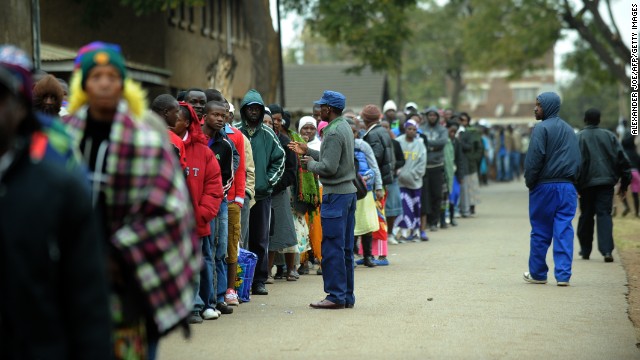 Zimbabweans line up near a polling station in Harare to vote in a general election on July 31, 2013 as President Robert Mugabe seeks to extend power to a potential 38 years.
Zimbabwe President Robert Mugabe answers journalists questions after voting at a polling station at a school in Harare.
Mugabe,89, has been at the helm since 1980, the only leader the nation has known since it gained independence. His main rival, Morgan Tsvangirai, is the current prime minister.
Chizema Najika, an eighty year old voter, arrives to vote at a polling booth in a school in Harare on July 31.
A policeman stands as Zimbabweans line up near a polling station in Harare. Zimbabwe was readying for an inadequately prepared yet tight election battle that could see President Robert Mugabe extend his 33-year grip on power.
Some 6.4 million voters in Zimbabwe -- about half of the country's population --are eligible to cast their ballots Wednesday, according to the electoral commission.
Zimbabweans arrive to vote at a polling booth in a school in Harare on July 31.
The elections is held under a new constitution endorsed in a referendum in March that limits the president to two five-year terms. Mugabe is allowed to seek another term because it does not apply retroactively.
The polls will end an uneasy coalition government formed after violence broke out in 2008.
A man places his finger in a bottle of ink to stop fraud before voting at a polling station at a school in Harare.
Supporters of the Movement for Democratic Change presidential candidate Morgan Tsvangirai hold his portrait as they attend the final campaign rally 'Cross Over' on July 29 in Harare.
Zimbabwe's President and Zanu PF Presidential candidate Robert Mugabe speaks at a press briefing on July 30, 2013 at the State House, on the eve of Zimbabwe's presidential and parliamentary vote. Veteran President Mugabe vowed to step down if he loses the fiercely-contested election.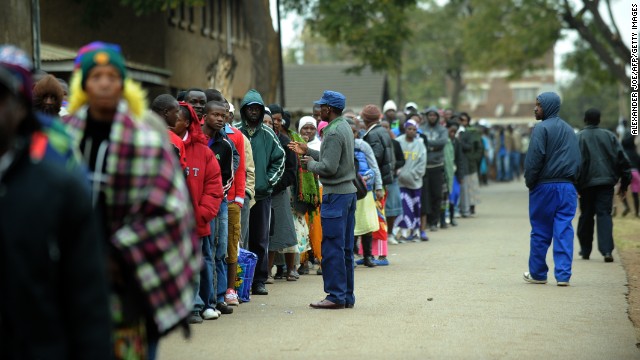 Photos: Zimbabwe votes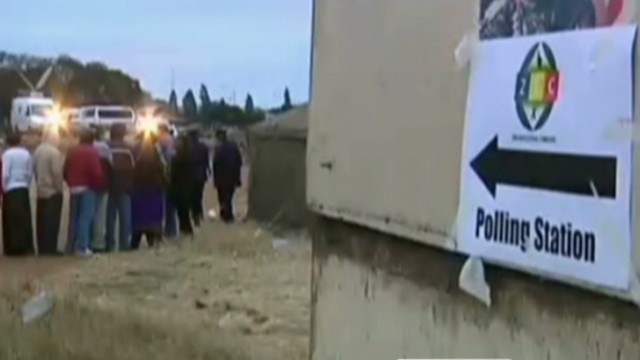 Zimbabweans head to the polls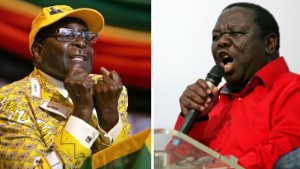 Bitter rivals on ballot in Zimbabwe
Wednesday's vote pitted President Robert Mugabe against his prime minister, Morgan Tsvangirai, for a five-year term as president.
Mugabe's party declared victory a day later even though the electoral commission has not released official results. The opposition dismissed the vote as a "huge farce."
On the other hand, Tsvangirai has called the vote "null and void," alleging widespread fraud.
Mugabe, 89, has been at led Zimbabwe since 1980, the first seven years as prime minister. He is the only ruler the nation has known since it gained independence.
The election marks an end to an uneasy coalition government between the two leaders. It was formed after violence marred the last balloting. At least 200 people were killed and thousands were injured in post-election violence in 2008.
The election commission has until Monday to announce the official results.
Q&A: Why Zimbabwe elections matter