STORY HIGHLIGHTS
A massive manhunt is under way for James DiMaggio
"If you have a chance, you take it, you run," Brett Anderson tells his daughter
Hannah Anderson, 16, and Ethan Anderson, 8, are missing
Their mother's body is found in a burned house, along with the unidentified remains of a child
(HLNtv.com) -- The father of two Southern California children who went missing after their mother was killed pleaded Tuesday for their suspected abductor to release his daughter.
A massive manhunt is under way for James DiMaggio, whom law enforcement authorities describe as a friend of the mother, Christina Anderson.
The whereabouts of Anderson's children, Hannah, 16, and Ethan, 8, are unknown. Investigators believe they may be with DiMaggio, 40, the owner and sole resident of the burned home where Anderson's body was found, along with the unidentified remains of a child.
"Jim, I can't fathom what you were thinking. The damage is done. I'm begging you to let my daughter go. You've taken everything else," Brett Anderson, the children's father, told reporters.
"Hannah, we all love you very much. If you have a chance, you take it, you run. You'll be found," he said.
The father did not mention Ethan in his remarks, prompting a reporter to ask San Diego Sheriff's Department Lt. Glenn Giannantonio whether the child's remains might be those of the boy.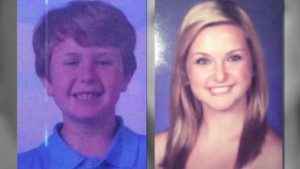 Police: 'We need the public's help'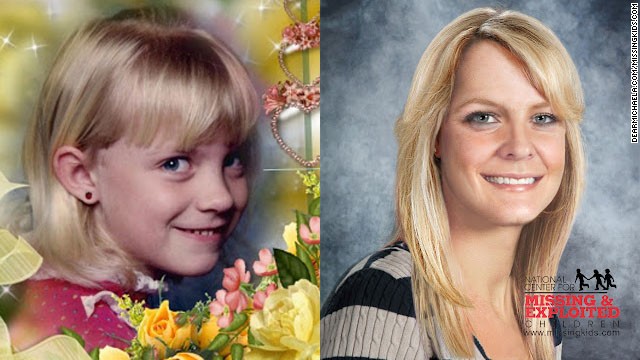 Witnesses saw a man grab 9-year-old Michaela Joy Garecht outside a store near her home near Oakland, California, in November 1988. Here, Michaela is seen in a childhood photo next to an image of what she might look like today. If you have seen Michaela or any of the faces in this gallery, please contact your local FBI office or call 1-800-THE-LOST.
The discovery of the three young women missing for a decade in Cleveland immediately raised hopes for Ashley Summers, who went missing in July 2007 at age 14 within blocks of the other three. Here, she is shown next to an age-progressed rendering of her on the right.
Christina Adkins was last seen in Cleveland in January 1995. She was 18 years old and five months pregnant when she disappeared.
Jessica Heeringa, 25, was abducted in April from an Exxon station in Norton Shores, Michigan, where she was working alone, sometime around 11 p.m., police said. Police have released a sketch of the suspect, described as a white male, about 6 feet tall, between 30 and 40 years old, with wavy hair parted in the middle.
Madeleine McCann was a few days shy of her 4th birthday when she disappeared during a 2007 family vacation in Portugal. Despite a huge police investigation and massive media coverage, she remains missing.
Haleigh Cummings, 5, was reported missing from her family's home in Satsuma, Florida, in February 2009. The National Center for Missing & Exploited Children released the age-progressed photo to show what she might look like at age 8.
Eighteen-month-old Amir Jennings was last seen with his mother in Columbia, South Carolina, in November 2011. Both were reported missing by a family member in early December 2011. Amir's mother was located a few weeks later after she was involved in a car accident. Amir was not in the car. Amir's mother has been convicted of being involved in the toddler's disappearance, but the boy has yet to be found.
Six-year-old Morgan Nick went missing in June 1995 after playing with other children after a Little League game in Alma, Arkansas. Police believe Morgan was abducted by a stranger.
When high school junior Kara Kopetsky didn't come home from school one day in May 2007, her parents filed a missing person report. Police in Belton, Missouri, told them they believed she was a runaway and would return in a few days. Shortly before she vanished, she told her parents her former boyfriend was stalking her.
Seven-year-old Kyron Horman was last seen in June 2010 at his Portland, Oregon, elementary school after attending a science fair. While there has been intense speculation surrounding the boy's stepmother, who told police she dropped him off, no charges have been filed in the case and no one has officially been named a suspect.
Lisa Irwin's father arrived at their Kansas City home from work to find the door unlocked, the lights on and a window tampered with. Lisa's mother said she last saw the 11-month-old the evening before. Dozens of investigators, including police and FBI personnel, have conducted numerous searches for the missing girl but have come up empty.
Six-year-old Isabel Celis's parents reported her missing in April 2012, telling Tucson, Arizona, police that she vanished from her room in the middle of the night. There are no suspects in her disappearance.
Jacob Wetterling was abducted at gunpoint in October 1989 at age 11 near his home in St. Joseph, Minnesota, near St. Cloud. His mother, holding a photo of her son, remains hopeful that he will be found alive.
Christopher Abeyta was only 7 months old when he was taken from his crib in 1986. This year, his family announced a $100,000 reward for help in finding Christopher, who would be 27 today and may look like the image rendering on the right.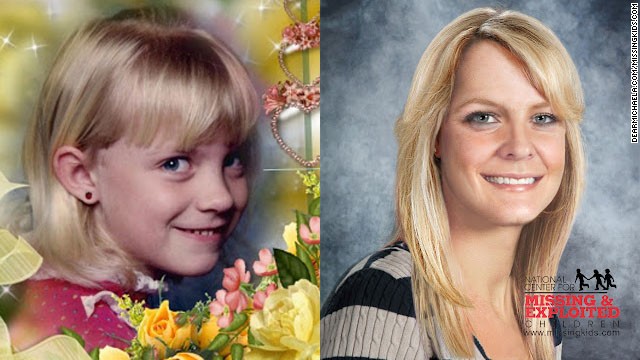 The faces of some of America's missing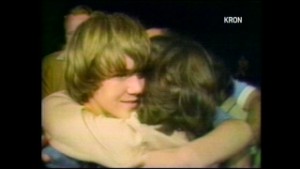 Captive kids who got away
"We don't know who that is that was found in the rubble. It is a possibility that it's Ethan. It's a possibility that's another child that we haven't identified yet, or don't realize is missing yet," Giannantonio said.
"Right now, we just don't know, and we're praying that it wasn't Ethan," he said.
Authorities are following up on tips and casting a wide net for DiMaggio and the children.
"We've received some information that either Texas or Canada may have been the destination he was heading to. Realistically, we don't know where they're going," Giannantonio said. "We're looking everywhere."
Deputies and fire personnel were called to the scene of a residence and detached garage on fire in the enclave of Boulevard around 8 p.m. Sunday.
While extinguishing the fire, personnel discovered the body of Anderson, 42, of Lakeside, California. Authorities believe she was murdered.
They also recovered the remains of a child and the body of a dog.
Once California authorities issued the Amber Alert, information was distributed to residents' cell phones statewide through the Wireless Emergency Alert program, according to the California Highway Patrol.
The wireless program was instituted in December 2012, and this case is the first time is has been used statewide, CHP Public Information Officer Erin Komatsubara told HLN.
On HLN's "Raising America" on Tuesday, the children's aunt, Andrea Saincome, said that DiMaggio has known the family for years and that it would not have been unusual for the mother and children to be at his house.
"There was nothing out of the ordinary," Saincome told HLN's Christi Paul. "He seemed like a genuinely nice guy. He was close to the kids, and he was friends with my sister and my brother-in-law."
Police believe the children were last seen with their mother in Boulevard on Saturday. They were reported missing by their grandparents on Sunday. Giannantonio said he did not know what led them to believe their grandchildren were missing.
According to Giannantonio, DiMaggio and Anderson had "a close, platonic relationship."
Giannantonio would not release any details about how Anderson was killed, but said arson investigators believe they know how the fire was started.
Authorities also found burned weapons in the residence. Giannantonio did not disclose what those weapons were.
The Sheriff's Office released several photos of DiMaggio, and Giannantonio said he is believed to be driving a blue, four-door Nissan Versa with California license plate 6WCU986.
However, he might have switched vehicles, taken public transportation or could be hunkered down somewhere, Giannantonio said.
He asked for the public's help.
He warned anyone who sees DiMaggio and the children that he may be dangerous and they should not approach him or attempt to detain him. Instead, Giannantonio advised people to call 911.
Anyone with information about the case is asked to call the San Diego County Sheriff's Department Homicide Detail at 858-974-2321 or submit an anonymous tip to Crime Stoppers at 888-580-8477.
The FBI is assisting with the investigation.
"I'm hoping that the next time you hear from us will be maybe later on tonight with me announcing that we've located the children, they're fine, and Mr. DiMaggio is in custody," said Giannantonio.