Winging it with wi-fi: The airlines keeping us connected while flying
August 5, 2013 -- Updated 0548 GMT (1348 HKT)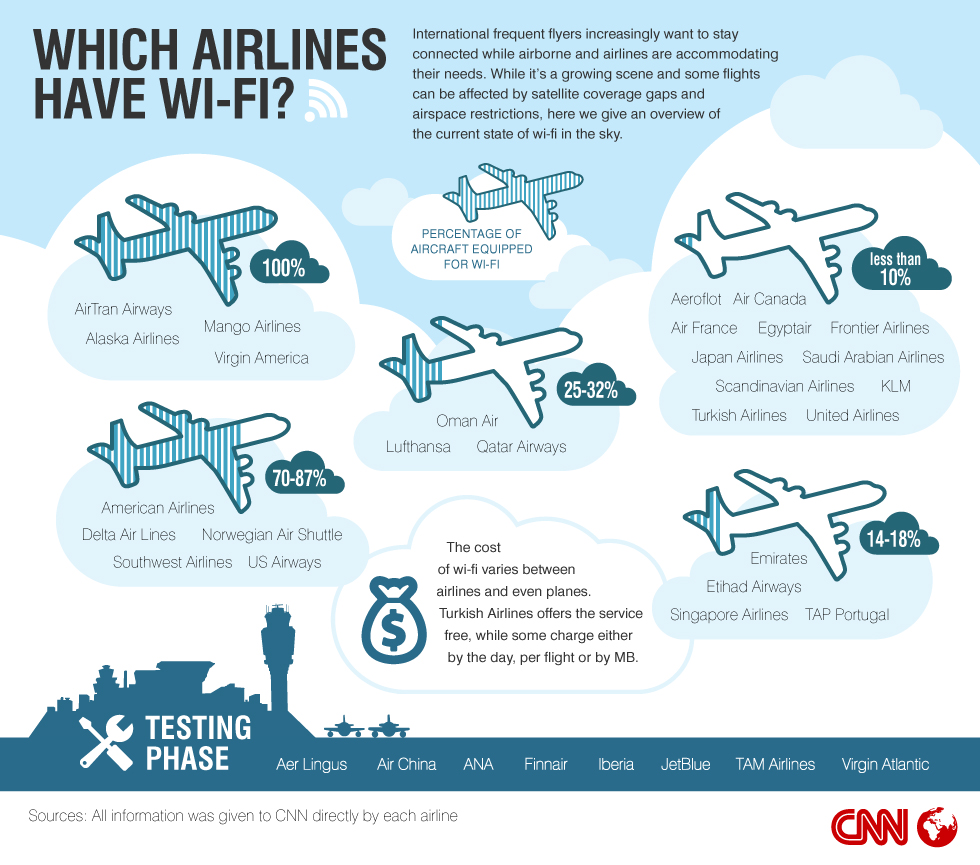 July 8, 2014 -- Updated 0248 GMT (1048 HKT)

Show us how you travel with twitpics and instagram via #howipack
July 7, 2014 -- Updated 0923 GMT (1723 HKT)

Could airlines drop fossil fuel in favor of cooking oil?
July 1, 2014 -- Updated 0940 GMT (1740 HKT)

How do you kill time during flight delays?
June 24, 2014 -- Updated 0800 GMT (1600 HKT)

Fancy stripping off before a flight and getting sweaty with fellow passengers? Head to Helsinki.
June 19, 2014 -- Updated 0255 GMT (1055 HKT)

The skies are under threat. Not from terrorists or hardened criminals, but from everyday passengers who seem to go a little loco.
June 18, 2014 -- Updated 0334 GMT (1134 HKT)

A German entrepreneur claims to have found a way to buy 1 million air miles for as little as $6,500.
June 12, 2014 -- Updated 0213 GMT (1013 HKT)

These days, no fashion house portfolio is complete without a hotel -- or at the very least, a luxuriously designed suite.
June 5, 2014 -- Updated 1039 GMT (1839 HKT)

Is sky the limit for green aviation? Take our quiz and find out.
May 26, 2014 -- Updated 0319 GMT (1119 HKT)

Some collect spoons from their travel, others collect a whole lot more.
May 7, 2014 -- Updated 1507 GMT (2307 HKT)

There is no shortage of adjectives one can apply to airline seats; no wonder that many carriers are looking to make a change.
May 5, 2014 -- Updated 0558 GMT (1358 HKT)

Etihad Airways has unveiled new cabins that are more like suites complete with butler and chef.

Today's five most popular stories