Zeppelin is latest way to see Paris
August 5, 2013 -- Updated 2153 GMT (0553 HKT)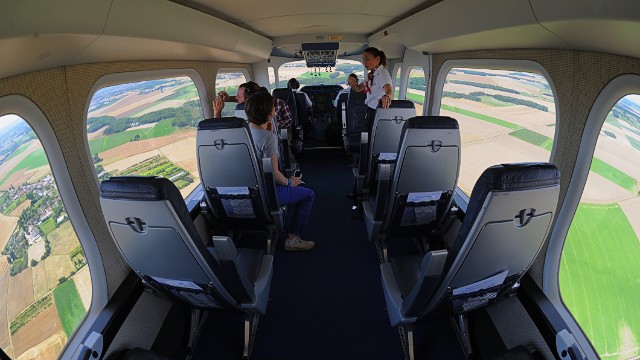 The first passengers sailed the skies in the Airship Paris zeppelin's inaugural commercial flight on Sunday. The craft is about the size of an A380 superjumbo jet, but flies, 900 meters up, at a stately maximum speed of 90 kilometers per hour. Passengers paid at least €200 ($265) for a half-hour flight.
Though not visible here, on a clear day the Eiffel Tower is visible from the airship as it flies over the Vexin region (northwest of Paris), according to Airship Paris.
Catherine Board, the zeppelin's half-British, half-Belgian pilot, says an airship is "probably the safest kind of craft to fly."
The airship readies for takeoff. Its sheer size -- 75 meters long and five stories high -- is a barrier to its wide adoption as a commercial craft: the infrastructure for docking, in France at least, is presently limited.
Commercial airships have been absent in France for three decades.
Virgin passengers
Where's the Eiffel Tower?
'Safest way to fly'
But where to dock it?
New shape in the skies
STORY HIGHLIGHTS
Airship takes to skies around Paris for first time in 30 years
Latest zeppelin is size of jumbo jet -- but a lot lighter and slower
Tickets a little more expensive than most Paris tours ... make that a lot
Non-flammable gas makes craft "safest way to fly"
(CNN) -- The sights of Paris are among the most familiar on the planet, but now tourists have a "new" way to see them -- by helium-filled airship.
Airship Paris's zeppelin -- 75 meters long, five stories high and as wide as a four-lane motorway -- made its inaugural commercial flight over a region of villages and woodland northwest of Paris on Sunday.
On clear days, the company says, the Eiffel Tower would be visible in the distance.
The Chateau de Versailles and Seine River are other sights to be seen on the airship's itineraries.
The German-made craft, the first commercial dirigible to fly over the Paris region in 30 years, according to Airship Paris, may have similar dimensions to an A380 superjumbo jet, but it's a little slower at maximum speed: 90 kilometers an hour, at a 900-meter altitude.
Tickets on the dirigible will be somewhat more expensive than other Paris tours, such as a seat on an open-top tour bus: prices start at just more than €200 ($265) for a half-hour flight.
Non-flammable fuel
The shadow of the Hindenburg disaster still hangs over airships, even though the hydrogen-fueled craft -- caught forever on spectacular newsreel footage -- exploded over a New Jersey airfield more than 75 years ago, in 1937.
Airship Paris is quick to emphasize the safety of its new zeppelin.
"This is probably the most safe aircraft [flying] because the gas inside is helium [which is] completely non-flammable," airship pilot Catherine Board, who is half-British and half-Belgian, told the Telegraph.
"If the engines fail, unlike an aircraft, which has to come down, [the airship] can float ... until we find a safe place to land."
Airship Paris hoped its zeppelin would become a familiar sight in the skies above France, not only for carrying downward-peering tourists, but for transporting cargo or for scientific missions.
However, one barrier to realizing those plans is simply the lack of existing infrastructure on the ground to cope with such a large aircraft.

Part of complete coverage on
December 8, 2013 -- Updated 0438 GMT (1238 HKT)

"To awaken quite alone in a strange town is one of the pleasantest sensations in the world."
December 6, 2013 -- Updated 0304 GMT (1104 HKT)

A Japanese blogger has gained Internet fame for taking selfies with a fake lover. Here's his sad/uplifting tale.
December 6, 2013 -- Updated 0151 GMT (0951 HKT)

Biman Bangladesh Airline will take star-crossed airliner on its last joy ride.
December 3, 2013 -- Updated 0303 GMT (1103 HKT)

Whistler, Chamonix, Aspen -- the best known winter sports resorts have become that for a reason.

More than just the merger of Buda and Pest, the Pearl of the Danube is also the cultural crossroads of Europe's east and west.
December 2, 2013 -- Updated 1316 GMT (2116 HKT)

Visiting the DPRK is easy these days, so long as you don't forget to play by their rules.
November 26, 2013 -- Updated 2330 GMT (0730 HKT)

The best places to indulge our second-favorite thing to do with ice.

Top drinking spots with bird's eye views of one of the world's greatest cities.
November 26, 2013 -- Updated 0138 GMT (0938 HKT)

Mulled wine, skating on the river, light shows over snow. Some cities are made for winter.
November 22, 2013 -- Updated 1607 GMT (0007 HKT)

Only 800 people a year are allowed to visit Namibia's bleak but beautiful Skeleton Coast, littered with whale bones and crumbling shipwrecks.
November 24, 2013 -- Updated 0500 GMT (1300 HKT)

Aah, slide shows. How we hated Grandpa's annual two-hour presentation of his trip to the Grand Canyon. But now, don't we kind of miss them?

For 24 hours, we made the world's busiest airport our destination and found a world unto its own. Join us on our journey.

Today's five most popular stories