Zeppelin is latest way to see Paris
August 5, 2013 -- Updated 2153 GMT (0553 HKT)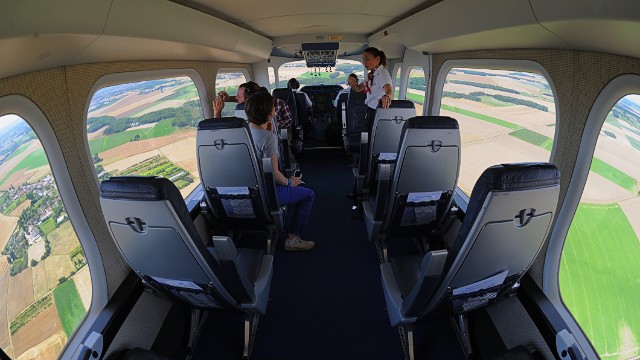 The first passengers sailed the skies in the Airship Paris zeppelin's inaugural commercial flight on Sunday. The craft is about the size of an A380 superjumbo jet, but flies, 900 meters up, at a stately maximum speed of 90 kilometers per hour. Passengers paid at least €200 ($265) for a half-hour flight.
Though not visible here, on a clear day the Eiffel Tower is visible from the airship as it flies over the Vexin region (northwest of Paris), according to Airship Paris.
Catherine Board, the zeppelin's half-British, half-Belgian pilot, says an airship is "probably the safest kind of craft to fly."
The airship readies for takeoff. Its sheer size -- 75 meters long and five stories high -- is a barrier to its wide adoption as a commercial craft: the infrastructure for docking, in France at least, is presently limited.
Commercial airships have been absent in France for three decades.
Virgin passengers
Where's the Eiffel Tower?
'Safest way to fly'
But where to dock it?
New shape in the skies
STORY HIGHLIGHTS
Airship takes to skies around Paris for first time in 30 years
Latest zeppelin is size of jumbo jet -- but a lot lighter and slower
Tickets a little more expensive than most Paris tours ... make that a lot
Non-flammable gas makes craft "safest way to fly"
(CNN) -- The sights of Paris are among the most familiar on the planet, but now tourists have a "new" way to see them -- by helium-filled airship.
Airship Paris's zeppelin -- 75 meters long, five stories high and as wide as a four-lane motorway -- made its inaugural commercial flight over a region of villages and woodland northwest of Paris on Sunday.
On clear days, the company says, the Eiffel Tower would be visible in the distance.
The Chateau de Versailles and Seine River are other sights to be seen on the airship's itineraries.
The German-made craft, the first commercial dirigible to fly over the Paris region in 30 years, according to Airship Paris, may have similar dimensions to an A380 superjumbo jet, but it's a little slower at maximum speed: 90 kilometers an hour, at a 900-meter altitude.
Tickets on the dirigible will be somewhat more expensive than other Paris tours, such as a seat on an open-top tour bus: prices start at just more than €200 ($265) for a half-hour flight.
Non-flammable fuel
The shadow of the Hindenburg disaster still hangs over airships, even though the hydrogen-fueled craft -- caught forever on spectacular newsreel footage -- exploded over a New Jersey airfield more than 75 years ago, in 1937.
Airship Paris is quick to emphasize the safety of its new zeppelin.
"This is probably the most safe aircraft [flying] because the gas inside is helium [which is] completely non-flammable," airship pilot Catherine Board, who is half-British and half-Belgian, told the Telegraph.
"If the engines fail, unlike an aircraft, which has to come down, [the airship] can float ... until we find a safe place to land."
Airship Paris hoped its zeppelin would become a familiar sight in the skies above France, not only for carrying downward-peering tourists, but for transporting cargo or for scientific missions.
However, one barrier to realizing those plans is simply the lack of existing infrastructure on the ground to cope with such a large aircraft.

Part of complete coverage on
September 23, 2014 -- Updated 1007 GMT (1807 HKT)

Which cities provide the most memorable party times? A self-proclaimed "nightlife connoisseur" names his top 10.
September 22, 2014 -- Updated 0344 GMT (1144 HKT)

Whether you're looking for a post-meeting pint or a wild night out, creativity is on the menu at these hot Hong Kong venues.
September 23, 2014 -- Updated 1028 GMT (1828 HKT)

Artists and migrants are moving out as a once-crumbling neighborhood goes upscale.
September 20, 2014 -- Updated 0502 GMT (1302 HKT)

They irrigate our farms, are an important means of transport and a source of eco-friendly power.
September 19, 2014 -- Updated 0828 GMT (1628 HKT)

Open House festivals allow snooping in homes and landmarks normally closed to public
September 19, 2014 -- Updated 0422 GMT (1222 HKT)

Ancient competitions held and yurt town set up to rejuvenate nomadic cultures.
September 19, 2014 -- Updated 0102 GMT (0902 HKT)
Playful sea lions, fearless boobies and the only ocean-going lizards in the world -- these islands offer amazing experiences for naturalists and tourists alike.
September 18, 2014 -- Updated 1200 GMT (2000 HKT)

A foreign language can be the best aphrodisiac, so we traveled the world in search of the hottest accents.
September 23, 2014 -- Updated 0657 GMT (1457 HKT)

Hidden from the rest of the world for decades, Myanmar's Lethwei boxing is experiencing a revival globally.
September 17, 2014 -- Updated 1117 GMT (1917 HKT)

This aging cargo work whale makes more than 60 flights each week, carrying parts for all of the Airbus programs.
September 15, 2014 -- Updated 0026 GMT (0826 HKT)

Former brothels, public toilets and war bunkers now provide eccentric watering holes for those willing to drink deep.
September 12, 2014 -- Updated 0338 GMT (1138 HKT)

Whether filled with electric blue sulfur flames or hissing lava, these mega mountains offer incredible vistas.

Today's five most popular stories