Opposition group: Syrian rebels, foreigners take over regime air base
August 6, 2013 -- Updated 2256 GMT (0656 HKT)
STORY HIGHLIGHTS
New: A car bomb blast in southern Syria kills 18 people, including three children
The Menagh air base is near Aleppo, Syria's largest city and financial hub
For many months, rebels have tried to wrest control of Aleppo in the country's civil war
The Islamic State of Iraq is the rebranded name for al Qaeda in Iraq
(CNN) -- Syrian rebels and an al-Qaeda-affiliated group have captured a government air base near the key city of Aleppo, an opposition group said.
"Early dawn today, the Islamic State in Iraq and Syria and some rebel battalions took full control of the Menagh air base," the London-based Syrian Observatory for Human Rights (SOHR) said Tuesday.
"The start of this new offensive started yesterday when two non-Syrian nationals blew themselves up in an armored vehicle in front of the command center of the Menagh air base," the group added. The SOHR said one suicide bomber was a Saudi Arabian.
Fighters from the Islamic State of Iraq and Syria and various rebel battalions destroyed several tanks and killed a number of regime soldiers, the observatory said. At least 10 rebel fighters, including foreigners, were also killed, the group added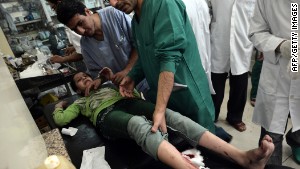 Syrian war causes health care crisis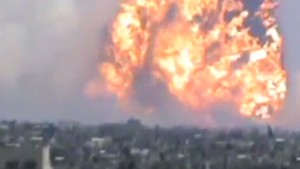 Report: Huge explosion kills 40 in Syria
The Islamic State of Iraq is the rebranded name for al Qaeda in Iraq. The group changed its name after its founder, Abu Musab al-Zarqawi, was killed by a U.S. missile strike in 2006.
The expanded term "Islamic State of Iraq and Syria" was spawned when the ISI moved into Syria. However, al Nusra Front -- a group inspired by al Qaeda that has fought alongside rebels in Syria -- has denied the existence of a merged group.
The Menagh air base is north of Aleppo, Syria's largest city and financial hub. For many months, rebels have tried to wrest control of the city in their attempt to topple four decades of rule by President Bashar al-Assad's family.
The Syrian regime downplayed reports that opposition fighters -- whom it calls "terrorists" -- had taken over Menagh air base.
"The heroes of our armed forces are confronting the terrorists with matchless valor," the state-run Syrian Arab News Agency reported. SANA said the airport is devoid of military equipment and aircraft and is not in service.
Study shows rise of al Qaeda affiliate in Syria
Elsewhere, a car bomb exploded in Jarmana in southern Syria, killing 18 people, including three children, and wounding dozens more, the state-run Syrian Arab News Agency (SANA) reported Tuesday.
CNN cannot independently confirm casualty tolls as the Syrian government has severely restricted the access of international journalists.
CNN's Mohammed Tawfeeq, Nic Robertson and Paul Cruickshank contributed to this report.

Part of complete coverage on
Syrian crisis
March 4, 2014 -- Updated 1328 GMT (2128 HKT)

Syria has submitted a revised proposal "that aims to complete the removal of all chemicals" from the country before the end of April.
February 18, 2014 -- Updated 1032 GMT (1832 HKT)

CNN's Arwa Damon reports on ISIS defector who says destroying ISIS as critical as defeating regime.
February 18, 2014 -- Updated 0353 GMT (1153 HKT)

The U.S. wants a United Nations resolution that will, among other things, bring humanitarian aid for refugees in Syria.
February 17, 2014 -- Updated 1259 GMT (2059 HKT)

When the radical Islamist militia ISIS arrived in the Syrian town of Addana a year ago, many welcomed them. What followed changed their minds.
February 17, 2014 -- Updated 1449 GMT (2249 HKT)

CNN obtained video clips from Syrian activists documenting the atrocities committed by members of the Islamic State in Iraq and Syria, known as ISIS.
February 18, 2014 -- Updated 2017 GMT (0417 HKT)

On Crossfire, Danielle Pletka discusses what the U.S. needs to do to resolve the Syria crisis.
February 6, 2014 -- Updated 0101 GMT (0901 HKT)

Her almond-shaped brown eyes shine through her sunken face as a doctor lifts her sweater to reveal a tiny rib cage pushing against her skin.
February 4, 2014 -- Updated 1746 GMT (0146 HKT)

The Zaatari refugee camp in Jordan is home to around 100,000 Syrian refugees. CNN spent several days meeting the residents of the camp.
January 22, 2014 -- Updated 1959 GMT (0359 HKT)

Renowned war crimes prosecutors and forensic experts have found "direct evidence" of "torture and killing" by the Assad regime.

Traumatized children who have witnessed the horrors of war are being helped to read -- and rebuild a normal life. CNN's Becky Anderson reports.
January 23, 2014 -- Updated 1207 GMT (2007 HKT)

A battle zone tour organized by the Syrian government for CNN and several other media outlets Wednesday was more than bizarre.
January 22, 2014 -- Updated 1735 GMT (0135 HKT)

CNN's Atika Shubert meets with the family of a little girl who was wounded in Syria, now living in a refugee camp.
January 27, 2014 -- Updated 1456 GMT (2256 HKT)

110 year old, Jabari Alawali walked for over 10 hours to reach Jordan from Syria.
Today's five most popular stories