STORY HIGHLIGHTS
A year on from the Olympics have attitudes towards women's sport changed?
Women competed in every event at 2012 and were on every single team
Led to hopes the fight against inequality in sport could be transformed
Games produced countless role models, heroes, and champions
The "World Sport presents: An Uneven Playing Field" documentary will first screen on CNN International on Saturday August 10. It investigates whether the drive for equality has withered a year after the 2012 Olympics. Click here for showtimes, videos and features.
(CNN) -- It's a warm day in West Des Moines, Iowa, a small town in America's heartland.
Off a main thoroughfare, an unassuming gym sits in a strip mall. People come and go, passing a young woman sitting in a desk chair just inside the gym's front door, getting her hair and makeup done.
She is Gabby Douglas, and when the women's gymnastics all-around gold medal was placed around her neck at the London 2012 Olympics, she became an instant superstar.
When we met her at the gym her host family owns, she was busy smiling, jumping and posing for a photo shoot with Seventeen Magazine.
Here, in the middle of Iowa, Douglas continues to work and train, and balance new-found celebrity with everyday life. One year after the 2012 Olympics, it is just one example of how everything and nothing has changed.
The London event was heralded as "the Women's Games" and for good reason -- for the first time, every country and every event allowed women to compete.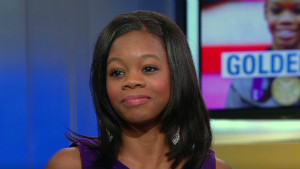 Gabby's new book 'Grace, Gold & Glory'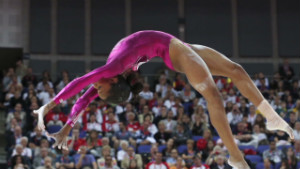 Gabby Douglas' mom on her golden future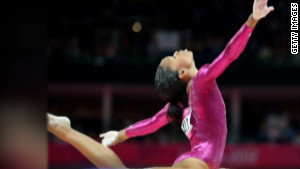 Gold medalist's hairdo bashed on Twitter
Exactly a century after the founder of the modern Olympics said "an Olympiad with females would be impractical, uninteresting, unaesthetic and improper," the International Olympic Committee, or IOC, celebrated the most equal Olympics to date.
Some countries, like the United States and China, actually sent more women than men. And for the first time ever, Brunei, Qatar and Saudi Arabia had women on their national teams.
Saudi Arabia was long seen as the last holdout, its hand eventually being forced by the IOC, which delivered an ultimatum: send women, or face a ban from all Olympic competition.
In a country where women can't vote until 2015, can't play sports in public schools, and can't even drive, the Middle East country had to find female athletes to represent it.
The search turned up two women -- Sarah Attar and Wodjan Sharkhani. Attar, a dual citizen of Saudi Arabia and the U.S., grew up in California.
Normally a marathon runner, she was told less than two months before the Games began that she would be running the 800-meter race in London.
"It was definitely a big thought process going into it," Attar told CNN's "An Uneven Playing Field" documentary in her first television interview since the Olympics.
"It wasn't something that I'd been working for, for so long, which so many Olympians do, and essentially it came down to, how could I not go?"
The sight of Attar on the running track dressed in leggings, long sleeves and a special head-covering brought international attention to an otherwise routine 800m heat.
It produced countless female role models, heroes, and champions -- and for 17 days in time, leveled the playing field
Samantha Bresnahan, CNN producer
And while she finished dead last, she was celebrated around the world for her historic accomplishment.
But not everyone was pleased with Saudi's compliance. Back in the kingdom, Attar and 16-year-old teammate Sharkhani faced criticism and threats.
On Twitter, someone started the hashtag "prostitutes of the Olympics" in Arabic, and many wondered if Attar and Sharkhani -- who lost her first judo match in less than two minutes -- were truly trailblazers, or token entrants.
"It really was a brilliant moment," says Alison Kervin, sports editor of The Mail on Sunday, and the UK's first female sports editor of a major British newspaper.
"But when those girls went back to Saudi Arabia and all these other countries, whether that led to girls in their countries suddenly putting on trainers and throwing off their burkas and getting out on the running track, I'm not sure.
"One Games, over two weeks, however wonderful it was, isn't enough to change the face of women's sport."
While the IOC also admits more needs to be done, particularly in getting more women into leadership positions in sport, there is no doubt London 2012 was worth celebrating for most -- but not all.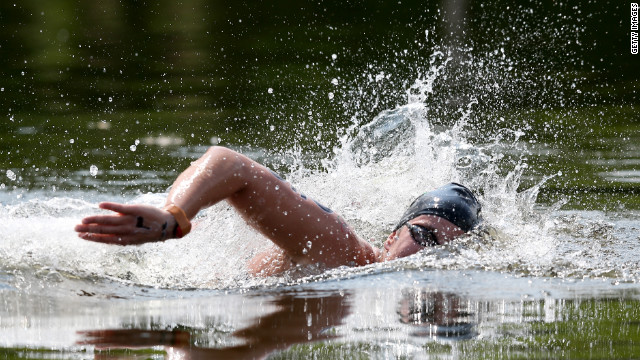 Hungary's Eva Risztov lead the way throughout the 10 km swimming held at the Serpentine in London's Hyde Park before going on to get the gold medal.
Team GB's golden girl Jessica Ennis crosses the line during the women's heptathlon 800m to win overall gold for the event. She was a strong favorite ahead of the event and didn't disappoint fans.
China's Ye Shiwen competes in the women's 200m individual medley where she took first place on the podium. Three days earlier she had also won the gold medal in the 400m individual medley. In the process of going for first, she also broke the world record with a time of 4:28:43 (previously held by Australia's Stephanie Rice).
Dana Vollmer, left, and Missy Franklin, right, react after winning gold in the women's 4x100m medley relay final.
Victoria Pendleton proudly shows off the gold medal she claimed in the women's keirin. She ended her career on a high note at the London 2012 Games taking second place in the women's sprint finals. Austraila's favorite cyclist Anna Meares took the gold home.
Wojdan Shaherkani's Olympic debut was short, but sweet -- the Saudi judoka said competing at the Games was "the opportunity of a lifetime."
Despite finishing last in her 800m heat, Sarah Attar of Saudi Arabia received a standing ovation as she crossed the finish line. She is the first Saudi Arabian woman to compete in an Olympic track and field event.
The 38-year-old mother of two, Kristin Armstrong of the United States, shows she can do it all as she celebrates during the medal ceremony after the women's individual time trial in London.
Sally Pearson of Australia leads Nevin Yanit of Turkey and Kellie Wells of the United States during the women's 100m hurdles final. She went on to win the race.
Kerri Walsh Jennings and Misty May-Treanor of the United States celebrate winning their third consequtive gold medal in the women's Beach Volleyball Gold medal match at the Horse Guards Parade during the 2012 Games.
Lithuania's Ruta Meilutyte stands emotional on the podium to recieve the gold medal after winning the women's 100m breaststroke swimming event, beating fan favorites Rebecca Soni of the U.S. and Leisel Jones of Australia for the win.
Caster Semenya of South Africa competes in the women's 800m semifinals.
Ireland's Katie Taylor celebrates winning her bout against Sofya Ochigava of Russia during the women's light (60kg) boxing final at ExCeL arena in London. As well as taking the Olympic gold for Ireland, she also became the first ever Olympic female lightweight champion.
Not only is she the first African-American gymnast to perform for Team USA but 16-year-old Gabby Douglas also won two gold medals at the London 2012 Games (one in a team event and one as an individual).
15-year-old Katie Ledecky of the U.S. reacts after winning the women's 800m freestyle beating hot favorite from Great Britain, Rebecca Adlington who took bronze.
Pole-vaulter Elena Isinbaeva of Russia said: "Of course I will remember my bronze medal from the London Olympic Games. It was hard to win this medal, it was really hard."
Jade Jones of Great Britain competes against Yuzhuo Hou of China during the women's 57kg Taekwondo gold medal final. Jones ended up winning the bout making the Welsh taekwondo medalist the first British taekwondo champion ever.
Netherlands' Ranomi Kromowidjojo competes in the women's 50m freestyle heats during the London 2012 Olympic Games. Kromowidjojo won two gold medals and one silver.
Serena Williams takes the customary bite out of her Olympic gold medal for women's tennis singles. Williams won two gold medals during the London 2012 games, the second with her sister in the doubles final at Wimbledon.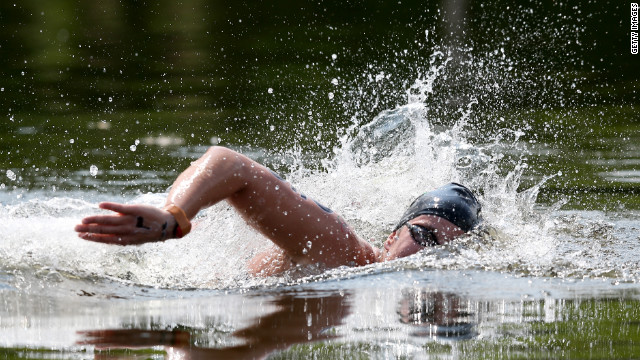 London 2012: The women's Olympics?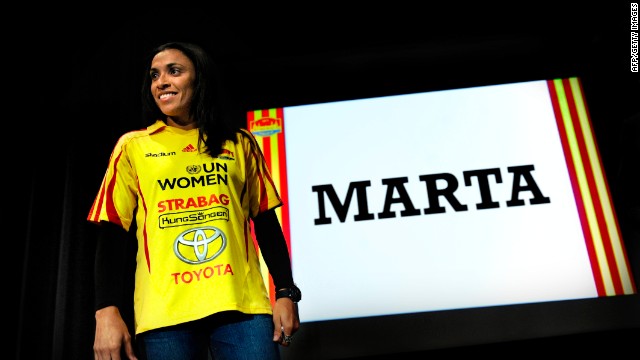 Marta Vieira da Silva, or Marta as she is simply known, is considered the finest female football star on the planet. The Brazilian has won FIFA's World Player of the Year on five out of the nine times she has been nominated.
Nicknamed "Pele with skirts," she has been the stand out player for Brazil since making her debut as a 17-year-old at the 2003 World Cup. She has scored 14 goals in 14 World Cup matches.
The 27-year-old won her world's best player titles in consecutive years from 2006-10.
Marta has been an inspiration to young Brazilian girls who want to play football. At the age of 14 she was invited to join Vasco de Gama in Rio de Janeiro where she began to play with the girls' team and establish herself as the nation's most promising female player.
Marta and Pele have met on several occasions with Brazil's greatest ever male football star speaking in glowing terms of the woman known to many as the "Female Pele." Like Pele in his prime, Marta also has the number 10 on her shirt.
Marta is one of the most fearsome predators in women's football, scoring goals for fun wherever she has played. Her career has seen her record huge success in the U.S. and Sweden as well as on the international stage, where she is Brazil's most-capped player.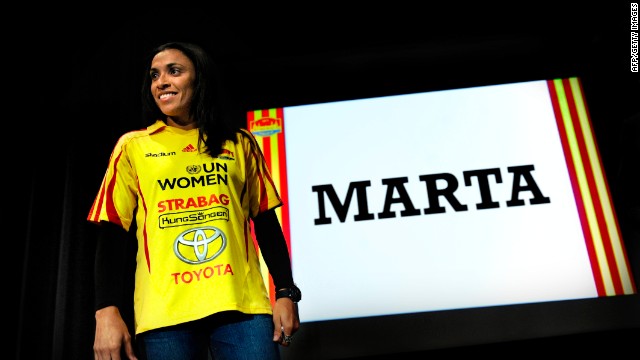 Marta: Brazil's trailblazer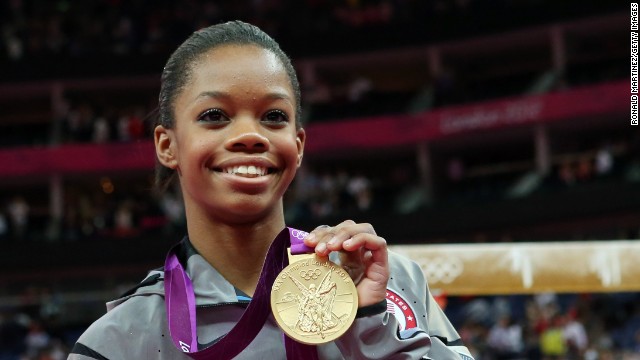 Gabby Douglas became the first African-American gymnast in Olympic history to win gold in the individual all-around event. She is also the first black woman to win the event.
Her mother Natalie Hawkins was left crying tears of joy after watching the teen win two gold medals at the London 2012 Olympics. Hawkins is pictured with Missy Parton (left) -- the mother of Gabby's host family while training in Iowa.
Douglas and Hawkins have appeared at awards evenings together following last year's Olympic success. The 17-year-old has won a whole raft of endorsements since her victory and is often found on the front of magazines, advertising products or in the company of celebrities.
Douglas, nicknamed "the Flying Squirrel," produced an astonishing showing at London 2012 with a performance that belied her years. From starting off with a few tricks in the family home, she progressed to become one of her country's top gymnasts.
Douglas was part ot the U.S. team which won gold at the London Games. It was the first time the country had won the event since 1996.
Douglas met U.S. President Barack Obama at The White House just a few months after her stunning performances in London.
Douglas has been offered all sorts of incentives and commercial deals since her Olympic success -- appearing in fashion shows, making cameo roles on television and working on promotions.
Douglas hopes her success in gymnastics will inspire thousands of youngsters to chase their dreams. She has spoken of her determination to become a role model for the next generation, just as 1996 Atlanta hero Dominique Dawes was for her.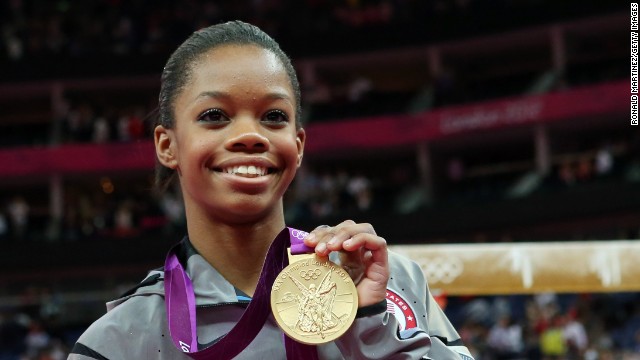 Golden Gabby Douglas
English athlete Samantha Rippington disputes the claim that all the events included women.
She is a canoeist, competing at world championships but not at the Olympics -- because her sport is not included. The event of "canoe and kayak" is grouped -- allowing the IOC to say all events include women, when technically they don't.
"It's very frustrating," said Rippington. "There's 36, 37 countries competing or developing women's canoe around the world, so I know there are athletes who are at standard, who want to race, and are very much capable of racing at the Olympics."
It shines a light on another inequality at the Olympics -- the medal count. At London 2012, men had the chance to compete in 163 events, while the women had only 131 events.
Some events, like boxing, had fewer weight classes available to women, even though women's international boxing recognizes more than the three chosen for the London Olympic program.
Rippington filed a discrimination claim against the London Organizing Committee last year. And while she wasn't able to get women's canoe added to the London 2012 program, she continues the fight for the next Summer Games in Rio de Janeiro, Brazil, in 2016.
But the women who did get their chance last year took full advantage.
Many of the most memorable faces of the 2012 Games were females -- like the UK's Jessica Ennis, Douglas and her "Fierce Five" teammates, the U.S. women's football side and Chinese swimmer Ye Shiwen.
Despite the challenges that remain, London 2012 provided a foundation for gender equality in sport. It produced countless female role models, heroes, and champions -- and for 17 days in time, leveled the playing field.
"It's the start isn't it," said Kervin. "Hopefully we'll look back in 20, 30 years and remember that first Olympics when it started and then go, 'Gosh you wouldn't imagine an Olympics not full of women.'
"So it's just a start of a very big process, and it was a fantastic start."