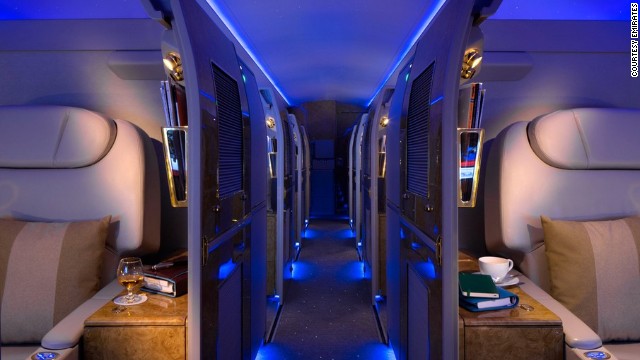 Ten private sleeper cabins take up the rear of the Airbus A319.
Mood lighting for when business is taken care of and the cocktails come out.
Emirates offer 1,500 entertainment channels on the two 42-inch LCD screens, as well as live TV and mobile connectivity.
Take the pain out of jet lag with a nap in one of the suites, complete with a fully lie flat seat and 32-inch TV.
Space to do deals in the adaptable lounge area.
Looking good: The marble and burr walnut accented bathroom has a full-height shower and a heated floor.
Bespoke luxury in the sky
Emirates' bespoke luxury in the sky
Emirates' bespoke luxury in the sky
Emirates' bespoke luxury in the sky
Emirates' bespoke luxury in the sky
Emirates' bespoke luxury in the sky
STORY HIGHLIGHTS
Emirates Executive offers chartered flights on a luxury Airbus A319
Airline hopes to tap into a growing niche market, especially in emerging regions
Plane-maker Bombardier forecasts the private jet market will exceed pre-2008 levels by next year
(CNN) -- For those that love the luxury of first class air travel but loathe the imposition of having to share it with others, Emirates thinks it has the aircraft for you.
The Dubai-based airline is aiming for the high-end business traveler with a new luxury private jet service. Launched this week, Emirates Executive is a bijou and bespoke version of its premium product in a dedicated Airbus A319. It can be chartered by individuals, groups or corporations through the website. Qatar Airways and Korean Air are two commercial airlines that offer a similar executive jet chartering service.
"We have seen an increasing demand in the private travel segment, especially in the Middle East and Europe as well as in markets such as India, Russia and China," said Adnan Kazim, Emirates' Divisional Senior Vice President for Planning, Aeropolitical & Industry Affairs.
"We are looking to tap into this niche market with the high quality of service and attention to detail."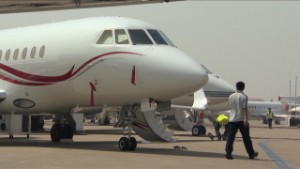 China warms up to luxury jets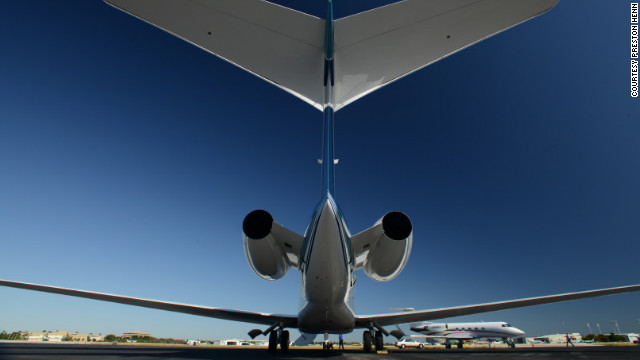 The Gulfstream G650's nearly supersonic speed, ultralong range and fancy amenities have got aviation enthusiasts stoked. Celebrities are taking notice, too. Click through this gallery to see planes linked to celebrities.
Oprah, media mogul David Geffen and designer Ralph Lauren reportedly have expressed interest in the Gulfstream G650. Its amenities include extra tall windows and a night-vision pilot display for safer landings. Seating: up to 18. Range: about 8,000 statute miles. Top speed: about 704 mph.
Oprah and Bill Gates reportedly each own a Bombardier Global 6000, aka Global ExpressXRS. Nice amenity: private stateroom in the rear of the cabin. Bombardier says it can be ready to fly in as little as 30 minutes. Seating: up to 19. Top speed: 590 mph.
The Global 6000 cabin includes a galley, lavatory and a state room. Cabin height: 6.25.feet. Cabin length: 48.35 feet. Source: Bombardier.
Action film star Jackie Chan owns an Embraer Legacy 650. This plane can fly nonstop from London to New York or from Miami to Sao Paulo, Brazil. Range: About 4,400 statute miles. Seating: up to 14. Top speed 609 mph.
The Legacy 650 cabin includes a galley, high-speed broadband WiFi, Iridium satellite phone, iPod/iPhone docking systems, 32-inch HD LCD video monitor, Blu-ray disc players, front and rear lavatory and a 240 square-foot baggage compartment. Cabin height: 6 feet. Cabin length: 42.4 feet. Source: Embraer.
Beyonce reportedly gave hubby Jay-Z a Challenger 850 as a gift. This Bombardier aircraft would make a great choice for any band's North American tour, says plane broker Greg Raiff. Seating: up to 14. Top speed: about 525 mph. Range: about 3,200 statute miles.
The Challenger 850 cabin includes a galley, front and rear lavatories, audio/video and in-flight mapping systems. Cabin height: 6.08 feet. Cabin length: 48.42 feet. Source: Bombardier
Tom Cruise reportedly owns a Gulfstream IV. "I would take a Gulfstream IV anywhere and everywhere," says plane broker Greg Raiff. The U.S. Air Force flew this one to Kabul, Afghanistan, in 2012. Seating: up to 19. Range: about 4,800 statute miles. Top speed: about 580 mph.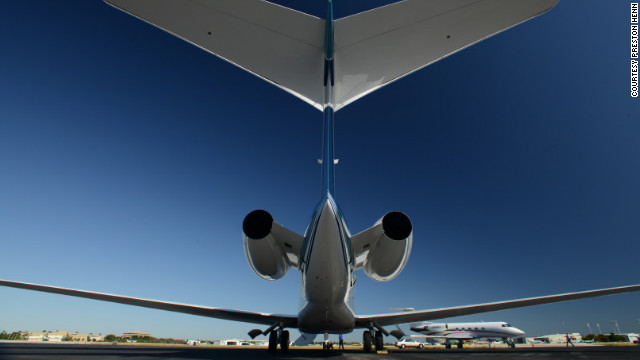 Private jets of the rich and famous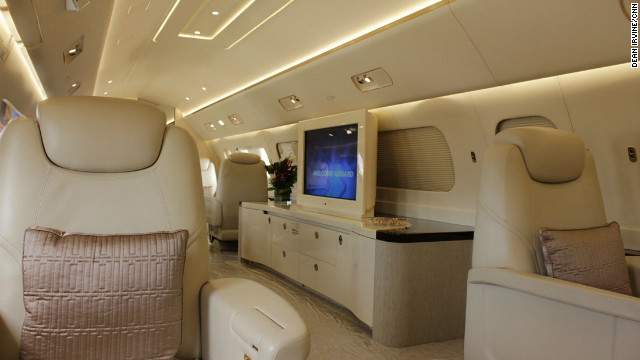 Embraer's $53M Lineage 1000 on display at the Singapore Airshow. A retractable TV is possible, but it will cost as much as Ferrari to fit.
A visitor to the Singapore Airshow walks up the steps of a Bombardier personal jet. "The richest are the most casually dressed," observes David Velupillai of Airbus Corporate Jets.
A potential client enjoys the upholstery on board the Embraer Lineage 1000.
Red carpet treatment for the private jets and their possible future owners at the Singapore Airshow.
As Jackie likes it. Maybe. The interior of kung-fu star Jackie Chan's new Embraer 650.
Dinner for two? The "old style" interior of a Dassault Falcon 7X.
On board the Airbus ACJ318. It's much like the commercial A318, but with a few extras, like room for a dining table and bedroom.
More muted tones on board the Gulfstream G550. Any interior styling is possible.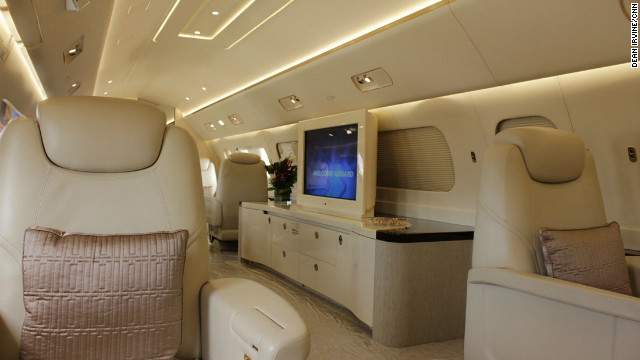 Private jets of the super rich
The Emirates Executive Airbus A319 can accommodate 19 people, with the plane divided into two main zones.
The front of the aircraft has a dining area and executive lounge designed to seat 12 people. Mechanically activated tables can be raised in front of two large sofas, while one of 1,500 channels of in-flight entertainment can be watched on two 42-inch LCD screens.
The rear of the aircraft has ten private suites -- similar to the ones found in Emirates' First Class cabins. Live TV, video conferencing facilities and high speed internet and mobile phone connectivity are also available on board.
Passengers with an appetite can have specially prepared meals served on board by Emirates crew, while a full-height shower with heated floor is available for those who need refreshment after all that exhausting pampering.
Google Street View explores the Airbus A380
While the world's super-rich may still be able afford their own private aircrafts, the chartering of executive jets is a growing market. It's certainly a more affordable option than buying a large private jet outright; an Airbus ACJ318 (similar to the Emirates Executive A319) or long-range Gulfstream G650 costs around $65 million from the respective manufacturers.
While it took a big hit after the global recession that began in 2008, the private jet market is on the rise. According to forecasts by Canadian private jet manufacturer Bombardier, the industry is expected to exceed pre-2008 levels for the delivery of new jets by next year.
Read more: Private jets come within reach of business travelers
North America, with around 40% of the market, remains the biggest destination for private executive travel but the largest growth is expected to come from emerging regions in Latin American and Asia. Although hampered by lack of airspace and facilities, in the coming years China is expected to see a 15% increase in number of private jets flying in its skies, according to Bombardier.
The sector is worth $626 billion to manufactures like Embraer, Bombardier and Gulfstream. Boeing and Airbus produce executive iterations of their planes, including the 747 and A380.
David Velupillai, marketing director of executive and private aviation for Airbus says that their jets -- from A318s to superjumbo A380s -- can be fitted out according to their clients' needs.
"We can do features which the Chinese market particularly appreciates, such as a large round table which is the focus of Asian life. We can do Karaoke bars," he said.
Read more: Gulfstream look for take off in China