Dozens of Syrian rebels slain, group says
updated 1:38 PM EDT, Wed August 7, 2013
(CNN) -- At least 62 Syrian rebel fighters were killed in an ambush Wednesday, an opposition group said.
This comes amid the grinding civil war that, according to the Red Cross, has left more than 100,000 people dead and more than 1 million refugees.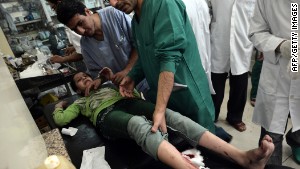 Syrian war causes health care crisis
The opposition Syrian Observatory for Human Rights said the incident and the deaths occurred in the Damascus countryside.
The state-run Syrian Arab News Agency said that Al-Nusra Front "terrorists" had been ambushed and killed in the same region and that non-Syrian fighters were among the dead.
The Al-Nusra Front, or Jabhat al-Nusra, a militant Sunni Islamist movement, is one of the rebel groups taking up arms against Syrian President Bashar al-Assad's regime.
Opposition group: Syrian revels, foreigners take over regime air base
Syria strikes refugee camp in northern Lebanon