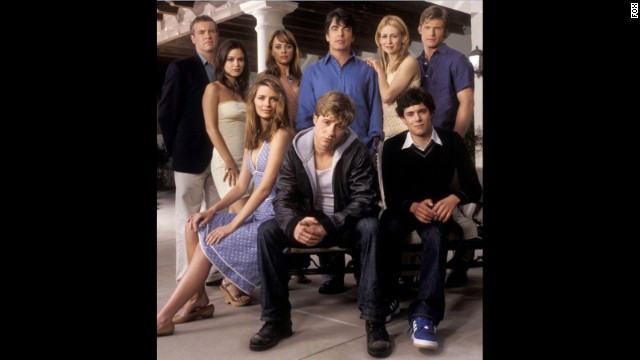 On August 5, 2003, Fox debuted a sun- (and alcohol-) soaked series set in the wealthy enclave of Newport Beach in Orange County, California. The tale of a teen from a rough neighborhood, who realizes the O.C.'s upper-class families weren't as pristine as they looked, established a pop culture phenomenon and put creator Josh Schwartz on the map. He's gone on to lead series such as "Gossip Girl," "Chuck" and "Hart of Dixie." Here's what's up with some of the other stars, a decade after "The O.C.'s" premiere:
Ben McKenzie's Ryan Atwood was the glue that brought the "O.C." cast together. Now 34, he won devoted fans with his portrayal of the tough but sensitive teen from the wrong side of the tracks who falls in love with an "O.C." princess. McKenzie's fans followed him to TNT's cop drama "Southland," which was canceled in early 2013. Here's some good news: He's expected to appear in the TV film "The Advocates" in November along with Mandy Moore.
Playing troubled Newport native Marissa Cooper on "The O.C." increased Mischa Barton's stardom, but after she was killed off in the third season her fame trailed off as well. She pursued work in movies, but her personal life -- a DUI arrest in 2007; a psychiatric hold in 2009 -- overshadowed her efforts. Now, the 27-year-old is busy with at least six projects between through 2014, including a movie called "Beyond Justice," due out this year.
Adam Brody's Seth Cohen came from one of Newport's most affluent families, but he was just as much of an outsider as Ryan Atwood when they first met. Since the show, Brody has been a bigger player at the movies rather than TV. This year, the 33-year-old's playing the porn star Harry Reems in the Linda Lovelace biopic, "Lovelace," and dating "Gossip Girl" star Leighton Meester, for the curious.
Summer Roberts started out as a pretty unlikable character -- say it with us: "Ew!" -- but she soon morphed into a fan favorite. Rachel Bilson's post-"O.C." career has been busy both on screen and off. As an actress, the 31-year-old stars in The CW's "Hart of Dixie" and in the new comedy "The To Do List," and she's launched clothing and shoe lines.
Peter Gallagher's Sandy Cohen was an admirably easygoing dad: a passionate lawyer, avid surfer and the bleeding heart who took in a kid from a troubled background and made him part of his wealthy family. Unlike some of his younger co-stars, "The O.C." wasn't a breakout moment, and Gallagher's career has continued to flourish. These days you'll find the 57-year-old star on USA's "Covert Affairs."
Tate Donovan has been very busy since he played misguided dad Jimmy Cooper on "The O.C." In addition to his TV work on "Damages" and the now defunct ABC primetime soap "Deception," Donovan, 49, starred in 2012's Oscar-winning film "Argo."
Melinda Clarke has a knack for playing characters you love to hate (before coming around to loving them again). On the "O.C.," her devious, social-climbing Julie Cooper acquired her status through marriage. After "The O.C." Clarke appeared on "CSI," "Entourage," "The Vampire Diaries" (with another "O.C." alum, Paul Wesley) and "Nikita."
Last December
, Armstrong, 32, welcomed her first child, a boy named Calin.
Samaire Armstrong's Anna wasn't long for "O.C.'s" world, and since the show the actress has appeared in a few movies (including 2006's "Just My Luck") and TV shows, like " Dirty Sexy Money" and "The Mentalist."
'The O.C.': Where are they now?
'The O.C.': Where are they now?
'The O.C.': Where are they now?
'The O.C.': Where are they now?
'The O.C.': Where are they now?
'The O.C.': Where are they now?
'The O.C.': Where are they now?
'The O.C.': Where are they now?
'The O.C.': Where are they now?
'The O.C.': Where are they now?