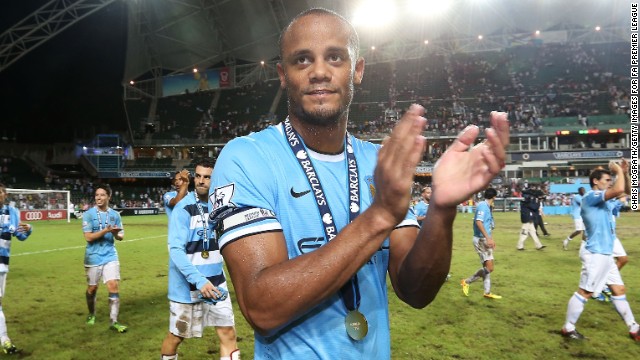 Vincent Kompany enjoys the lifestyle which comes with being a modern millionaire footballer. But, despite rising to the top of his sport, the Belgian remains grounded and committed to education.
Kompany made his Anderlecht debut in 2003. The defensive player had been with the club's academy since 2000 and went on to win the Belgian Championship with the team in 2004 and 2006.
Kompany made his debut for the national team in 2004 in a friendly match against France. He is pictured here tackling legendary French playmaker Zinedine Zidane.
His performances earned him a move to German club Hamburg in 2006. A serious achilles injury limited Kompany to just six appearances in his first season in Germany.
After just two seasons with Hamburg, Kompany made the move to Manchester City in 2008.
Kompany was consistently excellent for the Abu Dhabi-owned club and was one of the team's standout performers as they beat Stoke City 1-0 to win the FA Cup in 2011.
The highlight of Kompany's career to date arrived in May 2012. A goal from Sergio Aguero deep into injury time gave City a 3-2 win over Queens Park Rangers and secured the team a first league title in 44 years. As captain, Kompany was the man who lifted the trophy.
Manuel Pellegrini was appointed as City manager in May following the sacking of Roberto Mancini. The Chilean is the third different manager Kompany has worked under during five years in Manchester.
In good Kompany
Bright start
Belgium breakthrough
At home in Hamburg
City slicker
Silverware
Dramatic climax
Manuel's man
STORY HIGHLIGHTS
Vincent Kompany joined Manchester City from Hamburg in 2008
The defender is captain for both City and the Belgium national team
Kompany combined a football career with his studies as a teenager
He hopes to see authorities take a hard stance when tackling racism
Watch the full interview with Vincent Kompany on CNN's Talk Asia at 1630 GMT on Friday August 9.
(CNN) -- While those about him have lost their heads, Manchester City captain Vincent Kompany has been a model of consistency.
Whether it is players falling foul of the law, refusing to play, or simply getting swept up by the revolving door at the club's Etihad Stadium, Kompany has seen a number of teammates and managers come and go during his five years in Manchester.
But the Belgian has led the line for City both on and off the pitch.
The 27-year-old is captain of both club and country and his leadership helped City clinch a first English championship in 44 years in 2012.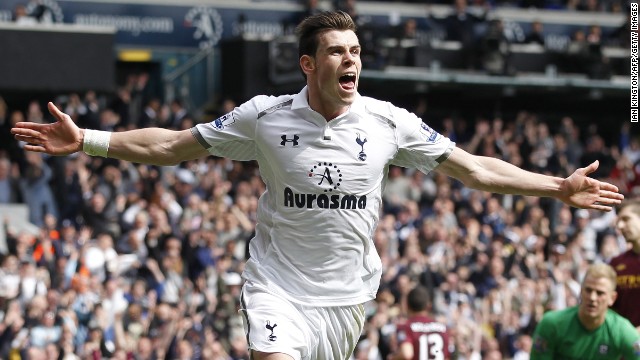 The transfer window means football is rarely off the newspaper back pages in the off season. Much ink has been already been devoted to the question of whether Spurs' Welsh international Gareth Bale will join Real Madrid.
Despite their interest in Bale, Real have already flexed their muscles in the transfer window by signing young Spanish stars Isco (pictured playing for Malaga last season) for $40m and Asier Illarramendi from Real Sociedad for $51m.
Wayne Rooney's future as a Manchester United player continues to be in doubt after Chelsea declared an interest in signing the England forward.
Meanwhile United have made several unsuccessful bids to sign Barcelona midfielder Cesc Fabregas, who before rejoining the Catalan club had played for Arsenal.
United's rivals Manchester City have been active in the transfer market signing Fernandinho for $45m, Stevan Jovetic ($33.5m), Alvaro Negredo ($25m) and Jesus Navas ($23m).
Liverpool are facing a fight to keep hold of striker Luis Suarez. The Uruguayan forward has openly talked of wanting to join Real Madrid, while Arsenal have made a number of bids for Suarez.
Another Uruguayan international Edinson Cavani has changed clubs during the transfer window. Cavani signed a five-year deal with French champions Paris Saint-Germain for a reported French record fee of euro 64 million ($84 million).
After Cavani joined PSG, Napoli used some of the money to sign Argentine international Gonzalo Higuain from Real Madrid. Higuain, who is reported to have cost Napoli in the region of $50 million, spent six-and-a-half seasons at the Bernabeu and scored a total of 107 goals in 187 appearances.
PSG are not the only French club spending big. Monaco served notice of their intent to challenge at the top of world football by completing the signing of Atletico Madrid striker Radamel Falcao. The transfer fee wasn't disclosed by Monaco, but it was reported to be almost $80 million.
Prior to signing Falcao, Monaco's owner Dmitry Rybolovlev -- worth $9.1 billion, according to Forbes -- funded the transfers of Porto pair Joao Moutinho and James Rodriguez for $90 million.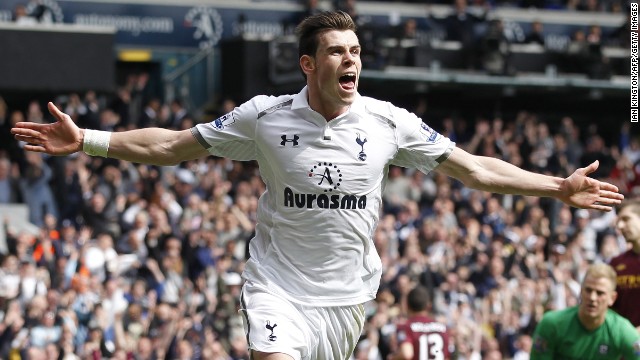 Movers and shakers in transfer window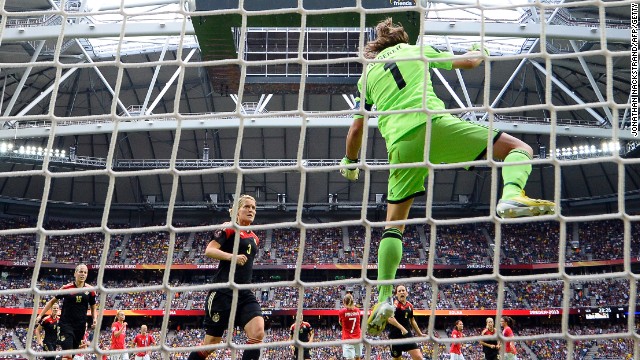 Nadine Angerer reacts after saving a second penalty kick during the women's European Championship final in Solna.
German players react to the only goal of the Euro 2013 final from Amja Mittag.
Germany's women lift the Euro 2013 title after a 1-0 victory over Norway in the final in Sweden.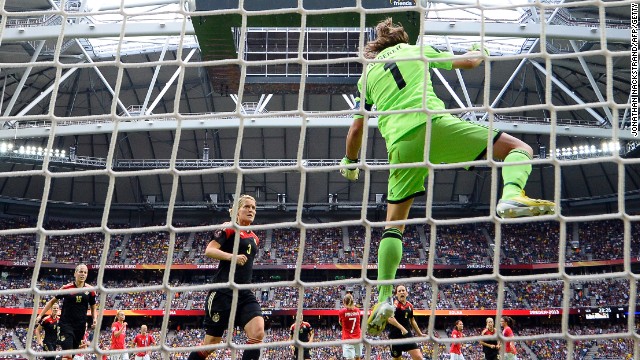 Germany win Euro 2013 title
Read: Marta seeks fair deal for women
His stellar performances and articulate interviews have made Kompany an idol among fans and a respected figure within the media.
Kompany's level head is something he credits to his education and his parents, who kept him grounded even when it became clear he was destined for sporting stardom.
"I couldn't go anywhere without finishing my studies," Kompany told CNN reflecting on the years he spent combining football and his education.
"I always remember playing in big games, millions of people watching, and the next day coming back at two o'clock in the morning.
"At eight o'clock I was just sitting on the bench with all my classmates and I was just a normal guy, but it's always given me the right balance.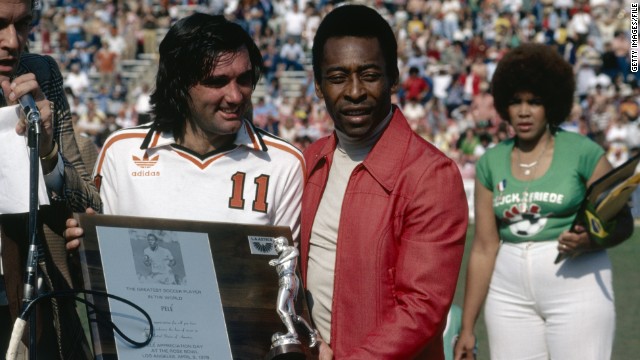 Pele (right) joined the New York Cosmos in 1975 and led a troop of superstars who flocked to the North American Soccer League (NASL). George Best, pictured here with the Brazilian, was a Manchester United legend who enjoyed three separate spells in the NASL.
Franz Beckenbauer was captain of the West Germany team which lifted the 1974 World Cup. The Bayern Munich icon won three NASL Soccer Bowls with the Cosmos between 1977 and 1980.
Pele and his compatriot Carlos Alberto spent one season together in the "Big Apple" which culminated with the Cosmos winning the 1977 Soccer Bowl. Carlos Alberto, who captained Brazil to World Cup glory in 1970, played 100 times for the Cosmos in two separate spells.
Pele meets Giovanni Savarese, the Venezuelan coach of the modern day Cosmos. Saverese has pedigree in U.S. football and enjoyed a prolific spell with the New York/New Jersey Metrostars.
The teamsheet for the Cosmos friendly with English third-tier team Leyton Orient. The fixture was vital for the Cosmos as part of their preparations for the new NASL season.
The match program at Leyton Orient's Matchroom Stadium celebrates the arrival of its prestigious opponents.
Ahead of Saturday's match against the Fort Lauderdale Strikers, the Cosmos' first competitive fixture in 30 years, the top of the Empire State Building is turned green.
Marcos Senna is the most high-profile player in the current squad. The Brazil-born midfielder was a key part of the Spain team which won Euro 2008.
Major League Soccer's New York Red Bulls have shown that soccer in the city can be a success. Cosmos COO Erik Stover spent three years with the team, helping the Red Bulls move to a new purpose-built stadium.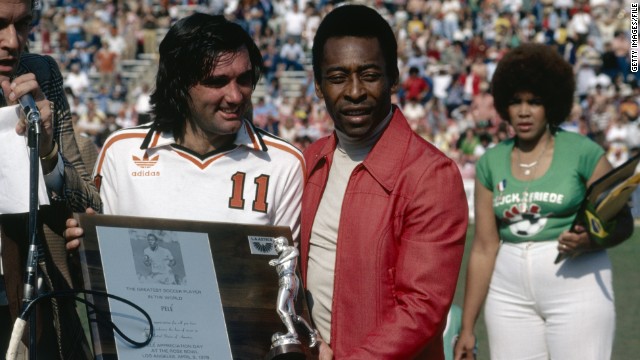 The rebirth of the New York Cosmos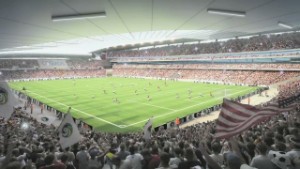 New York Cosmos' grand plans
"I thank my mother every day and my father every day for pushing me in that direction. They've never ever said to me, 'You're a great footballer. You've made it now just focus on your football.'
"They've always said keep other things at hand and I guess I still have this in my life now."
Blog: Is Gareth Bale worth $120m?
Kompany's present is a far cry from his parents' past. His parents fled Zaire, now known as Democratic Republic of Congo, during the regime of president Mobuto Sese Seko, heading to Belgium where Kompany was born and raised.
"They've given us so much love when we were younger, but I guess like any modern family as well, we've had our problems in the fight," said Kompany of his parents.
"We've had financial difficulties like any normal family would have, but I think that the biggest lesson for me is that we've always come back to that education, the strength to do our own thing ... knowing that we would be okay even if we didn't have any money because we knew exactly how to handle situations."
Despite the success he has enjoyed since signing for City in 2008, Kompany continues to have numerous extracurricular interests.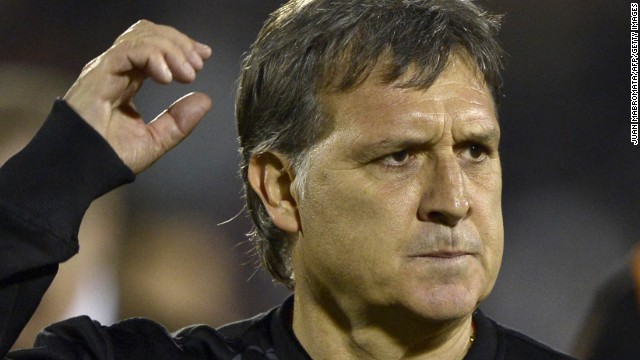 Gerardo Martino has signed a two-year deal at Barcelona after agreeing to replace former coach Tito Vilanova.
Barcelona's star player Lionel Messi is a huge admirer of fellow Argentine Martino. Both men hail from Rosario and Messi's father is a close friend of the new Barcelona manager.
Vilanova took over from Josep Guardiola as Barcelona coach in June 2012 but was forced to leave his post to continue his fight against throat cancer. Vilanova missed nearly three months of last season undergoing chemotherapy and radiotherapy.
Guardiola won 14 trophies with Barcelona between 2008 and 2012 before taking a sabbatical. Now in charge of Champions League winner Bayern Munich, Guardiola will face his former side in a friendly game at the Allianz Arena.
As well as Messi, Martino will be able to deploy the considerable talents of Brazilian star Neymar next season.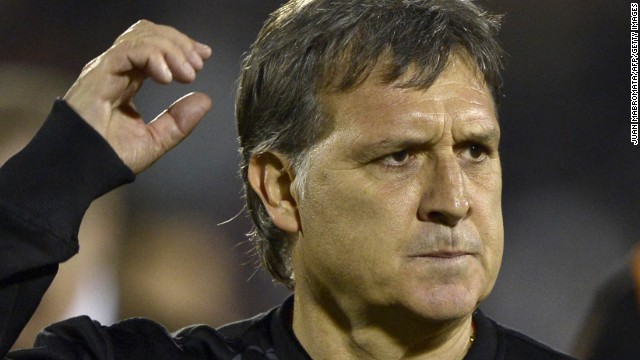 New man at Camp Nou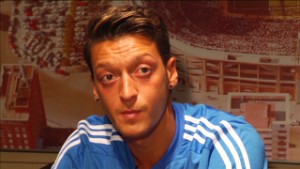 Ozil: Real Madrid needs Ronaldo
British newspaper the Daily Mail reported in January 2012 that Kompany had signed up for a three-year Business Administration course, while he also purchased a football club in his hometown and renamed it BX Brussels.
The team, which plays at the bottom level of the Belgian football pyramid, is Kompany's attempt to ensure up and coming players are given the best possible start to their careers.
"I played football for Anderlecht from the age of 6 to the age of 20 so that has had a big impact on my life, at the same time as my parents and the schools I went to," he explained.
"I really believe that the interactions between all of those different assets led me to be better.
"I want to make a very strong link into the schools, maybe sometimes even the life at home for the kids.
"I think a part of the reason why a lot of young kids fail is because they don't have the support from home that they need to."
One obstacle faced by some modern footballers is racism. The key to tackling discrimination, according to Kompany, is also education.
While Kompany pays little heed to the abusers, he still says it is important for the game's governing bodies to clamp down on the vocal minority.
"It's a very sad life, it's a very sad way of behaving so I wouldn't give them too much attention," he added.
"But at the same time, as much as I wouldn't teach my kids to give them too much attention, I hope the governing bodies will be extremely hard and extremely exemplary in the way that they deal with those situations."