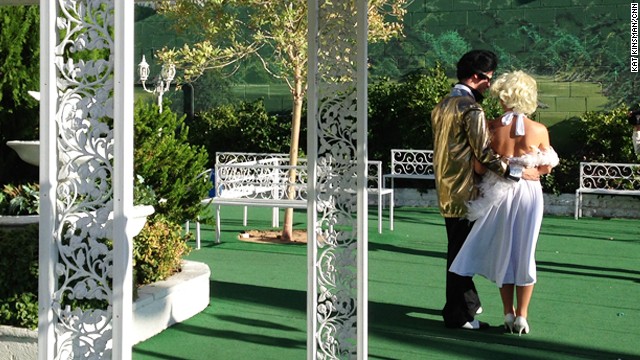 "Elvis" and "Marilyn" tie the knot at
A Little White Wedding Chapel
in Las Vegas.
A Little White Wedding Chapel is home to the famous Tunnel of Love drive-thru window.
Rates for the Tunnel of Love range from $40 in your own car to a $179 package with a limousine, flowers and photos.
A view of the side chapel at A Little White Wedding Chapel.
The Stratosphere Casino provides an only-in-Vegas backdrop to wedding photos.
favorite for celebrities
-- many of whom have taken their vows there, or attended friends' weddings.
A Little White Wedding Chapel is a
Hotter Than Hell Wedding Chapel
, conveniently located at the KISS-themed Monster Mini Golf course across from the Hard Rock Hotel.
If your style is a little bit -- OK, a lot -- rock 'n' roll, consider the
Theater-quality lights, sound and fog machines bedeck the altar, stage crafted after KISS's "Love Gun" album cover. And yes, you can have your ceremony performed by a Gene Simmons lookalike.
Little Church of the West
is listed on the National Registry of Historic Places -- the only venue on the Las Vegas strip with that designation.
The
If the chapel rings a bell, it might be because you've seen Elvis Presley and Ann-Margret recite their vows there in the movie "Viva Las Vegas."
Sweethearts Wedding Chapel
has helped happy couples tie the knot since 1992.
At the other end of the strip, family-owned and operated
Pop-Up Wedding Chapel
in the Cosmopolitan hotel and casino can perform official ceremonies, they also specialize in friend-to-friend, owner-to-pet, and in one notable case, groomsman-to-escort ceremonies.
Not quite ready to legally commit? That's OK -- while the
Amanda Kraft, an actress, is an attendant at the Pop-Up Wedding Chapel and performs legally binding weddings and interspecies ceremonies. Non-wedding ceremonies at the Pop-Up Wedding Chapel come with amenities like eraser rings and VIP access to the red-hot Marquee nightclub.
The Pop-Up Wedding Chapel has windows looking out onto to the Vegas strip -- or in at the happy couple! Participants are encouraged to hashtag their adventures on social media with #PopUpChapel.
THEwedding Chapel
at THE Hotel Mandalay Bay is consistently voted as one of the best wedding venues in Las Vegas. It's elegant, to be sure, but not without Las Vegas flair; a limo ride and photo session with an Elvis impersonator are available for $675.
This is the bride's eye view in the Gold Chapel. Other venues within THEhotel at Mandalay Bay include the Swan Court, a lounge made of ice and a tunnel surrounded by 1.3 million gallons of seawater and 15 species of sharks.
The view down the aisle in THEwedding Chapel's Gold Chapel. But really -- you're still thinking about that
Viva Las Vegas
offers traditional weddings, Elvis weddings (which is practically traditional) and weddings with themes like Thriller, Alice Cooper, Camelot, Goth, Star Trek and so many more.
Even the ashtrays are themed at Viva Las Vegas.
Shhhh! There's a wedding on at Viva Las Vegas!
No ring? No problem! Viva Las Vegas has a wide selection, all priced at a bargain $150.
Airline lose the groom's tuxedo? Viva Las Vegas' gift shop has it covered.
Show the world (or at least the cars behind you) that you just got hitched in Sin City.
'I do!' as they do in Vegas
'I do!' as they do in Vegas
'I do!' as they do in Vegas
'I do!' as they do in Vegas
'I do!' as they do in Vegas
'I do!' as they do in Vegas
'I do!' as they do in Vegas
'I do!' as they do in Vegas
'I do!' as they do in Vegas
'I do!' as they do in Vegas
'I do!' as they do in Vegas
'I do!' as they do in Vegas
'I do!' as they do in Vegas
'I do!' as they do in Vegas
'I do!' as they do in Vegas
'I do!' as they do in Vegas
'I do!' as they do in Vegas
'I do!' as they do in Vegas
'I do!' as they do in Vegas
'I do!' as they do in Vegas
'I do!' as they do in Vegas
'I do!' as they do in Vegas
'I do!' as they do in Vegas