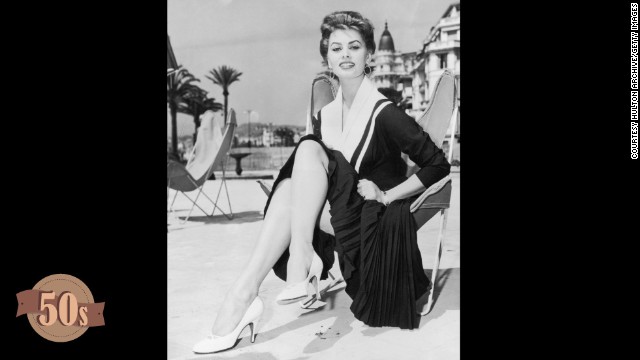 Since its inception in 1947, Cannes Film Festival has always been as much about the fashion as the films. Over seven decades the Cannes carpet has seen its fair share of both fashion faux pas and phenomenons, the highlights of which are documented here; starting with Sophia Loren. One of the early aficionados of Cannes glamor, the Houseboat actress attended the eighth festival in this nautical ensemble. Her simple pleats and modest white heels are a far cry from today's lavish outfits.
Film star Brigitte Bardot eschews footwear altogether and runs barefoot on a beach in Cannes during the 1956 festival, where "The Silent World" by Jacques-Yves Cousteau and Louis Malle won the Palme d'Or.
Cigarettes and bow ties were the height of fashion in the 50s. U.S. actor Gary Cooper (bow tie) talks to French actor Jean Marais (cigarette) during the Cannes Film Festival in 1953.
Elizabeth Taylor swaddles herself in white for the 1957 festival, accessorizing with a modest crown and her third husband, producer Mike Todd.
French actress Catherine Deneuve greets her fans in white gloves and sequins at the 1966 Cannes Film Festival. She appeared in her 100th film "Un conte de Noël" in 2008 aged 64.
Vanessa Redgrave sports an intricate two piece as she's photographed with Italian actor Franco Nero at the premiere of her film "Blow Up" in 1967. The film is about a fashion photographer who believes he may have witnessed a murder and unwittingly taken photographs of the killing.
Away from the hustle and bustle of the red carpet Jane Birkin relaxes on the beach at Cannes with her lover, French singer-songwriter Serge Gainsbourg. Two years later, in 1971 she gave birth to their daughter Charlotte.
Italian actress Gina Lollobrigida contrasts a demure powder blue suit with racy lace on top at Cannes in 1972. She starred in films such as "The Hunchback of Notre Dame" (1956) but as her career slowed, she established herself as a photojournalist and sculptor, even gaining an exclusive interview with Communist dictator Fidel Castro.
Grace Kelly poses with director Alfred Hitchcock during the 1972 Cannes Film Festival. The pair worked together on three films, "Dial M for Murder" (1954), "Rear window" (1954) and "To Catch a Thief" (1955) before she gave up her acting career at 25 to focus on her duties as Princess of Monaco.
Swedish-American actress Ann Margret rides around the streets of Cannes in all white during a photo call in 1975. Margret used her backcombed hair and white leather boots to promote British film director Ken Russell's musical film "Tommy" in which she played Nora Walker.
French actress Brigitte Fossey arrives at the 1977 film festival in long checked dress with lace detailing and a provincial straw hat. Fossey was just five years old when she was cast by director René Clément to star in his film, "Forbidden Games."
David Bowie shows his bow-tied entourage how to throw shapes during the 31th Cannes Film Festival in 1978.
Where in 1957 she wore white, now Elizabeth Taylor attends the 40th Cannes Film Festival in red. The Nolan Miller dress which features iconic shoulder pads has become one of her best known outfits, along with her many wedding dresses.
yé-yé
artists, and her husband U.S. producer Tony Scotti arrive in style at the Cannes festival in 1987.
Monochrome pair French singer Sylvie Vartan, one of the most productive
Princess Diana stands with British actor Alec Guinness in a demure blue dress and matching scarf at a Cannes gala dinner in 1987. The dress, by one of her favorite designers Catherine Walker, sold at auction for around $137, 000 in 2011.
The 90s saw a change in tack for red carpet attendees. Madonna kicked off the trend by wearing her Jean-Paul Gaultier underwear as outerwear at the screening of her movie "In Bed with Madonna" in 1991. Director Alek Keshishian (left) looks on awkwardly.
Sharon Stone created an iconic Cannes moment in 1995 by unceremoniously opening up her Valentino gown to reveal a sequin playsuit, as she arrived at the screening of Doublas Keeve's aptly named film "Unzipped."
U.S. actress Winona Ryder arrived at the 51st Cannes film festival with a man she would not reveal the identity of. She did however reveal her love of tulle. The pair attended the gala screening of "Fear and Loathing in Las Vegas" directed by Terry Gilliam.
Natalie Portman arrives at amfAR's Cinema Against AIDS 2008 benefit in a cut-out Givenchy Haute Couture dress. The swan-lake-meets-origami gown marked a move back to a more demure red carpet style after the rising hemlines of the 90s.
Being chased by paparazzi and shot at by Bond girls is just another day in the life of french humorist duo Erik et Ramzy. The pair joke with the Bond girls upon arrival at the Palais des festivals before the screening of the film "La Petite Lili" by French director Claude Miller during the Cannes film festival in 2003.
Czech model Eva Herzigova raised a few eyebrows in this exposed lacy gown, but was forgiven, because it's Dior. She also made everything better by accessorizing with Chopard jewelery. The picture was taken as she arrived at the screening of U.S. director Steven Soderbergh's film "Che" at the 61st Cannes International Film Festival in 2008.
Cate Blanchett honoured designer Alexander McQueen by wearing this monochrome dress from his pre-fall 2010 collection. Rumor has it that the late designer earmarked this dress for the actress before his death in February that year.
Naomi Campbell lit up the red carpet in this discoball of a dress, which is custom made Robert Cavalli, as she arrived for the screening of "Biutiful" in 2010.
Eva Longoria takes up more than her fair share of carpet as she arrives for the opening ceremony of the 65th Cannes film festival in Marchesa. Long dresses work best for Eva who had a wardrobe malfunction the year after, failing victim to the high stairs at the festival.
It is not immediately clear why this long blonde hair and white lace up look works, but it really, really does. Brad Pitt works the photo call for "Killing Me Softly" in Cannes, 2012.
In 2013 two guests put the celebrities to shame with their striking outfits. The first was this sunflower inspired gown worn at the "Zulu" premiere and closing ceremony during the 66th Annual Cannes Film Festival 2013.
The second guest who relegated the celebrities to mere mortal status wore a dress made of biscuit trays to the screening of "The Past" at the 66th edition of the Cannes Film Festival.
Oscar de la Renta was Freida Pinto's weapon of choice during her walk down the red carpet for the "The Homesman" premiere on May 18, 2014. "The Homesman" is one of the most anticipated films of this year's festival and sees Tommy Lee Jones directing and starring in the drama about a God-fearing pioneer woman (Hilary Swank) who relies on a claim jumper to help her transport three mentally ill women across the treacherous territory from Nebraska to Iowa.
Seven decades of era defining fashion from Cannes
Seven decades of era defining fashion from Cannes
Seven decades of era defining fashion from Cannes
Seven decades of era defining fashion from Cannes
Seven decades of era defining fashion from Cannes
Seven decades of era defining fashion from Cannes
Seven decades of era defining fashion from Cannes
Seven decades of era defining fashion from Cannes
Seven decades of era defining fashion from Cannes
Seven decades of era defining fashion from Cannes
Seven decades of era defining fashion from Cannes
Seven decades of era defining fashion from Cannes
Seven decades of era defining fashion from Cannes
Seven decades of era defining fashion from Cannes
Seven decades of era defining fashion from Cannes
Seven decades of era defining fashion from Cannes
Seven decades of era defining fashion from Cannes
Seven decades of era defining fashion from Cannes
Seven decades of era defining fashion from Cannes
Seven decades of era defining fashion from Cannes
Seven decades of era defining fashion from Cannes
Seven decades of era defining fashion from Cannes
Seven decades of era defining fashion from Cannes
Seven decades of era defining fashion from Cannes
Seven decades of era defining fashion from Cannes
Seven decades of era defining fashion from Cannes
Seven decades of era defining fashion from Cannes
Seven decades of era defining fashion from Cannes