Hands on at Taj Mahal
Dress to impress
Old Delhi food rush
Feeding Cape Town
Fruits, treats and temples
Streets of brotherly love
Eid Brooklyn style
Sweet tooth in Benghazi
Rows of silence
Waving the flag for Eid
Henna on the beach
Eid traditions in Trinidad and Tobago
Eid in a refugee camp
A very special Eid family portrait
Spectacular shopping center decorations
The long journey home
STORY HIGHLIGHTS
Eid, or Eid al-Fitr, marks the end of Ramadan, the holy month of fasting in Islam
We asked for readers' best Eid memories and photos via CNN iReport
Photos showing local Eid celebrations flooded in from Trinidad and Tobago to India
Food, family, celebration and charity were some of the most important themes
(CNN) -- For the world's Muslims, the festival of Eid al-Fitr is a perfect conclusion to Ramadan -- the month-long period of fasting and contemplation practiced by observers of Islam around the globe. One of the most festive periods in the religion's calendar, Eid is often commemorated with large feasts, family-time, and through charitable acts and donations.
As part of CNN's series celebrating the most spectacular festivals and events across the globe, we asked our readers to share their images of Eid traditions, both past and present. In response, we discovered a rich narrative of the holiday, and customs as diverse as the people who celebrate them.
For Yassir O. Nassif in Saudi Arabia, Eid means measuring his three-year-old son Mazin up for new clothes, in this case a brand new customized thobe, a traditional ankle length garment commonly worn in Gulf countries. But the holiday is not just about the outfits -- it's about the family, he says.
Sweet Eid: Breaking the fast with world's tastiest treats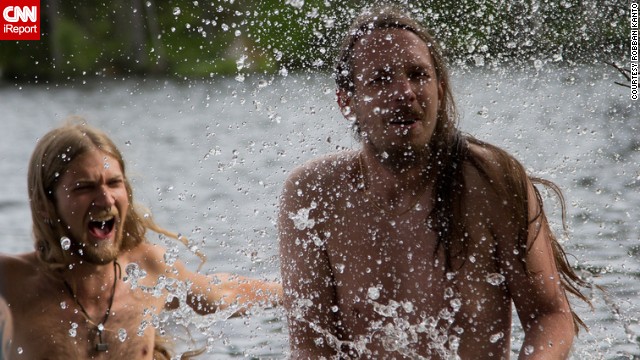 Summer solstice, the longest day of the year, arrives in the Northern Hemisphere on June 21. It's a time when bonfires are lit, traditional songs are sung and more often than not, clothes come off. Robban Kanto and his friends, who celebrated the longest day in Zinkgruvan in Sweden last year, couldn't resist a quick skinny-dip before the night was up.
There weren't many more clothes on display at the Santa Barbara 3-day summer solstice parade last year. "It's one of the largest, most festive, and longest-running events of its kind in the U.S." said Scott London, who documented the event.
In Germany, the distinctive 'Externsteine' rock formation is an important venue for large festivals during the longest day of the year, similar to the UK celebrations at Stonehenge. Bernd Mestermann, who took this photo, has been going to this German event for 20 years.
In Sweden, where Midsummer is one of the biggest celebrations of the year, singing and dancing are central to the fun and frolics. But before all that the maypole has to be decorated and raised. Ulf Bodin took this photo in the small town of Sigtuna, an hour north of Stockholm.
After the Swedish midsummer maypole has been raised, it's time for the dancing, which, to outsiders, might look odd, embarrassing and weird. But don't laugh! The Swedes take their Midsummer dancing very seriously. This photo, shot by Mats Edenius, shows the end of the "rocket" dance. "It starts with low clapping going more intense, trying to make as much noise as possible. Then it takes off and everybody jumps synchronized."
64-year-old Janto Marzuki captured these images of a typical Stockholm midsummer celebration in 2008, in the historic open air museum and zoo 'Skansen', where you can relive the days before the industrialization and see people dressed up in Swedish traditional dresses.
This shot, however, is the real deal. It was taken in 1957 by iReporter Paul Jackson's uncle Sven Eric Andersson on Midsummer's Day on the Swedish island of Gotland in the Baltic Sea. Jackson, who is half Swedish, says he is very proud of his ancestry and that he always "pauses a moment to think of my Swedish relatives on midsummer evening."
Traditional costumes are also an important part of the midsummer celebrations in Novo Cice, a small village in central Croatia. They organize a folklore festival every year to celebrate the arrival of summer and birth of St. John the Baptist. "During the years, the festival has become bigger and we have started to get visits by folklore societies from nearby countries," says the photographer Vedran.
Valeria85 took this photo in the cathedral of Bari, Italy. She says that only during summer solstice does the light coming from the ceiling align perfectly onto the special mosaic pattern. Watching this "game of light" in the cathedral has been her midsummer tradition for a couple of years and she will be there again this year.
In Denmark it's common to have big bonfires during summer solstice. Londoner Mitchel David Needham attended the Danish 'Sankt Hans Aften' in 2011. "Whilst the bonfire was burning, several bands performed, a lot of families played games with their children around the fire and young people were drinking and generally having a great time!"
"The Uluu Ot, or Sacred Fire, has been remembered in Kyrgyz oral storytelling for 40,000 years. The Uluu Ot was rekindled in Kyrgyzstan on the summer solstice of 2010, attended by traditional cultural practitioners representing the Central Asian migration out of Africa," says iReporter Maryka Ives Paquette
The bonfires are also one of the highlights during Norwegian midsummer, or 'Sankthansaften'. This photo taken by Jon-Arne Belsaas in 2009 shows one of the world's largest bonfire made of barrels. He had hurried back to the town of Bergen from his work on a Navy ship to witness it. "I wanted to catch this magnificent sight," he says.
In Finland the midsummer celebrations are called 'Juhannus'. "Lots of people- friends and family- gather together somewhere near water and set up a huge bonfire called "Kokko" and usually drink lots of alcohol and go to the sauna. That's just somehow the Finnish thing," says 24-year-old Tom Rantala who took this photo during midsummer celebrations in 2011.
Witnessing the summer solstice in Scandinavia is an experience many from abroad want to experience at least once in their lives. Luke Isaac and his wife are currently enjoying their first midsummer in Finland. He took this photo June 17 at the Lake Äkäslompolo in Lapland, a region stretching across Norway, Finland, Sweden and Russia. He said they will watch the bonfire. "All is quiet at the moment".
For those living far from home, midsummer traditions can be a way to reconnect with one's roots. Darius Kuzmickas shared this photo from a midsummer celebration by the Lithuanian community in Portland, Oregon . "We sing and dance until sunset."
For some, summer is marked by special foods. The San Diego Fair tends to adventurous taste buds during summer months. Californian Chris Morrow starts her summer by trying the fair's food. This photo shows her husband's Krispy Kreme Sloppy Joe. "It's a taste conflict of sweet and savory that are not complimentary. The confusion in your mouth is weird and awesome!"
Food is indeed an important part in many solstice celebrations, especially in Sweden. 35-year-old Robban Kanto documented last year's midsummer celebrations with his friends where they served traditional midsummer food, like pickled herring, hard bread, caviar on egg and meatballs.
If summer solstice celebrations sound too stressful, there is always the option to join the 'Solstice in Times Square' event in New York City, where thousands of people practice yoga together. "Yoga has always been associated with the sun as a life-giving and healing force," says Asterio Tecson, who took these photos in 2012.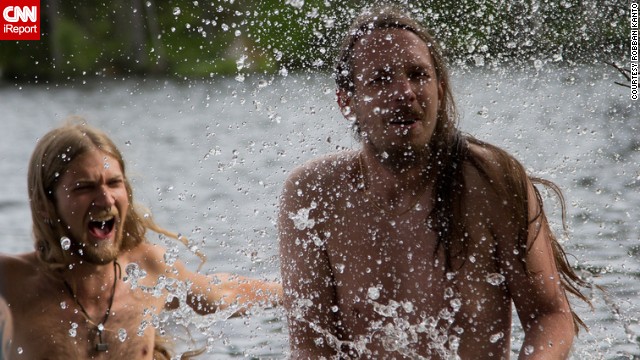 How do you welcome summer?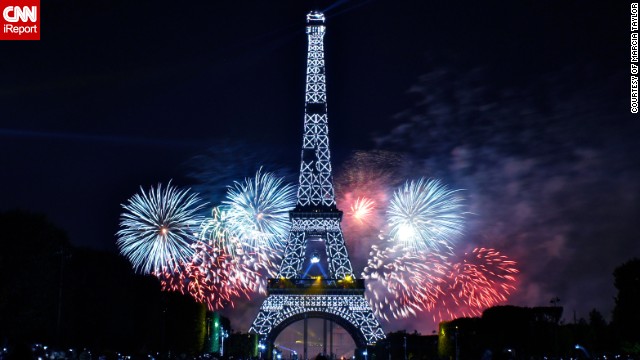 For the first few weeks in July, night skies on both sides of the Atlantic are lit up by spectacular fireworks -- from America's 4th July to Bastille Day in France, with a host of international fireworks competitions in between. To honor this pyrotechnic frenzy, we asked you to send us some of your sparkiest fireworks shots from across the world. Marcia Taylor's day job, as a British Airways' cabin crew member, takes her all over the world -- but the 27-year-old never travels anywhere without her camera. Believe it or not but this was her first time shooting fireworks. She traveled to Paris especially for the fireworks on Bastille Day last year. "It was a disco theme, the music started and as soon as the fireworks began the crowd had a fantastic atmosphere, every single person was on their feet singing along not taking their eyes of the fireworks," she says.
Photographer Martin Castellan, 62, took this color cascading photo of the Bastille Day fireworks in the city of Carcassonne in the south of France. Bastille Day is celebrated on July 14 and commemorates the storming of the Bastille prison in Paris in 1789 -- an event which triggered the French Revolution. Mr Castellan says the city's 11th century castle was built by the Cathars, a Christian sect seeking protection from the Pope's armies, and in 1991 it doubled for Nottingham in Kevin Costner's Robin Hood - Prince of Thieves film.
Daniel Kahan Patu snapped this photo of the Bastille Day fireworks from his in-laws' home in Paris. The 30-year-old art director says he could smell the smoke from the fireworks that were two kilometers away, just by standing near the apartment window.
Min Zaw Mra is originally from Yangon in Myanmar but in 2003 he was doing an internship in Nice, France. When the fireworks festival in Cannes was on that summer he decided to go armed with his camera. "They were, by far, the best fireworks displays I have ever seen. I remember vividly how I felt watching these fireworks. The sky was so beautifully lit by amazing shapes and colors. The background music made it so much more special. Seeing these fireworks made me feel like I was in a fantasy world in a fairy tale," says the 33-year-old computer software developer.
This beautifully composed photo of the Montreal skyline was taken by Mark Connor from the rooftop of a friend's apartment block during the annual Montreal fireworks competitions. The photo shows the Jacques Cartier Bridge, the Old Palace de Justice and the old Town Hall.
Between 1575 and 1577 a horrible plague swept through Venice, killing one-third of the city's inhabitants. When the epidemic was halted the Senate, thanking the Redeemer Jesus Christ for answering its prayers, started an annual festival. Today, the Notte del Redentore is a great excuse for a party with fireworks. Local Stefano Baliello managed to capture this shot while hanging on to the railing of a boat among the thousands of revelers in July 2009.
Kenneth Ngyuwai celebrated the first moments of 2013 in London where he snapped the crescendo of the New Year's Eve fireworks display on the river Thames. "Fireworks never fail to amaze me. One might say that everything there is to a firework is just a can of chemicals that produces bright light when exploded in mid-air. However, when choreographed properly as in this case with the London Eye, it creates a spectacular once-in-a-lifetime show that everyone can enjoy and talk about with their friends for years to come," he says.
Rob Watling taught himself to take photos of fireworks when he decided to work part-time for Britannia Fireworks. He took this spectacular shot at the Southport Pyromusical Championships in summer of 2012. "There's a bit of an art to it (and quite a lot of luck!) but I really enjoy the challenge of trying to convey the movement and combination of the different fireworks," the 57-year-old Executive Coach says.
Every year Montreal celebrates summer with a series of magnificent fireworks displays by countries from all over the globe. For Mingyang Sun, the 29-year-old molecular biologist who took this photo of Pont Jacque-Cartier in Old Port Montreal, the fireworks act as a reward to the people of the city who have been anticipating summer after the long winter. "The firework decorating the night sky of this romantic city is one of the most celebrated events of the locals," he says.
Travis Tyler captured this stunning moment when fireworks lit up the skies over Seattle on Fourth of July in 2009. Travis was standing on Alki Beach in West Seattle and had the perfect view of the iconic Space Needle.
Bacolod City in the Philippines has a yearly celebration for the Chinese New Year called Bacolaodiat. "Bacolaodiat is a combination of two words - Bacolod and laodiat which means festive in Chinese," says 61-year-old local resident and businessman Billy Lopue. The photo was taken on January 23 in 2012, which was the year of the dragon. "The place was crowded with people also waiting for the fireworks display," he added.
Dan Anderson managed to capture the moment his nephew launched a bottle rocket across one of Minnesota's many lakes, Lake Kronis, during the Fourth of July in 2012. They had carefully prepared everything to take the perfect photo, counting the seconds it took from lighting the fuse to the explosion of the firework and arranging the camera on a tripod. "We did it in one take and then ran away because the mosquitoes were eating us alive," he says.
Marlon Flores from Morganville, New Jersey, started shooting fireworks two years ago and he is now hooked. For this year's Fourth of July he was determined to get a super snap of Macy's firework display in New York City. "Empire State is a nickname for New York and is generally thought of as an American history landmark. I thought that capturing the landmark during the Fourth of July fireworks is one way of seeing how great America is," says the 39-year-old IT consultant.
Paul Ringsted was quite surprised when he saw that he had managed to capture the moment a plane flew just in front of the fireworks display in Washington DC. "I was amazed that I had captured the plane just at the right moment - we had been talking on the roof about the planes coming across the fireworks and how close they must have been, I had no idea I had this shot until I looked through the photos afterwards, " says Mr Ringsted who is originally from the UK but has lived in the U.S. for 16 years. To him the most special thing about Fourth of July is seeing America come together to celebrate its history.
Frank Vitucci, 37, took this colorful photo during this year's Fourth of July fireworks display at the New York Mets Citi Field ballpark. "The game was delayed two hours, so I had to wait until 12:30am to capture the images. I had just enough time to catch my train back to Connecticut," says the Director of Photography.
Photographer Edmund Lowe captured this stunning photo of the fireworks over Legoe Bay, Lummi Island in Washington State on the Fourth of July in 2011. "Fireworks make adults turn into kids again," he says. He also has some great tips for those wanting to capture iconic fireworks shots: "The main requirement is a tripod, I use a sandbag or some other heavy object to make sure there is no tripod shake. Long exposures, up to ten seconds are required. I generally use an f-stop of f/11 to f/16 and a shutter speed of two-ten seconds. The longer exposures will also give you time for multiple reports to be visible. This fills the sky with the sparkles."
This photo was taken on May 12, 2013 at Disney World's Magic Kingdom at the daily fireworks show called the Wishes Nighttime Spectacular. "The fireworks were well synchronized with the music being played in the background and was arranged in a manner that all visitors will get a good view with the castle as the backdrop," says Kenneth Ngyuwai from Daytona Beach, Florida who captured the castle in all its glory.
Technical Sergeant Ernel R. Carty Jr. of the United States Air Force captured the light of the spinning Ferris wheel at the Fourth of July celebrations at the Ramstein Air Base in Germany. "It was spectacular for a multitude of reasons. To begin, it was a military celebration that opened with the German and American National Anthems. Just the opening itself set the stage for what my family and I thought were one of the most patriotic and spectacular firework displays that we have ever had the pleasure to see. The display lasted for at least 30 minutes of non-stop fireworks," said the 31-year-old who is originally from Belle Glade, Florida.
Tom Johlen took this photo during the Japan Day in Düsseldorf. It's a German-Japanese festival held every year in May or June. There are around 8,000 Japanese living in Düsseldorf, and the city celebrates it by arranging this festival. During the day there are music and art performances on stage and at night a Japanese firework display starts. "I like the beautiful colors and the different designs and forms of the fireworks," he says.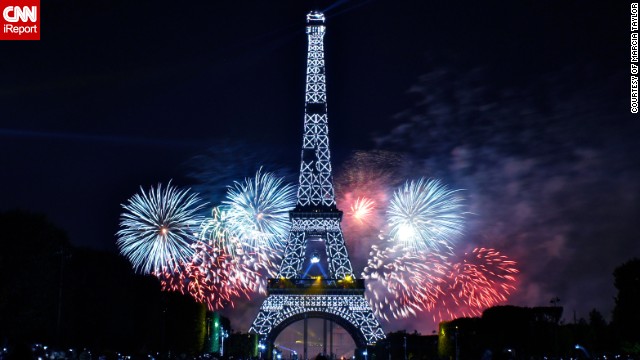 The world's best fireworks displays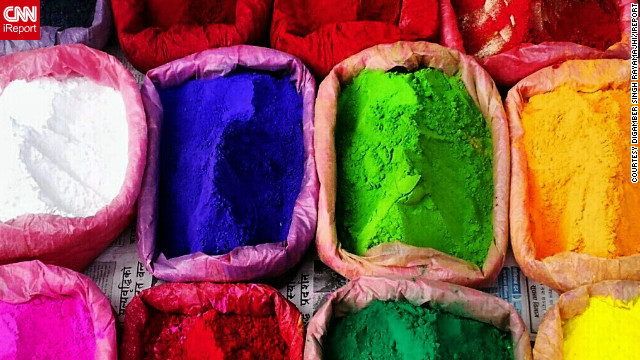 This image of colorful powders, which are used to make rangoli artworks during Diwali, was snapped by iReporter Digamber Singh Rayamajhi as he walked through the busy streets of Kathmandu, Nepal. "As it is Diwali time the roads were bustling with people coming to shop," he says. "There were lot of little street shops on the pedestrian foot paths selling candles, colors, spices. I thought it looked beautiful and I just clicked few pics through my cell phone."
Alam Singh captured this cool image of Diwali celebrations in downtown Melbourne, Australia. "There were many dance performances by local and foreign talent, and of course the 8000 plus people in the crowd dancing too," he says.
For Roger Seepersad from the Caribbean island of Trinidad, Diwali offers the perfect opportunity to snap some spectacular images. "Diwali is special to me because being a photographer, I am into light. It is the Festival of Light," he says. This photo shows actors praying at the end of a re-enactment of the life of the Indian king Lord Ram. Seepersad says the play runs for two hours every night for ten nights in the run-up to Diwali.
Artist and fashion designer Hyacinthe Kaur decided to adorn her hands with henna art when she was shopping for Diwali in a busy bazaar in Klang, Malaysia. "There were a few henna artists around, but this particular applier seemed to put a lot of heart, thought and dedicated effort into her work," she says. "After the design was complete, I felt so overwhelmed and happy with the results -- it put a big smirk on my face."
Manish Kanojia took this image of his daughter, Kyra, reaching out to touch ceramic artifacts on sale at a market in New Delhi, India. The ornamental items are a popular buy around Diwali time when "people use them to decorate their homes," he says.
Monika Khaled captured this image of colorful jewellery boxes in Singapore's Little India district as preparations were being made for this year's Diwali festivities. For the duration of the celebration, local markets sell all manner of traditional Indian decorations "such as clay candles, welcome banners and sweet cookies," she says.
This brightly colored photo was taken by Manish Kanojia in the "happening" Sector 18 of the Noida district in New Delhi. The colored sand on sale is for making Rangolis, decorative floor designs made to welcome guests and encourage the goddess Lakshmi inside during Diwali. "Most people buy the sand and make their own, or they buy readymade stencils," Kanojia says.
iReporter Malliqa Luthra took this photo of a magnified "diya" (a traditional oil lamp made from clay) on her phone at the Select Citywalk Mall in New Delhi, India. The ceremonial candle "is a symbol of happiness, prosperity and is lit in abundance during the festival of Diwali," she says. "I love the spirit of togetherness and the warmth shared between people during the festival. Also, I love decorating my house with candles and 'diyas'."
This photo of Serangoon Road, the main thoroughfare of Singapore's Little India, was snapped by Suresh Adiyeri Paikat. Indians make up 8% of Singapore's population and just over 4% are Hindus, according to the Singapore government.
A rangoli artwork, as created and captured by iReporter Kshitij Sharma, adorns a sidewalk in Pune, India. "I think this festival reminds us to stay away from bad things and to promote communal harmony," he says. "The main highlight is of course the lights, at night whole cities and towns look lovely because of the lights."
Manish Kanojia took this photograph whilst shopping at the Sadar Bazar in Delhi, one of the busiest wholesale markets in India. According to Kanojia it is famous for Diwali shopping. He says the day he captured the image "the markets were crowded [and] people were happily shopping around for gifts and decoration stuff."
Stephen Ravndal of Boston, Massachusetts, took this photo of a woman lighting a candle to mark the beginning of Diwali whilst wandering the backstreets of Boudnath, Nepal. "The woman's attention to detail and devotion are plainly obvious and the lights, which are such an integral part of the festival, really capture a warm and serene mood," he says.
This photo from instagrammer Shaikh Rahil Ibrahim shows a large colorful rangoli in a shopping mall in Mumbai, India. Rangoli artworks are a common site outside Indian homes and in public spaces throughout Diwali.
A vivid neon sign celebrating Diwali hangs above Singapore's Little India district. The image was captured by iReporter, Monika Khaled, an Austrian living and working in the populous Asian city state. "Deepavali in Singapore is a great event visited by visitors and locals alike and not just Indians," she says
This image captured by Hyacinthe Kaur shows a selection of Diwali sweets on display at a market in the city of Klang, Malaysia. "The Festivals of Lights is a joyous occasion where people come together to dance, sing, eat delicious Indian food, embrace culture, share, worship, smile, shop and experience a burst of colors," she says.
Diwali is a festival that provides the opportunity to celebrate life with colors as well as lights, says Dinesh Thakur of Pune, India. "It symbolizes victory of good over evil - light defeating darkness. It teaches us to have faith in the 'good' and not give into the darkness," he adds. He took this image of a single candle resting above a rangoli artwork to mark the start of this year's festival.


"[Lakshmi] is worshiped by those who wish to acquire or to preserve wealth. It is believed that (wealth) goes only to those houses which are clean and where the people are hardworking," he says. "She does not visit the places which are dirty or where the people are lazy."
This picture was captured by iReporter Rohan Pavgi and displays miniature-statues of the Goddess Lakshmi for sale in a market in Pune, India. He says the neat manner in which the statues are aligned emphasizes an important part of Hindu beliefs and tradition.
The vibrantly colored flowers in this picture, captured in Secunderabad, India, display the electrifying energy that Diwali brings, says iReporter Temitope Adekanbi. "The cultural emphasis [of] the idea of 'good trumping evil' through the use of bright colors, firecrackers, lights, and lamps, I believe, add a powerful and magical element to the day," she says.
"This is my daughter Kyra doing Goddess Luxmi worship," says avid iReporter Manish Kanojia from New Delhi. According to her dad, Kyra thoroughly enjoyed her first ever festival of lights although "she was slightly scared of the Diwali crackers."
Syed Yasir Kazmi captured this photo of Diwali celebrations in Karachi, Pakistan. "Everyone was happy, distributing sweets, doing prayer of Lukshmi Devi, and enjoying fireworks," he says. "What was most special to me was the happiness and joy on everyone's faces."
New Delhi based student, Tazeen Qureshy, snapped this image whilst visiting her home-town of Bhubaneswar, eastern India during Diwali. "For me, Diwali is a festival to enjoy with family and friends and most importantly it illumines lives with new energy and hope," she says.
Sobhana Venkatesan lives in St. John's, Newfoundland, Canada. The photo depicts an "Amman Alankaram " of Goddess Lakshmi. It was made by covering sandalwood paste on a dehusked coconut shell before Lakshmi's facial features were painted in. "Prayers offered to Goddess of Wealth, Lakshmi, during Diwali celebrations beckons prosperity into our homes and lives," says the 52-year-old.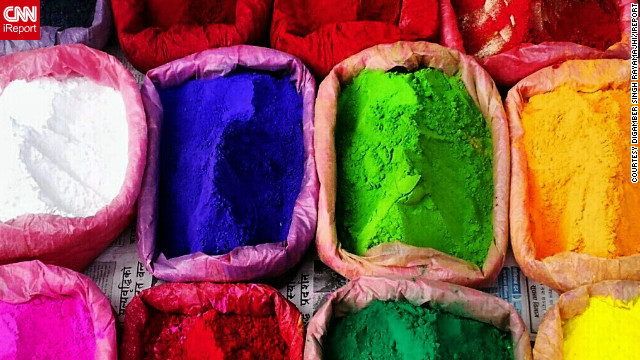 Your Diwali shots from around the world
"We have scheduled breakfasts, lunches and dinners -- I never knew how exhausting it was on my parents until I became one myself," he said. "But I enjoyed it as a kid and would love my children to have the same pleasures. After all it's only three days, better make the best of them and make each day count!"
The wearing of new clothes and looking one's best for the festivities can, for women, extend to the hennaing of hands -- a ritual captured by Laurens Meulman while visiting Agra, home of the iconic Taj Mahal in India.
"The henna-painted hands of one of the women in the group caught my eye and I asked her if I could to take a photo," Meulman said. Though not Muslim herself, she says the holiday always reminds her of "good food, sweets, sharing, being with family and generosity. "
In Malaysia, family preoccupied the thoughts of Dina Syazwani Sipal Anuwar, a 24-year-old teacher from Selangor who sent in an image via Instagram of her family in matching colored clothes celebrating Eid last year.
The photo is particularly poignant for Dina as it was the last Eid her father, Sipal, a policeman, was able to spend with his family before he unexpectedly passed away in January.
"I think it was one of the signs that father would leave us, the last Eid we could take a perfect photo as a whole family," she said.
CNN Celebrates: View all Eid photos on iReport
Respect and appreciation for others was also on the mind of graphic designer Anupama Kinagi in Mumbai, India, when he captured this affectionate moment outside a mosque in the city and related a poignant custom put on by local authorities.
I enjoyed it as a kid and would love my children to have the same pleasures. After all it's only three days
Yassir O. Nassif
He said that the police officer outside the mosque "especially arranges for rose flowers to greet Muslims outside on this special day," he says. "Muslims accept their wishes and thank them for their extraordinary service."
Of course, after a month of fasting, food takes center stage. Libyan-American Sammi Addahoumi, currently spending his summer in the Libyan city of Benghazi, satisfies his sweet tooth with delicious sweets made in a local bakery.
Kunafah are mouth-watering Arabic sweets extremely popular during Eid. It has several variations according to the part of the Middle East where it is served. All have one thing in common -- they are delicious.
"Whether stacked or braided, stuffed with nuts or cream, it's always saturated for a period of time in syrup before it is ready for the public," he said.