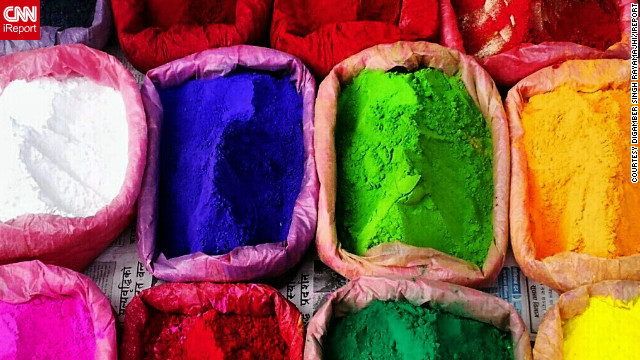 This image of colorful powders, which are used to make rangoli artworks during Diwali, was snapped by iReporter Digamber Singh Rayamajhi as he walked through the busy streets of Kathmandu, Nepal. "As it is Diwali time the roads were bustling with people coming to shop," he says. "There were lot of little street shops on the pedestrian foot paths selling candles, colors, spices. I thought it looked beautiful and I just clicked few pics through my cell phone."
Alam Singh captured this cool image of Diwali celebrations in downtown Melbourne, Australia. "There were many dance performances by local and foreign talent, and of course the 8000 plus people in the crowd dancing too," he says.
For Roger Seepersad from the Caribbean island of Trinidad, Diwali offers the perfect opportunity to snap some spectacular images. "Diwali is special to me because being a photographer, I am into light. It is the Festival of Light," he says. This photo shows actors praying at the end of a re-enactment of the life of the Indian king Lord Ram. Seepersad says the play runs for two hours every night for ten nights in the run-up to Diwali.
Artist and fashion designer Hyacinthe Kaur decided to adorn her hands with henna art when she was shopping for Diwali in a busy bazaar in Klang, Malaysia. "There were a few henna artists around, but this particular applier seemed to put a lot of heart, thought and dedicated effort into her work," she says. "After the design was complete, I felt so overwhelmed and happy with the results -- it put a big smirk on my face."
Manish Kanojia took this image of his daughter, Kyra, reaching out to touch ceramic artifacts on sale at a market in New Delhi, India. The ornamental items are a popular buy around Diwali time when "people use them to decorate their homes," he says.
Monika Khaled captured this image of colorful jewellery boxes in Singapore's Little India district as preparations were being made for this year's Diwali festivities. For the duration of the celebration, local markets sell all manner of traditional Indian decorations "such as clay candles, welcome banners and sweet cookies," she says.
This brightly colored photo was taken by Manish Kanojia in the "happening" Sector 18 of the Noida district in New Delhi. The colored sand on sale is for making Rangolis, decorative floor designs made to welcome guests and encourage the goddess Lakshmi inside during Diwali. "Most people buy the sand and make their own, or they buy readymade stencils," Kanojia says.
iReporter Malliqa Luthra took this photo of a magnified "diya" (a traditional oil lamp made from clay) on her phone at the Select Citywalk Mall in New Delhi, India. The ceremonial candle "is a symbol of happiness, prosperity and is lit in abundance during the festival of Diwali," she says. "I love the spirit of togetherness and the warmth shared between people during the festival. Also, I love decorating my house with candles and 'diyas'."
This photo of Serangoon Road, the main thoroughfare of Singapore's Little India, was snapped by Suresh Adiyeri Paikat. Indians make up 8% of Singapore's population and just over 4% are Hindus, according to the Singapore government.
A rangoli artwork, as created and captured by iReporter Kshitij Sharma, adorns a sidewalk in Pune, India. "I think this festival reminds us to stay away from bad things and to promote communal harmony," he says. "The main highlight is of course the lights, at night whole cities and towns look lovely because of the lights."
Manish Kanojia took this photograph whilst shopping at the Sadar Bazar in Delhi, one of the busiest wholesale markets in India. According to Kanojia it is famous for Diwali shopping. He says the day he captured the image "the markets were crowded [and] people were happily shopping around for gifts and decoration stuff."
Stephen Ravndal of Boston, Massachusetts, took this photo of a woman lighting a candle to mark the beginning of Diwali whilst wandering the backstreets of Boudnath, Nepal. "The woman's attention to detail and devotion are plainly obvious and the lights, which are such an integral part of the festival, really capture a warm and serene mood," he says.
This photo from instagrammer Shaikh Rahil Ibrahim shows a large colorful rangoli in a shopping mall in Mumbai, India. Rangoli artworks are a common site outside Indian homes and in public spaces throughout Diwali.
A vivid neon sign celebrating Diwali hangs above Singapore's Little India district. The image was captured by iReporter, Monika Khaled, an Austrian living and working in the populous Asian city state. "Deepavali in Singapore is a great event visited by visitors and locals alike and not just Indians," she says
This image captured by Hyacinthe Kaur shows a selection of Diwali sweets on display at a market in the city of Klang, Malaysia. "The Festivals of Lights is a joyous occasion where people come together to dance, sing, eat delicious Indian food, embrace culture, share, worship, smile, shop and experience a burst of colors," she says.
Diwali is a festival that provides the opportunity to celebrate life with colors as well as lights, says Dinesh Thakur of Pune, India. "It symbolizes victory of good over evil - light defeating darkness. It teaches us to have faith in the 'good' and not give into the darkness," he adds. He took this image of a single candle resting above a rangoli artwork to mark the start of this year's festival.


"[Lakshmi] is worshiped by those who wish to acquire or to preserve wealth. It is believed that (wealth) goes only to those houses which are clean and where the people are hardworking," he says. "She does not visit the places which are dirty or where the people are lazy."
This picture was captured by iReporter Rohan Pavgi and displays miniature-statues of the Goddess Lakshmi for sale in a market in Pune, India. He says the neat manner in which the statues are aligned emphasizes an important part of Hindu beliefs and tradition.
The vibrantly colored flowers in this picture, captured in Secunderabad, India, display the electrifying energy that Diwali brings, says iReporter Temitope Adekanbi. "The cultural emphasis [of] the idea of 'good trumping evil' through the use of bright colors, firecrackers, lights, and lamps, I believe, add a powerful and magical element to the day," she says.
"This is my daughter Kyra doing Goddess Luxmi worship," says avid iReporter Manish Kanojia from New Delhi. According to her dad, Kyra thoroughly enjoyed her first ever festival of lights although "she was slightly scared of the Diwali crackers."
Syed Yasir Kazmi captured this photo of Diwali celebrations in Karachi, Pakistan. "Everyone was happy, distributing sweets, doing prayer of Lukshmi Devi, and enjoying fireworks," he says. "What was most special to me was the happiness and joy on everyone's faces."
New Delhi based student, Tazeen Qureshy, snapped this image whilst visiting her home-town of Bhubaneswar, eastern India during Diwali. "For me, Diwali is a festival to enjoy with family and friends and most importantly it illumines lives with new energy and hope," she says.
Sobhana Venkatesan lives in St. John's, Newfoundland, Canada. The photo depicts an "Amman Alankaram " of Goddess Lakshmi. It was made by covering sandalwood paste on a dehusked coconut shell before Lakshmi's facial features were painted in. "Prayers offered to Goddess of Wealth, Lakshmi, during Diwali celebrations beckons prosperity into our homes and lives," says the 52-year-old.