Robert Mugabe tells Zimbabwean rivals to accept his re-election or 'commit suicide'
August 13, 2013 -- Updated 0732 GMT (1532 HKT)
STORY HIGHLIGHTS
Mugabe: "Those who can't stomach the defeat, you can commit suicide"
He won re-election July 31 with 61% of the vote
The opposition party accuses the electoral commission of rigging the polls
(CNN) -- Zimbabwean President Robert Mugabe said Monday the West and his political opponents can commit suicide if they cannot accept his recent re-election.
"Those who can't stomach the defeat, you can commit suicide. Even dogs will not sniff their carcasses," said the 89-year-old leader while addressing an event to commemorate veterans of Zimbabwe's war for independence.
It was his first public speech since the Zimbabwe Electoral Commission declared him winner, with 61% of the vote, of the July 31 elections, beating Prime Minister Morgan Tsvangirai.
Tsvangirai's Movement for Democratic Change last week challenged the election results, accusing the electoral commission of rigging the polls for Mugabe's ZANU-PF.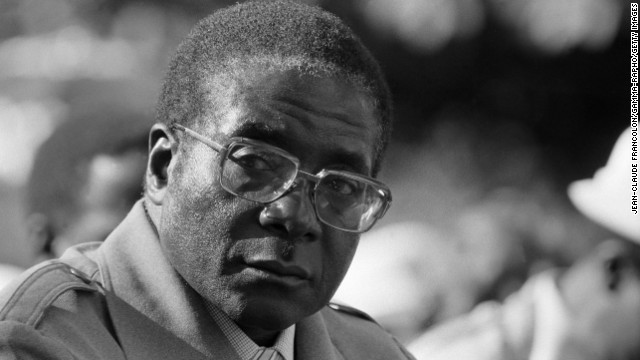 Robert Mugabe has been the leader of Zimbabwe in southern Africa since 1980 and is the country's only leader since it gained independence from Britain. He was declared victor for his seventh term as president of Zimbabwe on Saturday, August 3, according to the head of the country's Election Commission. Allegations of voter fraud have surfaced for this most recent vote, and tensions were already high due to a troubled 2008 vote. That election left Mugabe as the only candidate after Prime Minister Morgan Tsvangirai dropped out amid election fraud, violence and arrests targeting his party and supporters.
Mugabe jokingly puts up his fists for the media in Geneva in 1974.
Joshua Nkomo, founder of the Zimbabwe African People's Union, and Mugabe have a drink in 1978.
Mugabe speaks with his wife in Salisbury in 1980.
NBC News moderator Bill Monroe, from left, Newsday's Les Payne, the Chicago Sun Times' Robert Novak and NBC News' Garrick Utley speak with Mugabe during an episode of "Meet the Press" in 1980.
Mugabe meets with President of France Francois Mitterand in Paris in 1982.
Mugabe and Indian Prime Minister Indira Gandhi in New Delhi in 1983.
Mugabe, in military uniform, speaks at an election rally at Tsholotsho in 1985.
Australian Prime Minister Robert Hawke speaks with Mugabe in 1986.
At a Commonwealth of Nations meeting in London in 1986. Back row, from left, Rajiv Gandhi, Brian Mulroney, S.S. Ramphal, Robert Hawke and Mugabe. Front row, from left: Margaret Thatcher, Lynden Pindling and Kenneth Kaunda.
Mugabe with Cuban President Fidel Castro in September 2005 in Havana.
Mugabe addresses the 65th session of the General Assembly at the United Nations in September 2010.
Mugabe cuts his birthday cake, with wife Grace and son Bellarmine Chatunga, during celebrations for his 87th birthday in February 2011 in Harare.
Mugabe and his wife arrive at the John Paul II Beatification Ceremony in May 2011.
South African President Jacob Zuma meets with Mugabe in June 2011 in Pretoria, South Africa.
Mugabe addresses world leaders during the United Nations General Assembly in September 2012 in New York.
Mugabe and his wife, Grace, attend the inauguration Mass for Pope Francis on March 19 at the Vatican.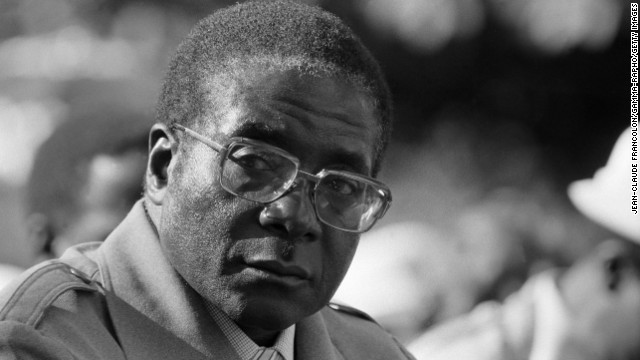 Photos: Robert Mugabe through the years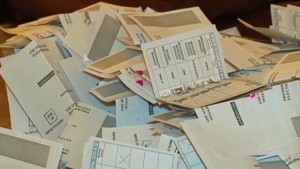 Was Zimbabwe's vote free and fair?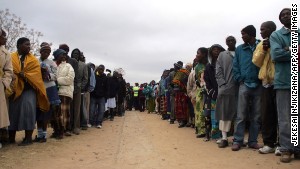 A tale of two Zimbabwes
"We will never go back on our victory. We do not know what is retreating," Mugabe said.
To the West "we are delivering democracy on a platter. Will you take?" asked Africa's oldest leader. "We say take it or leave it. We will never go back on our victory."
Some of the people that attended the event Monday had placards reading "Which Africa Observed Elections in Europe or America?"; "Come on, concede defeat"; "Obama: Zimbabwe will never be a second Chile"; "Thank you Zimbabwe for defending our sovereignty"; and "Zimbabwe will never be a colony again."
Tsvangirai -- who got 34% of the July 31 vote -- and officials of his MDC party boycotted the Monday event.
Why is nobody dancing after Mugabe's latest win?
Is Mugabe a classic strong man?

Part of complete coverage on
March 11, 2014 -- Updated 1910 GMT (0310 HKT)

Until clearer information comes to light, here's a summary of what we know, and what we don't.
March 11, 2014 -- Updated 1453 GMT (2253 HKT)

Turns out it's not as hard as you think to board a plane with a stolen passport.
March 10, 2014 -- Updated 0300 GMT (1100 HKT)

Aaron Miller says even those with little knowledge of Ukraine should spot the myths we've heard.

Track star Oscar Pistorius is accused of killing his girlfriend, Reeva Steenkamp. Follow live updates of South Africa's trial of the century.
March 11, 2014 -- Updated 1611 GMT (0011 HKT)

CNN reveals it's not just trade in which Russian interests are strongly represented -- it's in some of the most lavish assets around the world.
March 12, 2014 -- Updated 0059 GMT (0859 HKT)

Browse through images you don't always see on news reports from CNN teams around the world.

What we commonly call the Web is really just the surface. Beneath that is a vast, mostly uncharted ocean called the Deep Web.
March 10, 2014 -- Updated 2359 GMT (0759 HKT)

On March 1, football's lawmakers, the International Football Association Board, met to debate the idea of a "sin-bin."
March 11, 2014 -- Updated 1756 GMT (0156 HKT)

"Don't ask me about her again," Justin Bieber tells lawyer after question on Selena Gomez.
March 11, 2014 -- Updated 1300 GMT (2100 HKT)

It seems architects are increasingly drawn to buildings you can see straight through.
March 11, 2014 -- Updated 1758 GMT (0158 HKT)

In the early 1960s, a young postdoctoral student stumbled onto something that puzzled him.
March 10, 2014 -- Updated 1923 GMT (0323 HKT)

Was it a bomb? Mechanical failure? A hijacking gone awry? Pilot error? Here are four scenarios that aviation experts are discussing.

Today's five most popular stories