Cool fashion trend: South Korean women wear 'refrigerator pants' to beat the heat
August 13, 2013 -- Updated 1343 GMT (2143 HKT)
STORY HIGHLIGHTS
Made of light, wrinkle-free polyster fabric, "refrigerator pants" are the hot summer trend
Women like being able to wear long pants even in a killer heat wave
Sales jumped more than 50% from last year
(CNN) -- Is South Korea's government's power-saving campaign, which has included drastic measures like turning off air conditioners at 19,000 public organizations, to blame for the rise of "refrigerator pants?"
Like much of Northeast Asia, South Korea is enduring a massive heat wave -- the country nearly had a blackout Monday with power demand reaching record heights -- and South Koreans have been scrambling to keep cool as best they can.
Unlike, say, the past 20 fashion trends that all South Koreans embraced and discarded before anyone else knew they were a thing (neon skinny jeans, winged sneakers, lightning-bolt-shaped plastic earrings, platform Converses), the latest hottest fashion trend is based on the "cooling" functionality.
The result? Thin, light and wildly patterned "refrigerator pants," which are what all the girls in Seoul and Busan are wearing this summer.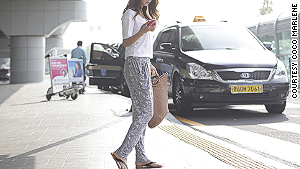 The black and white versions are usually cheaper.
Made from wrinkle-free polyester fabrics, refrigerator pants are flying off the shelves at online and offline shopping malls as the heat surges on.
Bionic fashion: Wearable tech by 2015
Functional wear?
"We started seeing the trend last summer, and this summer, around 70% of our sales are coming from these refrigerator pants," says Seung-won Lee, a representative for Coco Marlene, South Korea's largest online pants and leggings store.
A third of the store's sales, which Lee says total between $5-6 million each year, can be attributed to the refrigerator pants, which led to the store ranking number one on the shopping section of Naver, Korea's largest online portal.
It continues to be one of the most searched fashion items on most portals.
Read: 10 hot South Korean fashion brands and where to buy them
Jumping sales
Local newspaper JoongAng Daily reported sales of refrigerator pants jumped 95% on Auction, and sales of baggy pants in general jumped 57% on Gmarket (both major online shopping malls) in June compared to last summer.
"I started wearing them last summer and I have been this summer as well, and the reason I like them so much is because of the light fabric -- you can still wear long pants in this heat," says Suzy Kim, 30, who purchased hers at the Dongdaemun shopping district.
"They're airy and don't stick and I also like the comfortable elastic waist."
Prices are cheap, starting around ₩5,000 ($4.50) for black and white pants and ranging from around ₩7,000 ($6) to ₩40,000 ($36) for more colorful (read: even more gaudy) versions.
Read: The real Gangnam Style: Beauty Belt, wedding town, 24-hour culture

Part of complete coverage on

Here are the places where travel photographers fall in love, then go back to again and again.
August 9, 2013 -- Updated 1130 GMT (1930 HKT)

It has the world's tallest unoccupied building, it puts on the world's biggest annual show and it's sometimes prone to petulant nuclear threats.
August 9, 2013 -- Updated 0727 GMT (1527 HKT)

As record heat wave hits China, citizens in Beijing took refuge in the homely settings of a local furniture store.
August 12, 2013 -- Updated 2159 GMT (0559 HKT)

They're tall, they're historic and they're one of the most significant collections of freestanding treasures of ancient China.

The story behind the boldest boutique hotel to hit Sydney in over a decade.

Is it a donut? A horseshoe? A bowlegged cowboy? Sheraton's latest China property is anything but conventional.
July 29, 2013 -- Updated 0201 GMT (1001 HKT)

Modern art pops up in unexpected corners in Busan's Gamcheon Village.

Located in Hong Kong's pulsing Tsim Sha Tsui district, Chungking Mansions inspires a unique fascination among visitors.

Today's five most popular stories