Car bomb rocks Hezbollah stronghold in Lebanon
August 15, 2013 -- Updated 2238 GMT (0638 HKT)
STORY HIGHLIGHTS
NEW: 18 killed, 291 wounded, state news says
The army says a car bomb caused the blast
An unknown group claims responsibility in a YouTube video
The area is a Hezbollah stronghold
Beirut, Lebanon (CNN) -- A car bomb Thursday rocked a southern suburb of Lebanon's capital -- an area known as a stronghold of the Lebanese Shiite militant group Hezbollah, the Lebanese Army said.
Eighteen people were killed and 291 were wounded, the Lebanese national news agency NNA reported.
Video shown on Hezbollah's Al-Manar TV showed fierce flames engulfing several cars in the Beirut suburb. Thick, black smoke rose from the vehicles; a nearby building also appeared to be on fire. Ambulances were rushing to the site of the blast, NNA reported.
"Army units arrived immediately at the scene, enforcing a security zone within the area of explosion while military experts initiated investigations under the concerned judiciary's surveillance," the army said.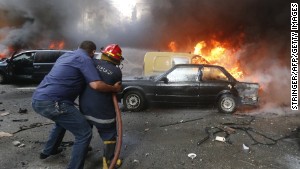 July: Massive car bomb in Beirut
After the blast, a YouTube video surfaced in which three masked men holding weapons claimed they are part of a group responsible for the attack. They stood before a large Arabic sign containing the Islamic creed, "There is no God but Allah, and Mohammed is the messenger of Allah."
The group, which calls itself "The brigade of Aisha, Mother of Believers," accused Hezbollah of being aggressors. Aisha is the last wife of the Prophet Muhammad and is especially revered by Sunni Muslims.
In its YouTube post, the group called Hezbollah leader Hassan Nasrallah a "pig" and said he works on behalf of Iran and Israel.
"A message: To our brothers and sisters in Lebanon: Stay away from anything to do with Iran -- whether in Beirut or outside Beirut," it said.
Hezbollah is a Shiite movement in Lebanon. Along with Shiite-dominated Iran, the group is helping Syria's government fight rebels, whose ranks are dominated by Sunnis.
CNN could not confirm the authenticity of the video or the men's claims. The U.S. Embassy in Beirut tweeted condemnations of the attack.
Civil Defense units were trying to rescue some citizens stuck inside their homes due to the fire resulting from the blast, NNA reported.
The explosion comes about a month after a car bomb injured dozens of people in the pro-Hezbollah neighborhood of Bir El Abed, located in a southern Beirut suburb.
CNN's Mohammed Jamjoom reported from Beirut, Lebanon. CNN's Yasmin Amer reported from Atlanta.

Part of complete coverage on
December 9, 2013 -- Updated 1043 GMT (1843 HKT)

Scottish singing sensation Susan Boyle tells a British newspaper she was diagnosed with Asperger's syndrome last year.
December 7, 2013 -- Updated 2244 GMT (0644 HKT)

Merrill Newman -- the 85-year-old American detained by North Korean authorities earlier this fall -- returned Saturday to the United States.
December 9, 2013 -- Updated 1032 GMT (1832 HKT)

Nick Wilkins was diagnosed with leukemia when he was 4 years old, and now is cancer free after an experimental treatment.
December 6, 2013 -- Updated 1745 GMT (0145 HKT)

Mandela spent almost three decades in jail. But he had two Indian goddesses and a 17th century playwright for company.

He was imprisoned for life but that did not quiet him. Nelson Mandela became South Africa's first black president, and an icon and inspiration.
December 6, 2013 -- Updated 0319 GMT (1119 HKT)

His was a great sense of humor, with a dry wit and remarkable ability to render someone speechless with a well-placed one-liner.
December 8, 2013 -- Updated 1840 GMT (0240 HKT)

Mohammed Jamjoon interviews the American performer who stunned the Arab world by singing in Arabic.
December 6, 2013 -- Updated 1252 GMT (2052 HKT)

He was loved and admired the world over, profiled in books and movies. Here are 10 surprising facts you probably didn't know about Mandela.
December 5, 2013 -- Updated 1532 GMT (2332 HKT)

"Sometimes it just takes one incident to galvanize a society," says CNN's Sumnima Udas.
December 5, 2013 -- Updated 1426 GMT (2226 HKT)

Drones hover like a bee, flap like a bird and bounce like a ball. These awesome flying robots are taking unmanned flight in new directions.
December 5, 2013 -- Updated 1225 GMT (2025 HKT)

The mysterious "catacomb saints" were venerated by the Catholic Church and encrusted with gold and jewels -- before disappearing for centuries.
December 5, 2013 -- Updated 1315 GMT (2115 HKT)

The KAZA conservation area is working to make it easier to cross borders.

Today's five most popular stories