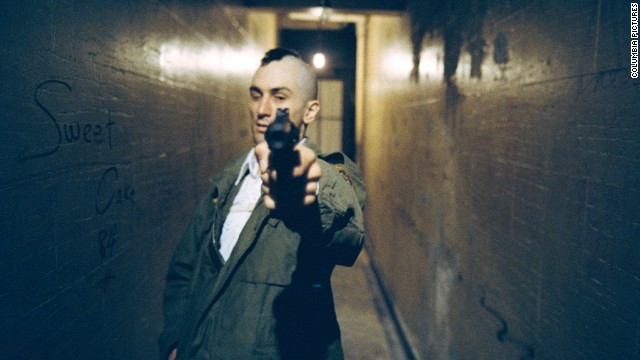 Robert De Niro -- now 70 years old! -- has been an indelible presence on the big screen for more than 40 years. In 1976's "Taxi Driver," De Niro plays troubled veteran Travis Bickle, who takes a job as a late-night cabbie and hates what he sees.
Robert De Niro poses for a portrait in 1973, the year his breakthrough movie, "Mean Streets," was released.
De Niro performs a scene in "The Godfather Part II" in 1974 in New York. The actor won his first Oscar, for best supporting actor, for his performance as the young Vito Corleone.
De Niro was married to Diahnne Abbott from 1976 to 1988. The couple have two children, Drena and Raphael.
De Niro has worked frequently with director Martin Scorsese, left. Here, Scorsese, De Niro and Jodie Foster present "Taxi Driver" at Cannes in 1976. The film won the top prize, the Palme d'Or, at the festival.
De Niro plays a soldier in 1978's "The Deer Hunter." The film won the Oscar for best picture.
For his role as Jake LaMotta in 1980's "Raging Bull" -- directed by Scorsese -- De Niro gained 60 pounds.
His performance in "Raging Bull" won De Niro best actor at the Academy Awards.
De Niro and model Toukie Smith were long-term romantic partners. The union produced two children.
In 1990's "Goodfellas," another collaboration with Scorsese, De Niro plays Jimmy Conway, a New York gangster. The film also stars Joe Pesci, left, and Ray Liotta, center.
De Niro and Scorsese remade the chilling "Cape Fear" in 1991. De Niro plays Max Cady, who stalks a family after being released from prison.
Scorsese, left, and De Niro have a laugh at a news conference to promote the 1995 movie "Casino." The film marked their eighth collaboration.
In "Casino," De Niro plays a Mafia-controlled executive who finds trouble while managing a Las Vegas gaming palace.
De Niro has showed his lighter side on occasion. In 2000 he appeared on "Saturday Night Live's" "Weekend Update" segment with Jimmy Fallon.
President Bill Clinton and De Niro goof around at a fundraiser on Hillary Clinton's birthday at New York's Roseland Ballroom in 2000.
De Niro, a born-and-bred New Yorker, appears with Leonardo DiCaprio at "The Concert for New York City" after the 9/11 attacks in 2001.
Billy Crystal, left, dressed as a turkey, sits on a bench with De Niro, dressed as a pilgrim, during the filming of a Thanksgiving-themed "I Love New York" commercial in 2001.
De Niro played a depressed gangster in two comedies with Crystal, 1999's "Analyze This" and 2002's "Analyze That."
In 2003, De Niro received the American Film Institute's 31st lifetime achievement award.
De Niro plays a straight-arrow ex-CIA officer in the "Meet the Parents" films. Here, he has a scene with Dustin Hoffman in 2004's "Meet the Fockers."
De Niro received his latest Oscar nomination for his performance in 2012's "Silver Linings Playbook," in which he plays the obsessive-compulsive father of Bradley Cooper, right.
De Niro has been nominated for Oscars seven times and won twice. He earned a best supporting actor nod for "Silver Linings Playbook."
De Niro and wife Grace Hightower attend the 2013 Actors Fund's Annual Gala Honoring Robert De Niro at The New York Marriott Marquis on in April 2013.
Happy birthday, Robert De Niro
Happy birthday, Robert De Niro
Happy birthday, Robert De Niro
Happy birthday, Robert De Niro
Happy birthday, Robert De Niro
Happy birthday, Robert De Niro
Happy birthday, Robert De Niro
Happy birthday, Robert De Niro
Happy birthday, Robert De Niro
Happy birthday, Robert De Niro
Happy birthday, Robert De Niro
Happy birthday, Robert De Niro
Happy birthday, Robert De Niro
Happy birthday, Robert De Niro
Happy birthday, Robert De Niro
Happy birthday, Robert De Niro
Happy birthday, Robert De Niro
Happy birthday, Robert De Niro
Happy birthday, Robert De Niro
Happy birthday, Robert De Niro
Happy birthday, Robert De Niro
Happy birthday, Robert De Niro
Happy birthday, Robert De Niro