U.N. chemical weapons team lands in Syria
August 18, 2013 -- Updated 2152 GMT (0552 HKT)
STORY HIGHLIGHTS
U.N. inspectors to investigate alleged chemical weapons use
The Syrian government has agreed to the terms of visit
The U.S. believes Syrian forces crossed a "red line" by using chemical weapons
The Syrian government says rebels have used them
(CNN) -- A team of U.N. chemical weapons inspectors has landed in Syria to begin probing allegations that chemical weapons have been used during the bloody civil war there, the world body said Sunday.
The inspectors will start work Monday, Secretary-General Ban Ki-moon's office said. The team won't be speaking to reporters during the visit, it said in a written statement.
Syria has been embroiled in a war for more than two years, during which more than 100,000 people have been killed and millions have been displaced or become refugees in other countries, according to the United Nations.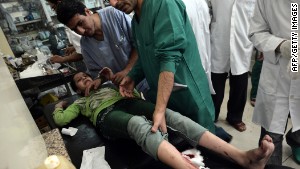 Syrian war causes health care crisis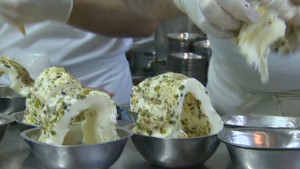 Ice cream biz boom amid civil war
Amid the fighting, there have been numerous allegations that chemical weapons have been used.
Syria strikes refugee camp in northern Lebanon
In June, the White House said Syrian President Bashar al-Assad's forces had crossed a "red line" by using chemical weapons, including the nerve agent sarin gas, against rebel forces. This prompted the U.S. government to begin providing military support to opposition fighters, despite its earlier reluctance to do so.
Bashar al-Assad is all smiles on his new Instagram account
Syria's government, meanwhile, has claimed rebel fighters have used chemical weapons as well. That includes a March incident in Khan al-Asal in the northern province of Aleppo, according to state media.
Opposition officials have said rebels don't have access to chemical weapons or the missiles needed to use them in an attack, while other rebel leaders said Syrian troops fired "chemical rockets" at civilians and opposition forces.
Chemical weapons frightful, relatively inexpensive
The government has agreed to arrangements "essential for cooperation to ensure the proper, safe and efficient conduct of the mission," the secretary-general's office said last week. Khan al-Asal will be one of the three incidents that U.N. inspectors will look into, a U.N. spokesperson said in late July.
Global Public Square: What Iraq could teach us about Syria

Part of complete coverage on
Syrian crisis
March 4, 2014 -- Updated 1328 GMT (2128 HKT)

Syria has submitted a revised proposal "that aims to complete the removal of all chemicals" from the country before the end of April.
February 18, 2014 -- Updated 1032 GMT (1832 HKT)

CNN's Arwa Damon reports on ISIS defector who says destroying ISIS as critical as defeating regime.
February 18, 2014 -- Updated 0353 GMT (1153 HKT)

The U.S. wants a United Nations resolution that will, among other things, bring humanitarian aid for refugees in Syria.
February 17, 2014 -- Updated 1259 GMT (2059 HKT)

When the radical Islamist militia ISIS arrived in the Syrian town of Addana a year ago, many welcomed them. What followed changed their minds.
February 17, 2014 -- Updated 1449 GMT (2249 HKT)

CNN obtained video clips from Syrian activists documenting the atrocities committed by members of the Islamic State in Iraq and Syria, known as ISIS.
February 18, 2014 -- Updated 2017 GMT (0417 HKT)

On Crossfire, Danielle Pletka discusses what the U.S. needs to do to resolve the Syria crisis.
February 6, 2014 -- Updated 0101 GMT (0901 HKT)

Her almond-shaped brown eyes shine through her sunken face as a doctor lifts her sweater to reveal a tiny rib cage pushing against her skin.
February 4, 2014 -- Updated 1746 GMT (0146 HKT)

The Zaatari refugee camp in Jordan is home to around 100,000 Syrian refugees. CNN spent several days meeting the residents of the camp.
January 22, 2014 -- Updated 1959 GMT (0359 HKT)

Renowned war crimes prosecutors and forensic experts have found "direct evidence" of "torture and killing" by the Assad regime.

Traumatized children who have witnessed the horrors of war are being helped to read -- and rebuild a normal life. CNN's Becky Anderson reports.
January 23, 2014 -- Updated 1207 GMT (2007 HKT)

A battle zone tour organized by the Syrian government for CNN and several other media outlets Wednesday was more than bizarre.
January 22, 2014 -- Updated 1735 GMT (0135 HKT)

CNN's Atika Shubert meets with the family of a little girl who was wounded in Syria, now living in a refugee camp.
January 27, 2014 -- Updated 1456 GMT (2256 HKT)

110 year old, Jabari Alawali walked for over 10 hours to reach Jordan from Syria.
Today's five most popular stories