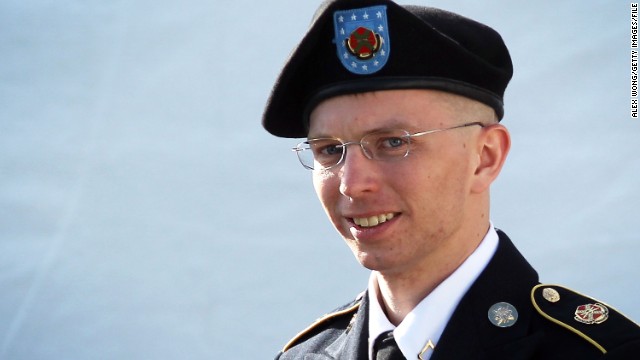 Army Pfc. Bradley Manning was convicted July 30 of stealing and disseminating 750,000 pages of classified documents and videos to WikiLeaks, and the counts against him included violations of the Espionage Act. He was found guilty of 20 of the 22 charges but acquitted of the most serious charge, aiding the enemy. He was sentenced to 35 years in prison.
David Coombs, thanked people
for their support and fundraising efforts in "this important case."
Before the court-martial began, Manning's attorney,
Former hacker Adrian Lamo
turned Manning in to authorities. The Army private allegedly told Lamo about leaking the classified records.
WikiLeaks founder Julian Assange fled to the Ecuadorian Embassy in London in June 2012 to avoid extradition to Sweden, where he is wanted for questioning over allegations that he raped one woman and sexually molested another. Assange has said he fears Sweden will transfer him to the United States, where he could face the death penalty for the work of WikiLeaks if he were charged or convicted of a crime. Manning has said he gave material to WikiLeaks after initially trying to contact The New York Times and The Washington Post. WikiLeaks has never confirmed that Manning was the source of its information.
wrote that Assange
evolved into a "paranoid, power-hungry, megalomaniac."
Daniel Domscheit-Berg, a longtime volunteer and spokesman for WikiLeaks, was considered to be Assange's closest collaborator. He quit WikiLeaks and said Assange's personality was distracting from the group's original mission. Domscheit-Berg went on to publish a tell-all book about the inner workings of WikiLeaks. He
Key WikiLeaks figures in Manning trial
Key WikiLeaks figures in Manning trial
Key WikiLeaks figures in Manning trial
Key WikiLeaks figures in Manning trial
Key WikiLeaks figures in Manning trial
STORY HIGHLIGHTS
NEW: Judge tentatively plans to announce sentence Wednesday morning
Prosecution calls Manning a "determined insider" in largest leak of classified information
Defense says Manning is an excellent case for rehabilitation
He faces up to 90 years behind bars
Fort Meade, Maryland (CNN) -- A military judge plans to announce Wednesday morning what sentence she'll give Pfc. Bradley Manning, the U.S. Army intelligence analyst who stands convicted of what prosecutors believe was the biggest leak of classified materials in Army history.
The judge, Army Col. Denise Lind, reconvened the sentencing phase of Manning's court martial Tuesday morning, and noted the soldier has 1,293 days -- or 3 1/2 years -- of detention credit to consider. Manning's defense attorney previously argued that his client deserves additional consideration for the harsh conditions he suffered during part of that detention.
Lind's deliberations officially began after court recessed Tuesday morning. Later Tuesday, she told both sides that she intends to announce a sentence at 10 a.m. ET Wednesday.
Manning's lawyer: He should not 'rot in jail'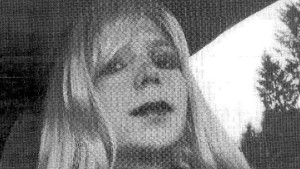 Bradley Manning apologizes in court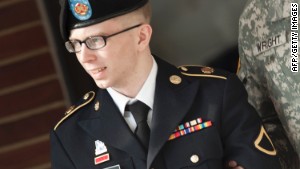 Bradley Manning verdict: Messages differ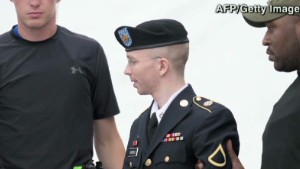 Manning still faces harsh sentence
Prosecutors have said Manning acted as a "determined insider" in leaking classified information about the wars in Iraq and Afghanistan and should be locked up for at least 60 years.
Manning's lawyer contends he can be rehabilitated and should not "rot in jail."
Manning faces up to 90 years behind bars. Lawyers for both sides wrapped up their sentencing arguments Monday.
"There may not be a soldier in the history of the Army who displayed such an extreme disregard" for his mission, Capt. Joe Morrow, the prosecutor, said Monday.
Manning's arrogance, Morrow said, meant that he "felt he alone was knowledgeable and intelligent enough to determine what information was to be classified."
Morrow asked that Manning, 25, serve a minimum sentence of six decades behind bars, saying his actions created grave risk, disrupted diplomatic missions and endangered lives.
Defense attorney David Coombs did not ask for a specific sentence, but said that his client was an excellent candidate for rehabilitation and that he should not be left to "rot in jail."
"Perhaps his biggest crime was that he cared about the loss of life that he was seeing and couldn't ignore it," he said of Manning's decision to turn over the explosive information to WikiLeaks.
"This is a young man capable of being redeemed," Coombs said in final remarks. "The defense requests, after the court considers all the facts, a sentence that allows him to have a life."
Lind convicted Manning of numerous counts at his trial in July, including espionage-related charges. He avoided a potential life sentence when Lind rejected charges that his actions aided the enemy.
In addition to prison, prosecutors also want Manning to forfeit pay and benefits and pay a $100,000 fine.
Officials indicated a single sentence would cover all of the guilty counts.
Manning apologizes, tells court he must pay price