Syrian refugees stream into Iraq
August 20, 2013 -- Updated 1348 GMT (2148 HKT)
STORY HIGHLIGHTS
Around 30,000 people have fled to Iraq in recent days
The U.N. refugee agency calls the flight an "exodus"
Many refugees are also in Turkey, Lebanon, Jordan and Egypt
(CNN) -- Around 30,000 Syrians have fled to Iraq's Kurdistan region in the past five days, and the influx is continuing, the United Nations' refugee agency said.
It started Thursday, when Iraq's Kurdish Regional Government opened a temporary pontoon bridge.
Since then, thousands have swarmed into the country to escape the fighting and economic calamities of the Syrian civil war.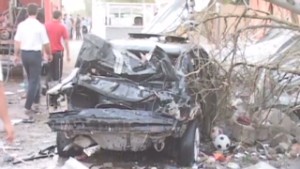 Violence marks end of Ramadan in Iraq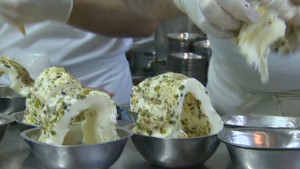 Ice cream biz boom amid civil war
Previously, the U.N. Office of the High Commissioner for Refugees had registered 155,000 Syrian refugees in Iraq. The agency says the latest "exodus" is "among the largest we have so far seen during the conflict."
The U.N. refugee agency and its partner teams are working to provide shelter and distribute food, water and supplies, such as tents and portable latrines.
The agency said last week there were more than 684,000 Syrian refugees in Lebanon, 516,000 in Jordan, 434,000 in Turkey, and 107,000 in Egypt, the agency said.
U.N. inspectors in Syria to assess if chemical weapons used in civil war
Syria is a '10-year issue,' top general says

Part of complete coverage on
Syrian crisis
March 4, 2014 -- Updated 1328 GMT (2128 HKT)

Syria has submitted a revised proposal "that aims to complete the removal of all chemicals" from the country before the end of April.
February 18, 2014 -- Updated 1032 GMT (1832 HKT)

CNN's Arwa Damon reports on ISIS defector who says destroying ISIS as critical as defeating regime.
February 18, 2014 -- Updated 0353 GMT (1153 HKT)

The U.S. wants a United Nations resolution that will, among other things, bring humanitarian aid for refugees in Syria.
February 17, 2014 -- Updated 1259 GMT (2059 HKT)

When the radical Islamist militia ISIS arrived in the Syrian town of Addana a year ago, many welcomed them. What followed changed their minds.
February 17, 2014 -- Updated 1449 GMT (2249 HKT)

CNN obtained video clips from Syrian activists documenting the atrocities committed by members of the Islamic State in Iraq and Syria, known as ISIS.
February 18, 2014 -- Updated 2017 GMT (0417 HKT)

On Crossfire, Danielle Pletka discusses what the U.S. needs to do to resolve the Syria crisis.
February 6, 2014 -- Updated 0101 GMT (0901 HKT)

Her almond-shaped brown eyes shine through her sunken face as a doctor lifts her sweater to reveal a tiny rib cage pushing against her skin.
February 4, 2014 -- Updated 1746 GMT (0146 HKT)

The Zaatari refugee camp in Jordan is home to around 100,000 Syrian refugees. CNN spent several days meeting the residents of the camp.
January 22, 2014 -- Updated 1959 GMT (0359 HKT)

Renowned war crimes prosecutors and forensic experts have found "direct evidence" of "torture and killing" by the Assad regime.

Traumatized children who have witnessed the horrors of war are being helped to read -- and rebuild a normal life. CNN's Becky Anderson reports.
January 23, 2014 -- Updated 1207 GMT (2007 HKT)

A battle zone tour organized by the Syrian government for CNN and several other media outlets Wednesday was more than bizarre.
January 22, 2014 -- Updated 1735 GMT (0135 HKT)

CNN's Atika Shubert meets with the family of a little girl who was wounded in Syria, now living in a refugee camp.
January 27, 2014 -- Updated 1456 GMT (2256 HKT)

110 year old, Jabari Alawali walked for over 10 hours to reach Jordan from Syria.
Today's five most popular stories