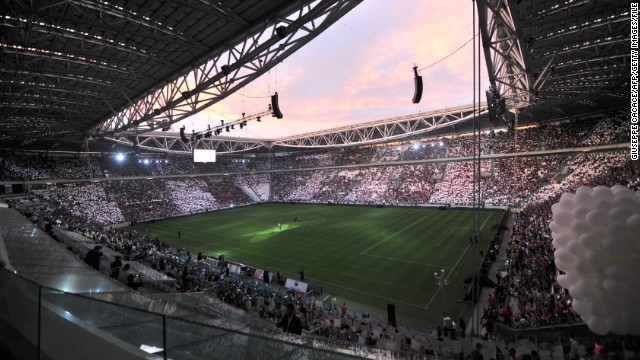 Serie A champions Juventus are the only team in Italy's top division to own its stadium. The Juventus Stadium was opened in 2011 and holds 41,000 spectators.
Ahead of the new Serie A season, Juventus has bolstered its ranks with the signing of strikers Carlos Tevez and Fernando Llorente. Tevez endeared himself to Juve fans immediately by scoring the fourth goal in the team's 4-0 Italian Super Cup win over Lazio.
Lazio fans have been punished for racism offenses on numerous occasions over the last 12 months. The club's famous Curva Nord, where Lazio's "ultra" fans sit, has been closed by authorities in an attempt to stamp out racist chanting.
Napoli has invested heavily in new players during the transfer window in the hope it can launch a serious title challenge. Striker Gonzalo Higuain, seen here holding the club's new camouflage away kit, was signed from Real Madrid. Experienced manager Rafael Benitez, a European Champions League winner with Liverpool in 2005, has also been brought in as coach.
Fiorentina has also been active in the transfer market, pulling off an impressive coup by signing striker Mario Gomez from European champions Bayern Munich.
In the late 1980s/early 1990s Italy's top division was the envy of the planet. AC Milan boasting some of the game's finest players, including Dutchman Ruud Gullit who was purchased from PSV in 1987 for a then world record fee.
Old Lady, new home
Counting on Carlos
Curva closed
Rafa's revolution
Vibrant Viola
Times gone by...
STORY HIGHLIGHTS
Italy's Serie A kicks off on Saturday
Champions Juventus away at Sampdoria on season's opening day
Italian football has suffered number of problems in recent years
Authorities have struggled in fight against racism
(CNN) -- The Italian broadcaster Rai recently aired a piece of nostalgia that would have brought a tear to the eye of many Serie A fans.
It was a 1991 league game between AC Milan and Sampdoria.
Onto the pitch at Milan's imposing San Siro stadium strode a galaxy of stars, with the likes of Ruud Gullit, Roberto Mancini, Marco Van Basten, Gianluca Vialli and Attilio Lombardo strutting their stuff.
It was a glimpse back to a golden age. This was an era of almost fantasy football -- competitive, technical, flamboyant, creative -- and Italy basked in the knowledge that its top division was the envy of the world.
Ironically it was Serie A, and the Italia 90 World Cup, that played a key role in the resurgence of England's now all-conquering Premier League.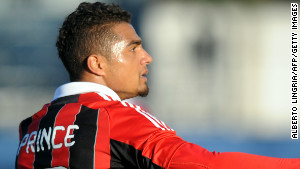 Exclusive: Boateng on racist abuse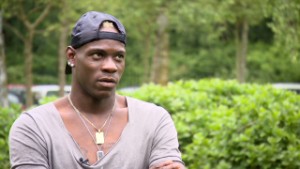 Balotelli: I'm glad I left England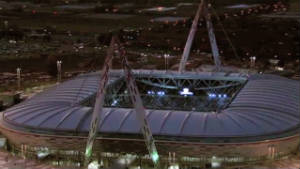 Juventus opens new stadium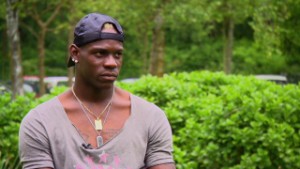 Balotelli: Racism makes me feel alone
In 1991 English football was still grappling with the aftermath of the Heysel and Hillsborough disasters and many games were played in comparatively dilapidated stadiums under hooliganism's shadow.
Read: The horror of Heysel: Football's forgotten tragedy?
Serie A, with its foreign stars and newly-renovated arenas, presented a seductive model to follow.
Fast forward 22 years and things appear to have changed completely. Serie A seems not only to have fallen behind the English Premier League and Spain's La Liga, but also Germany's Bundesliga and Italy's latest usurpers, France's Ligue 1.
Drained of its international talent, plagued by corruption scandals and racism controversies, and struggling to update its creaking infrastructure, the once mighty Serie A looks a pale imitation of its former self.
Historian John Foot, author of the authoritative "Calcio, A History of Italian Football", has observed the Italian game's descent from its 90s peak, and laments its self-inflicted decline.
"They had a golden goose in the 90s and they killed it, which is incredible really," Foot told CNN.
Part of Serie A's financial malaise comes from the way the league's television rights have been sold. While the English Premier League's TV deals swelled its teams' coffers, Italy instead split the rights among individual clubs.
"The way the league has previously been packaged on television has been disastrous," says Foot, "with clubs acting purely in their own interests."
Read: For Italy's 'ultras,' nothing black and white about football and racism
Back in the early 90s, UK football fans, relatively starved of football on TV, consumed the freshly aired Italian football product with enthusiasm.
The standard bearer for Serie A on British television was broadcaster James Richardson, who can see some signs of positive change in an Italian game that has long been in the doldrums.
"You can see progress", he says, "and there's definitely a sense that Serie A is moving forward; the problem is that it's moving fairly slowly."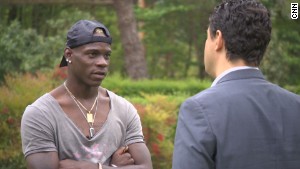 Racism in Football: Part 1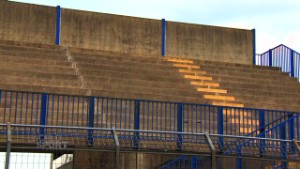 Racism in Football: Part 2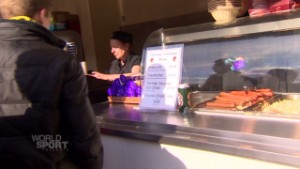 Racism in Football: Part 3
Richardson's enthusiasm for the Italian game remains strong, but he points to the pace of change in other leagues as a cause for concern.
"You have to view Serie A's progress in context," he continued. "The thing is that there has been an explosion of money in other leagues.
"The Premier League, the Bundesliga and now France have taken things to another level in that respect, so even though Serie A is improving too, the gap is actually widening. There are positives, but they're positives in a provincial sense."
Read: Monaco present taxing problem for French football
He also points out Italy lost its fourth Champions League spot -- only three Italian clubs currently qualify for Europe's premier competition, though ironically Juventus earned the most revenue in last season's tournament, surpassing even winners Bayern Munich.
"That was a huge financial blow, and you can see its effect on the second tier of Serie A clubs," noted Richardson.
Italy's "Old Lady"
Interestingly, a beacon of hope for the league is actually the club that suffered most from the fall-out of 2006's Calciopoli scandal.
Juve was heavily censured by the authorities at the time, but has since undergone a remarkable renaissance, culminating in the construction of an impressive new stadium -- the only club-owned facility in Serie A.
That revival saw Juve reach the Champions Leauge quarterfinals and also become the first to go unbeaten in Serie A's new 38-game format.
Foot says that the club, known in Italy as "The Old Lady," has shown others the way forward.
"Juve's success, and their new stadium, has given others a model they can aspire to," he said.
"You have to give credit to the way they've turned things around -- they were in disarray (after 2006) but they've managed to build a new stadium and a very impressive new team in an incredibly short space of time."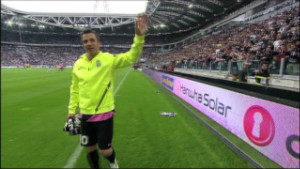 FIFA's anti-racism campaign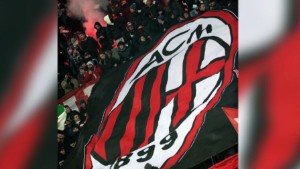 Italian football clubs raided by police
Aside from its obvious commercial advantages, Richardson also believes the new stadium has helped Juve on the pitch.
"It has had a huge benefit in terms of revenue, but actually people overlook its impact on atmosphere," he said. "That may well have had a positive effect on their performances on the pitch. Other clubs can really see that."
Read: Juventus offers Italian football recipe for success
In fact, several are already taking steps to follow the Juve model, with Roma, Lazio and Sampdoria all tabling proposals for new stadiums, and Inter exploring the idea of moving away from the San Siro.
Of course, this being Italy, these proposals are fraught with complexity.
"It is hard to get things done in Italy, especially in the big cities," explains Foot.
"You need the support of local government and it gets very complicated. The problem is always local politics. The new stadium proposals in Rome and Milan will be difficult to realize because of that. I'm not sure I can see them happening any time soon.
"It may be easier in the smaller cities though, so perhaps in somewhere like Genoa (home of Sampdoria) there's a better chance."
Stamping out racism
The most public problem Serie A has faced in recent months has been the issue of racism, but to the credit of the league, it appears determined to stamp this out.
Most recently, Lazio has seen its famous Curva Nord (the section of the stadium occupied by its hardcore Ultras) closed by the authorities.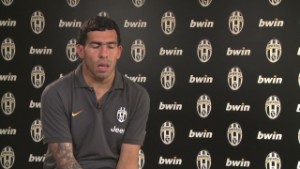 Carlos Tevez: Man City pressure too much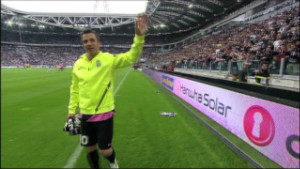 FIFA's anti-racism campaign
"Shutting the Curva is a huge step," said Foot. "These fans live for that, it's everything to them, so it's really hitting them where it hurts."
As this most beautiful and cultured of countries readies itself for a new football campaign, there are other indications that Serie A might finally be getting back on track to compete with Europe's big leagues.
"The stadiums, the fans, the racism issue -- all that needs sorting," adds Foot, "but there are signs that is starting to happen.
"The crucial thing is the way the league is marketed; marketing Serie A as a package, which focuses on the whole league, not just the big teams, has to be the way to drive success."
The latest TV deal may not be as lucrative as that of England's Premier League, but it is at least far more equitable.
"Serie A has finally got its act together on TV rights," says Foot, "and you can also see clubs like Napoli and Udinese investing their money wisely or making long-terms plans."
Indeed, Napoli have caught the eye this transfer window, and appear ready to put up a serious fight for the Scudetto, not least because of their military style new away kit.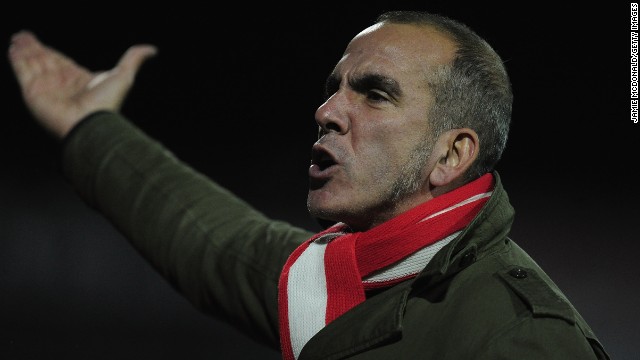 Controversial Italian Paolo Di Canio has landed his second club manager's job with English Premier League side Sunderland.
Di Canio caused controversy as a player after this "Roman salute" to his club Lazio's fans after a derby match against Roma in January 2005. He was later banned one match and fined for a similar gesture during a game against Livorno.
Di Canio was a member of Lazio's notorious "Irriducibili" right-wing fan group before he became a successful player. This season the Italian club has been charged four times for racially offensive behavior by its supporters.
His first English club was Sheffield Wednesday, where he received an 11-match ban after pushing referee Paul Alcock to the ground when he was sent off during a Premiership match against Arsenal on September 26, 1998.
Although Di Canio has admitted to holding fascist beliefs and being "fascinated" by Italy's former dictator Benito Mussolini, he has always denied that he is a racist. Here he is pictured with former Sheffield Wednesday teammate Manuel Agogg in August 1997.
He never represented his country at senior level, but Di Canio played for top Serie A sides Juventus and AC Milan beore moving to Britain.
He was a cult hero at West Ham, where his spectacular goals and outrageous skills earned him the adulation of the fans.
His arrival at Swindon in 2011 marked the departure of one of the club's sponsors in protest at his past statements about fascism, but Di Canio led the team out of England's bottom division as champions in his first season as manager. However, he dropped captain Paul Caddis (pictured) before the 2012-13 campaign started, and quit in February due to Swindon's financial problems -- and then had to break into his office to retrieve personal items after the locks were changed.
Di Canio was appointed by Sunderland a day after the club's collaboration with the Nelson Mandela foundation was officially launched at the home match against Manchester United. Vice-chairman David Miliband promptly quit, with the former MP -- who was a key figure in the club's involvement with the "Invest in Africa" initiative -- citing Di Canio's past statements about his political beliefs.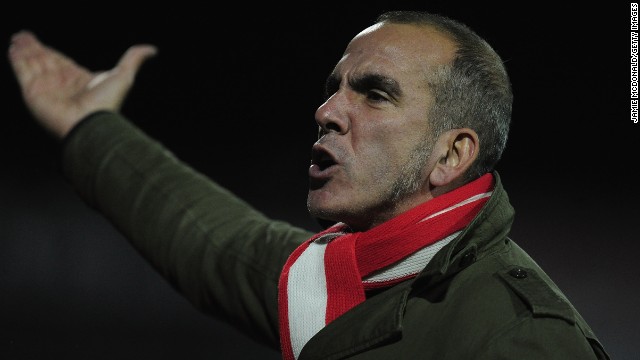 Paolo Di Canio: 'Fascist not racist'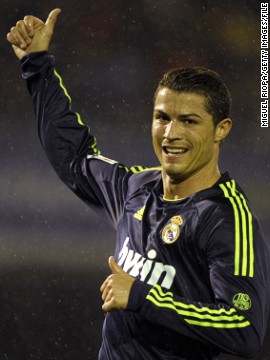 Real Madrid have usurped Manchester United as the world's most valuable soccer club according to Forbes. The Spanish giants, whose star player is Cristiano Ronaldo, increased their value by 76% over the past year to $3.3 billion.
Since Forbes started their study in 2004 this is the first time English Premier League club Manchester United have not appeared top. Despite bumper commercial deals with Chevrolet and Aon taking their value to $3.17bn they have to make do with second place.
Barcelona, who count arguably the world's best player Lionel Messi among their ranks, are third on the list, as they were in 2012. They almost doubled their value over the previous year -- the biggest rise out of any club in the top 20 -- to $2.6 billion.
Arsenal, who have qualified for the lucrative European Champions League for 15 successive seasons, remain fourth on Forbes' list. Led by Arsene Wenger, they have built up a substantial amount of cash reserves since their move to a new stadium. Their value stands at $1.32 billion.
German champions Bayern Munich, who are still on course for an historic treble, are fifth on the list with a value of $1.3 billion. Former Barcelona coach Pep Guardiola is joining the club at the end of the current season.
AC Milan are the only club in the top 10 to have gone down in value in the previous year but despite that their figure is put at £945 million.
Chelsea, owned by Russian billionaire Roman Abramovich, are seventh. Their value is $901 million and has gone up 18% in the past year. Their biggest name is striker Fernando Torres, who cost them $76 million from Liverpool in 2011.
On course for the title in Italy's Serie A, Juventus are valued at $694 million which puts them eighth on Forbes' countdown.
Big-spending Manchester City are ninth on the list with a value of $689 million. Since they were bought by Sheikh Mansour bin Zayed Al Nahyan, the new owner has spent an estimated $1.5 billion on the club. They won their first English top flight title for 44 years in 2012.
English club Liverpool, owned by John W. Henry's Fenway Group -- who also own the Boston Red Sox -- have a value of $651 million, which is up 5% on last year.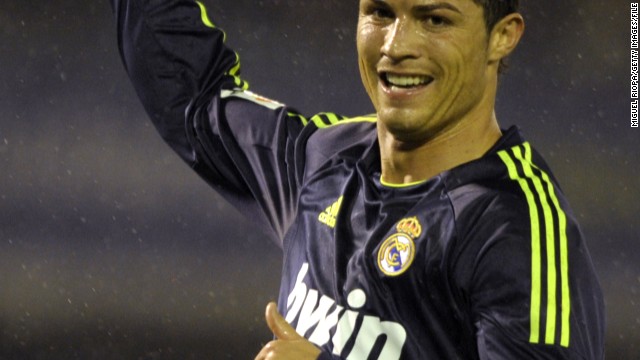 Real Madrid world's most valuable club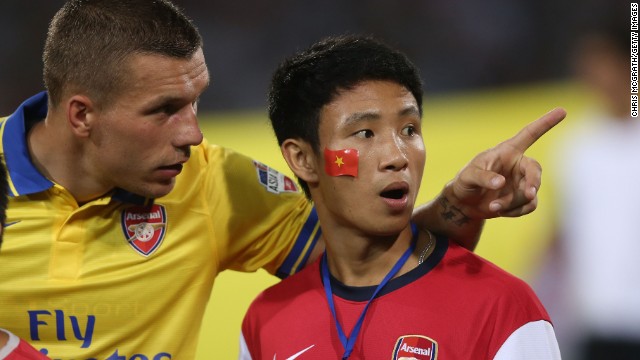 Vu Xuan Tien became Arsenal's unofficial mascot on the Hanoi leg of their pre-season Asia tour after he ran alongside the team's coach for several miles. Tien was then invited to lead the Arsenal players onto the pitch at the My Dinh stadium in Hanoi before their match against the Vietnamese national team, which they won 7-1.
English Premier League football team Arsenal spent three days in Hanoi as part of its Asian tour. The team's manager Arsene Wenger signs a local photographer's t-shirt during a training sesssion at Hanoi's My Dinh stadium.
The Gunners became the first Premier League team to play in Vietnam in a friendly match against the national team on July 17. "From a business perspective it is important we show our commitment to building our name around the world to become more attractive to potential commercial partners and to support some of our existing partners' business objectives for whom Asia is also an important market," an Arsenal spokeswoman told CNN.
Meanwhile are travelling to Thailand, Malaysia, and for the first time, Indonesia.
Ashley Cole throws footballs to excited fans during a Chelsea training session at Rajamangala Stadium in Bangkok, Thailand.
"It's a great experience for the players to see other nations and how much impact they have on people," .Dr Craig Duncan of the Australian Catholic University, who until recently was Sydney FC's head of human performance, told CNN. Here Chelsea fans cheer their team on during Tuesday's training session at the Rajamangala stadium in Bangkok, Thailand.
Players scramble as Manchester United's Ben Amos punches the ball away during a friendly between Singha All Star XI and Manchester United in Bangkok, Thailand. Alex Buttner picked up a hamstring strain in the friendly.
Wayne Rooney didn't last long on United's tour, quickly returning to England with a hamstring injury. His future as a Manchester United player continues to be in doubt with Chelsea interested in buying the England forward.
"Over 20,000 tickets have been sold for people to watch United train and over 80,000 will watch them play in Australia," said Dr Craig Duncan of the Australian Catholic University, who until recently was Sydney FC's head of human performance. "It's also a good opportunity for team building as getting away as a squad together gives time for activities to enhance team unity."
Liverpool's pre-season tour takes in Indonesia, Australia and Thailand. "Liverpool are hugely popular in the markets where we do business, and we are excited about the opportunity to continue to work with this fantastic club and their passionate fans," said Standard Chartered's chief executive Peter Sands after the bank extended its sponsorship deal with the Merseyside club.
Liverpool's Indonesian fans show their support for the campaign to win justice for the families of the 96 people who died at Sheffield Wednesday's Hillsborough football ground on 15 April in 1989 during an FA Cup semifinal between the Merseyside club and Nottingham Forest.
The biennial Barclays Asia Trophy is making a third visit to Hong Kong this week, with Manchester City, Tottenham Hotspur and Sunderland and South China taking part.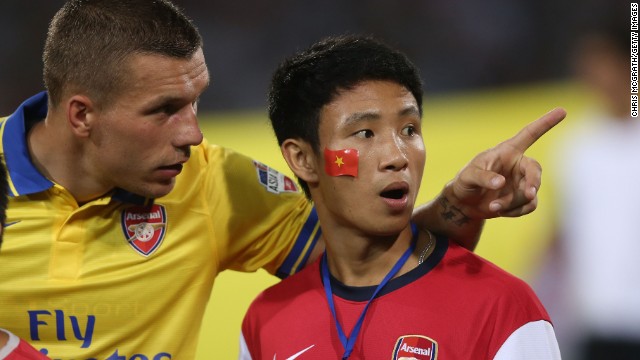 Soccer pre-season Asia tour
The departure of Edinson Cavani to Paris Saint-Germain has been offset with some interesting arrivals, particularly Gonzalo Higuain from Real Madrid, for whose signature Napoli resisted competition from Arsenal, and the experienced manager Rafael Benitez.
The comparative lack of cash in the Italian game has had one positive knock-on effect, however -- the development of young players.
"There are so many technically gifted, very talented young Italian players in Serie A now," says Foot, "which is the opposite to what's going on with English players in the Premier League.
"You can see the benefit of that in the Italian national side, which is very strong and will definitely be challenging for honors at the World Cup."
Italy also continues to be a production line for managers, with many -- such as Carlo Ancelotti and Gianfranco Zola -- plying their trade successfully outside Italy, but plenty more are coming through the ranks.
"They are always hugely knowledgeable about the game and highly technical", says Foot.
Read: Balotelli: Happy to have left England
Richardson also points to a new more attacking outlook that has taken hold, consigning the cliche of defensive "Catenaccio" to history.
"There are managers in Serie A with much more attacking philosophies now," enthuses Richardson.
"Rudi Garcia (who has joined Roma from Lille) is another one in that mold. There's also a commitment to good technical football and tactical excellence that marks the league out."
While many European leagues have become rather predictable, Serie A also appears to be regaining its competitive edge.
In the 90s the Italian league boasted seven teams that would routinely challenge for the title, known as "Le Sette Sorelle," or "The Seven Sisters" -- Milan, Inter, Juve, Roma, Lazio, Parma, and Fiorentina.
Read: Benitez to take charge at Napoli
Richardson can see the coming years being similarly open.
"We might not be quite back to those days yet," he says, "but you can make a case that we're getting there -- with Napoli and Udinese perhaps replacing Lazio and Parma.
"That makes the league really open, and arguably a lot more exciting than say Spain, or even Germany."
As for this year's competition, Juve -- who have added Carlos Tevez and Fernando Llorente to their attacking armory -- are firm favorites, but other teams will certainly be interesting to watch.
"Inter may have a long hard season ahead of them; the new ownership there has pulled the handbrake on transfers at a time when they really need investment," says Richardson, " but Napoli are very interesting, and there's a lot of potential at Milan.
"They have some good young players and the return of Nigel De Jong will help shore them up defensively.
"Fiorentina have a really talented and exciting midfield, and Mario Gomez is potentially a fantastic asset to add to that, not to mention the return of Giuseppe Rossi. Those two could make them pretty formidable going forward."
The days of Serie A sitting at the pinnacle of European football may be in the past, but it is clear that reports of its death have been exaggerated.
With its mix of youth, new signings, unrivaled technical ability and the inevitable soap opera off the pitch, we could instead be in for a vintage season of Italian football.