Meet the new America's Cup 'flying yacht' making big waves
August 23, 2013 -- Updated 1704 GMT (0104 HKT)
STORY HIGHLIGHTS
Introducing AC72 -- the new America's Cup yacht
Much smaller, lighter and faster than predecessor
But with greater speed has also come some safety concerns
Follows death of Andrew Simpson, after yacht capsized during training
Editor's note: MainSail is CNN's monthly sailing show, exploring the sport of sailing, luxury travel and the latest in design and technology
(CNN) -- Never underestimate the little guy.
At just 22 meters long, the new hi-tech America's Cup yacht is more than three meters shorter than its predecessor.
But that hasn't stopped the $10 million boat -- dubbed AC72 after its 72-foot hull -- making big waves in the sailing world.
Read: 162 years of America's Cup design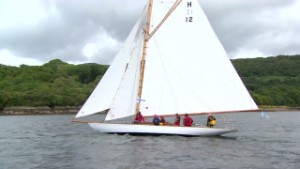 103-year-old beauty's film debut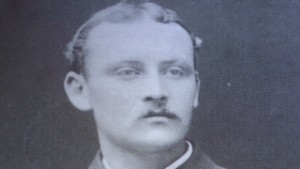 The first family of yacht design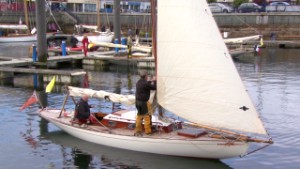 Fife yachts stand the test of time
The super sleek yacht makes its America's Cup debut this year, replacing the larger 25-meter ACC, which first raced in 1992.
Along with its shorter hull, the new vessel will also have far fewer members on board -- down from around 17 to 11.
But if you thought its smaller size and smaller crew made it less speedy, think again.
The new yacht features two hulls, giving it the appearance of a "flying boat," and helping it to cut across the water with ease.
Read: Futuristic 'flying boat' chases speed record
But with greater speed -- around 40 knots -- comes greater safety concerns.
Earlier this year, British Olympic gold medalist Andrew "Bart" Simpson was killed when the AC72 he was training on capsized in San Francisco Bay.
Read: Remembering Andrew Simpson
As the 34th America's Cup kicks off in San Francisco next month, all eyes will be on the new fleet of futuristic -- and stripped back -- vessels.

Part of complete coverage on
MainSail
March 10, 2014 -- Updated 1305 GMT (2105 HKT)

The world's largest Viking warship is on display at the British Museum -- and it's enough to strike terror into your heart.
February 28, 2014 -- Updated 1247 GMT (2047 HKT)

It's an exclusive holiday home for the rich and famous -- and now Richard Branson has opened up his private island for a new photo book.
February 14, 2014 -- Updated 1833 GMT (0233 HKT)

In 1973, a dozen men set out on what would be the longest known raft voyage in human history, from Ecuador to Australia.
January 30, 2014 -- Updated 1409 GMT (2209 HKT)

After witnessing decades of incredible sailing innovations, renowned photographer Onne van der Wal now feels like he's an "astronaut of the sea."
January 24, 2014 -- Updated 1805 GMT (0205 HKT)

The tropical cruise was once the traditional getaway of the elderly retiree -- now it's a haven for metalheads.
January 13, 2014 -- Updated 1244 GMT (2044 HKT)

Having grown a big beard to ward off jellyfish during an epic swim, Sean Conway is now making his home on a rundown wartime vessel.
January 10, 2014 -- Updated 1147 GMT (1947 HKT)

Played by sailors in a brief window of opportunity once each year, this cricket match is never stopped by rain -- but the tide can be a problem.
December 12, 2013 -- Updated 1354 GMT (2154 HKT)

When you've spent 100 days alone on the high seas, battling sleep deprivation and monster waves, it can be difficult to adjust to life on land.
December 10, 2013 -- Updated 1334 GMT (2134 HKT)

From giant yachts in raging oceans to youth regattas, check out the 20 images in contention to win a top photography award.
December 5, 2013 -- Updated 2113 GMT (0513 HKT)

When Enric Sala dips his toes in a pool of water, he does so in the knowledge he may well be the first man on the planet to do so.
November 28, 2013 -- Updated 1118 GMT (1918 HKT)

Alex Caizergues smashes the World Sailing Speed Kitesurfing record over 500 meters, reaching an average speed of 56.62 knots (104.8 kph).
November 22, 2013 -- Updated 1348 GMT (2148 HKT)

Venice is one of the most beautiful cities in the world -- and it wants to stay that way, so it is cracking down on cruise ships.
Today's five most popular stories