Peru plans off-balance, cliff-edge hotel
August 23, 2013 -- Updated 0600 GMT (1400 HKT)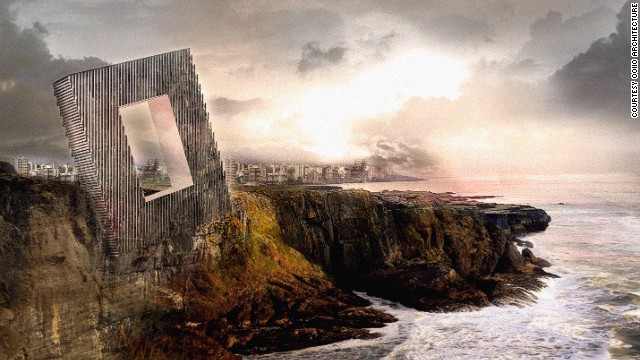 The latest design by Spanish architecture firm OOIIO resembles a massive photo frame.
The unusual shape will allow a more open views of the Pacific Ocean, the company says.
The tilted angle of the design will almost be unnoticeable inside, except within the spectacular main hall.
The hotel will also serve as a congress center, with multiple restaurants and an exhibition space.
Fearing their unnamed investor wouldn't approve such a bold design, OOIIO had another option ready just in case. They never had to show it.
The design is still in the development phrase, with nothing yet approved.
Unbalance Hotel, Lima
Look here
Mean lean
Multi-use facility
Great meeting
Future design
STORY HIGHLIGHTS
Spanish design firm OOIIO has an imaginative design for its upcoming hotel project in Peru
Called "Unbalance Hotel," the design resembles a tilted photo frame by the cliff
The design will avoid blocking sea views and aims to become a landmark for Lima
(CNN) -- While some architects compete over height, others compete with shape.
After China's "Donut" Hotel (aka the Sheraton Huzhou Hot Springs Resort) hit monitors earlier this month, another eye-opening hotel design has just been announced -- also with a massive hole in the middle of the building.
Designed by Spanish architecture firm OOIIO, the Unbalance Hotel (the project's working title) resembles a tilted photo frame at the edge of a high cliff in Lima, Peru.
"Lima hasn´t got a representative iconic building that brings the more than 8 million inhabitants of the city to be well known worldwide," OOIIO director Joaquín Millán tells CNN.
"We wanted to create something radical, strong. A landmark, a building that makes you think, a shape that shakes your imagination.
"We know that as soon as you do something that radical on such a dominant location there are going to be a lot of people hating it. And some of them also loving it.
"This is what we want -- make people talk about architecture, and what to do and not to do with Lima's urban landscape."
Bold purchase
Hugging a space between the Pacific Ocean and the city, the unique shape of "Unbalance Hotel" ensures people behind the building won't have their views out to the ocean blocked.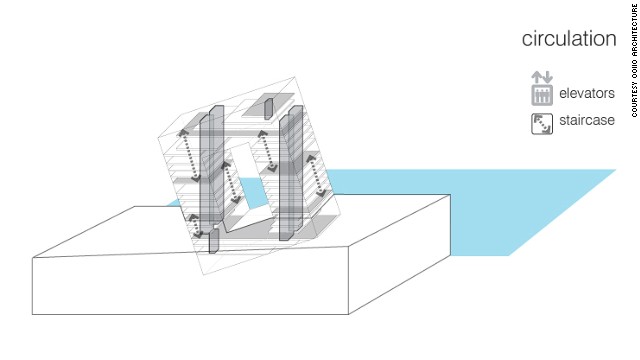 "Unbalanced" plan.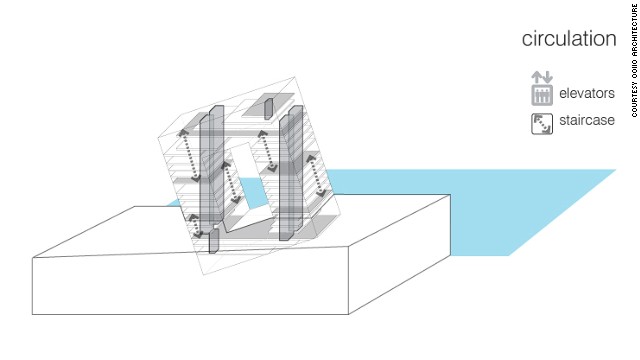 "Unbalanced" plan.
The bold dream, however, will be fulfilled only with the help of an equally bold investor.
Fortunately for OOIIO, a private Latin American investor, who the company won't name, is said to be pleased with the design.
"We were not sure if he was going to react OK to such a strong proposal," says Millán. "Actually we had a B option ready just in case, but we never had to show it.
"After a long silence he started to say nice things about the project, and he sees the economic potential of such a building design. Now he is in love with it!"
The design is still in its development stage and nothing has been confirmed, so no construction or opening dates were given.
If approved, the "Unbalance Hotel" is meant to serve as both a hotel and congress center, consisting of 125 rooms, restaurants, conference rooms and an exhibition space.
The interior design will include "some spaces with non-vertical facades, and very spectacular hall and rooftop restaurants," says Millán.
Other outrageous designs from OOIIO include Miraflores-Barranco Footbridge, a spiky footbridge that looks like Peruvian crystal, and Valer Church, a wooden church that doubles as a public space in a small Norwegian village.

Part of complete coverage on
December 8, 2013 -- Updated 0438 GMT (1238 HKT)

"To awaken quite alone in a strange town is one of the pleasantest sensations in the world."
December 6, 2013 -- Updated 0304 GMT (1104 HKT)

A Japanese blogger has gained Internet fame for taking selfies with a fake lover. Here's his sad/uplifting tale.
December 6, 2013 -- Updated 0151 GMT (0951 HKT)

Biman Bangladesh Airline will take star-crossed airliner on its last joy ride.
December 3, 2013 -- Updated 0303 GMT (1103 HKT)

Whistler, Chamonix, Aspen -- the best known winter sports resorts have become that for a reason.

More than just the merger of Buda and Pest, the Pearl of the Danube is also the cultural crossroads of Europe's east and west.
December 2, 2013 -- Updated 1316 GMT (2116 HKT)

Visiting the DPRK is easy these days, so long as you don't forget to play by their rules.
November 26, 2013 -- Updated 2330 GMT (0730 HKT)

The best places to indulge our second-favorite thing to do with ice.

Top drinking spots with bird's eye views of one of the world's greatest cities.
November 26, 2013 -- Updated 0138 GMT (0938 HKT)

Mulled wine, skating on the river, light shows over snow. Some cities are made for winter.
November 22, 2013 -- Updated 1607 GMT (0007 HKT)

Only 800 people a year are allowed to visit Namibia's bleak but beautiful Skeleton Coast, littered with whale bones and crumbling shipwrecks.
November 24, 2013 -- Updated 0500 GMT (1300 HKT)

Aah, slide shows. How we hated Grandpa's annual two-hour presentation of his trip to the Grand Canyon. But now, don't we kind of miss them?

For 24 hours, we made the world's busiest airport our destination and found a world unto its own. Join us on our journey.

Today's five most popular stories